We are family at La Trobe: and because of our regional Campuses' size and location, regional staff and students get to know each other especially well.
But some of our students are literally family members.
Of course, we've got plenty of siblings studying alongside each other. But there's also been a recent flux in mother-daughter duos coming to La Trobe.
Take Jamie Scholz and her girls, Jasmine and Shené, for example.
Mum Jamie graduate from Teaching at La Trobe in Mildura in 2012 and has since taken up a primary school teacher role at Irymple Primary School.

Now it's her daughters' turns for a La Trobe experience. Jasmine and Shené are both on campus these days.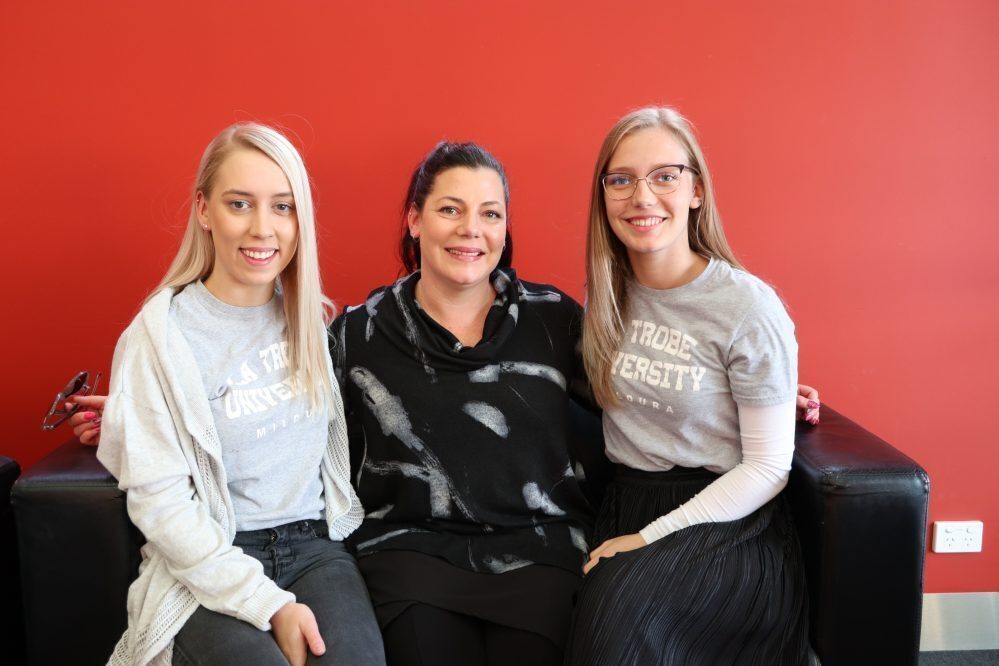 Shené is even studying Teaching, like her mum.
A recent stint in Jaime's Irymple classroom was what sealed the deal.
"Initially I did not want to be a teacher after seeing all the hard work outside of the classroom," she says.
"But very soon into my degree and my first placement I knew that it was the right career for me.
"Mum has motivated me in so many ways, she embodies all the things a teacher should be: her compassion, kindness and work ethic will continue to inspire me as I finish my last semester and start the process of applying for jobs.
Jasmine, on the other hand, hasn't quite settled on a career path yet. She's studying a Bachelor of Arts to keep her options open.
But she says it's great getting to be at the same campus as her older sister.
"It's reassuring that both my mum and sister have both studied at La Trobe Mildura and gotten through it," she says.
"Shené is incredibly helpful when it comes to using PebblePad, LMS or any of the online LaTrobe applications, which has been extremely time saving!
"It's also helpful that she knows some of the lecturers I have and is familiar with some of the content I study, [so I] have some insider knowledge before the semester starts."