Men's Health Week (14-20 June 2021) was founded in 1994 to highlight the preventable health issues among men and boys. This year MHW 2021 again turns its attention to the importance of 'connection' for men.
Men's Health Week is a great opportunity for men to focus on what it means to be healthy and think about connecting with your physical, mental and social health. Also, to consider what ways you can connect with the men that are important in your life.
For more information on MHW 2021, check out the Men's Health Week website.
Tips for connecting
Make a list of friends you want to catch up with in the week (in person if you can or via Zoom). Check in and see how they are traveling.
Make a time to go jogging with a mate. Exercise and social contact are two of the best things you can do to lift your mood and impact stress.
Check out Movember's guide to staying connected. Including "Reach out with ALEC" a four step guide to talking with a mate who might be doing it tough at the moment,
And Movember's Conversation Tool to help further with those conversations.
*Please be mindful of current COVID-19 lockdown restrictions*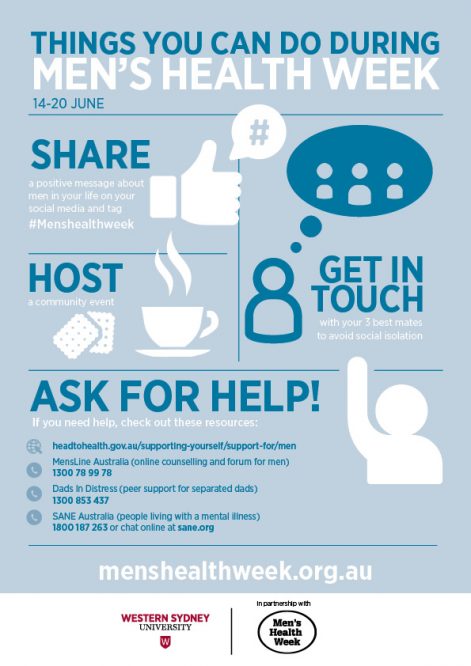 Men's Wellbeing here at La Trobe
At La Trobe, we are committed to the health and wellbeing of our male and male identifying students. Our Men's Wellbeing service is designed to provide dedicated support, information, and opportunities for connection for the men of Latrobe. Services include:
Counselling tailored specifically for men
Yep, guys do come for counselling. The reasons for signing up counselling, and the support received, is as individual as the men we see. Counselling is tailored specifically to guys interested in looking after their mental health, men's related issues or for guys that have a preference to see a male counsellor. Sessions are relaxed, confidential and tailored specifically for you and what you want to achieve.
Workshops and information
Workshops are available during the semester and the program offers ongoing men's health and wellbeing information via our blog "Frank". For further information or to organise a counselling session check out our Men's Wellbeing website.