Growing up in the tiny town of Marysville in Victoria's alpine region, Melissa Peart sometimes had to wait up to a month for an appointment with a female doctor. The only other option was to travel 45 kilometres away, a few towns over, to find another clinic.
Melissa decided early on she wanted to help fill this health care gap for rural communities. That's when her goal to become a general practitioner (GP) was born.
"Having experienced the hardship that a lot of rural communities face in accessing female GPs, studying medicine became my passion," she says.
After completing an undergraduate Bachelor of Biomedical Science degree at La Trobe's Bundoora Campus, Melissa has now been accepted into Deakin University's Doctorate of Medicine postgraduate course.
"The medical place that I've got is called a 'bonded medical place.' That means I have a commitment to work in regional parts of Australia, to pursue a career in rural medicine," Melissa says.
She plans to specialise in general practice, but would also like to explore the areas of women's health and mental health.
Melissa encourages other students considering practicing medicine in regional areas to apply for La Trobe's new rural medical program in partnership with the University of Melbourne.
"I think the partnership between the University of Melbourne and La Trobe University is fantastic," she says. "When I applied to La Trobe, it wasn't available, but if it had been I absolutely would have signed up. It's a great opportunity."
The La Trobe Excellence Academy and Golden Key International Honor Society
Melissa received an early offer to La Trobe, as part of the University's Aspire program, which recognises students who've made a positive contribution to their community.
"I knew I wanted to study biomedicine, and I saw La Trobe supported students like me who've given back to their community. I felt that I was going to be supported when I came to La Trobe. That's one of the things I love about the University, it's a really inclusive environment and it has a really great community," she says.
In her second year of study, Melissa was invited to join the University's Hallmark Program, which is now part of the Student Excellence Academy.
"The Excellence Academy really helped me to find my place at La Trobe," she says.
"It's a really good way to meet students from outside of your realm too, so for me to get to know students who aren't just studying science. That's how I actually met a lot of my friends who are a blended mix of law, philosophy and science students."
Melissa even travelled to Thailand with the Excellence Academy for a peace summit for emerging leaders. After spending a week in the country, Melissa and her peers decided to bring what they'd learned back to La Trobe, where they hosted guest panels about peace at the University. They also planted a peace tree at the Bundoora Campus.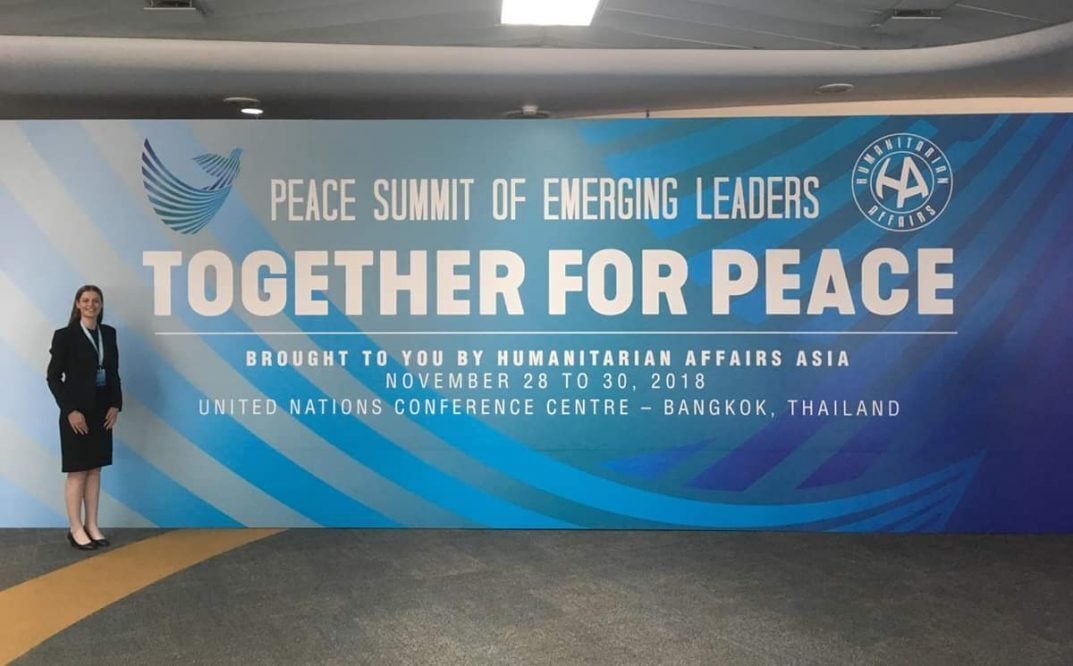 Melissa is also a member of the Golden Key International Honor Society, the world's largest collegiate honour society. Students are selected for the society based on academic merit, with invitations sent to students in the top 15% of their course.
"It gives you a lot of great opportunities to attend interstate conferences and there are a lot of international conferences as well. It provides opportunities to experience something within my world of science as well as leadership opportunities outside of that."
Internships in labs and science communication in schools
Melissa was able to undertake two internships as part of her undergraduate degree. She earned credits towards her degree interning with the La Trobe Institute of Molecular Science (LIMS).
"I was in Andy Hill's lab at LIMS looking at exosome biogenesis," she says.
"It's hypothesised that it could play an important role in neurodegenerative diseases. However, there is still a lot of work in that field to be done."
The Student Excellence Academy provided the second opportunity for Melissa to undertake an internship program while studying. She spent time looking into gastrointestinal cancers at the Olivia Newton-John Cancer Research Centre.
Melissa also found time during her studies to take part in the In2science program, providing peer mentoring to school students.
"During my high school years, I didn't really have a role model or someone I knew that was in the sciences to look up to," she says.
"Being involved in the In2science program has been really helpful, both for myself and the students that I work with. They give you personal development training and different workshops you can attend and they have an awards night at the end. It's sort of a nice celebration of everything."
Melissa took part in the in-classroom peer mentoring program, which saw her placed at both Bundoora and Epping Secondary Colleges. It's helped her to understand just how important science communication is in the community.
"It's been really fantastic because I think science communication is so important," says Melissa.
"There's a lot of stuff on the internet that people read that they may think is truthful or that they may not understand on a scientific level with a tertiary education. I think that there is a lot of miscommunication between experts and general members of the community.
"Being able to effectively communicate scientific concepts in layman terms is really important, especially as a health professional, and I think that that is something that's especially important today given the internet is so prevalent in our lives. Everyone has a smartphone.
"I've learnt how important it is to be really mindful of and careful about the language that you use. And also with the rise of technology, mental health is also really important. It's one of the biggest issues in society."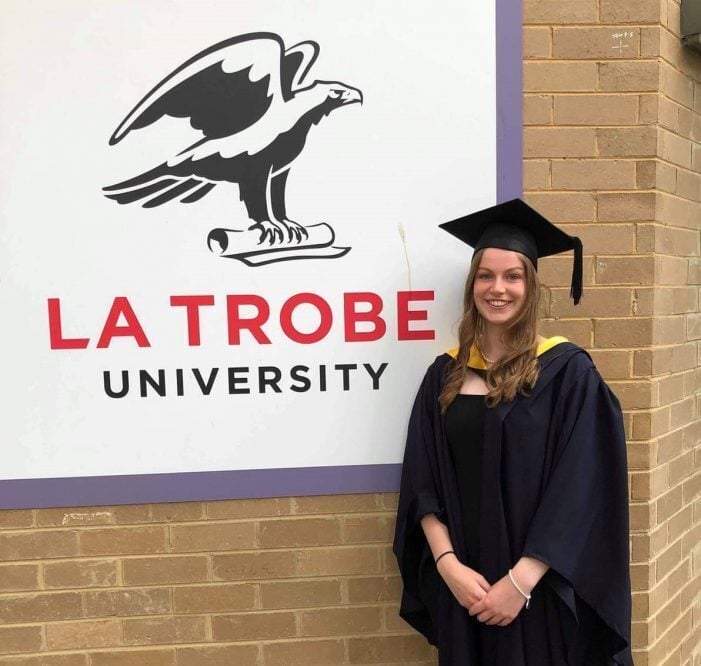 From a small country town to a big University community
The population of Melissa's hometown of Marysville is less than 400. It's a tight-knit community where everyone knows everyone to some degree. So, when Melissa arrived at University in Bundoora, she found it a little overwhelming at first.
"I remember that in my first year of Uni I found it a little bit lonely because I wasn't that involved. I thought, 'I have to do really well in my studies,' and I just focused on that. And then in my second year I got more involved in clubs, societies, committees, whatever it may be. It really enriches your experience at University and that's something I've been so grateful for. My piece of advice for other students would be to find ways to connect with other students and get involved."
Melissa is also a member of the Student Excellence Academy Alumni committee, and is responsible for creating events to bring the group back together.
And Melissa's plans after her postgraduate degree? The slow and steady lifestyle of country life is calling. She doesn't have a particular region in mind, and is open to any area, as long as it's in the countryside.
"I love the country lifestyle. It's a completely different pace. I'm looking forward to the day when I can get back to it."