As the La Trobe Sports Park project nears completion, a new wheelchair accessible pedestrian pathway will be built to connect the Science Drive bus interchange with a new pedestrian crossing at Kingsbury Drive into the La Trobe Sports Park.
The new pathway will provide safer and easier access to and from the main campus and the Sports Park. It will feature solar powered lighting, bench seating, directional signage, drinking fountains, a shelter at the crossing and garden beds with more than 44 new native trees and 3,500 other plants and shrubs.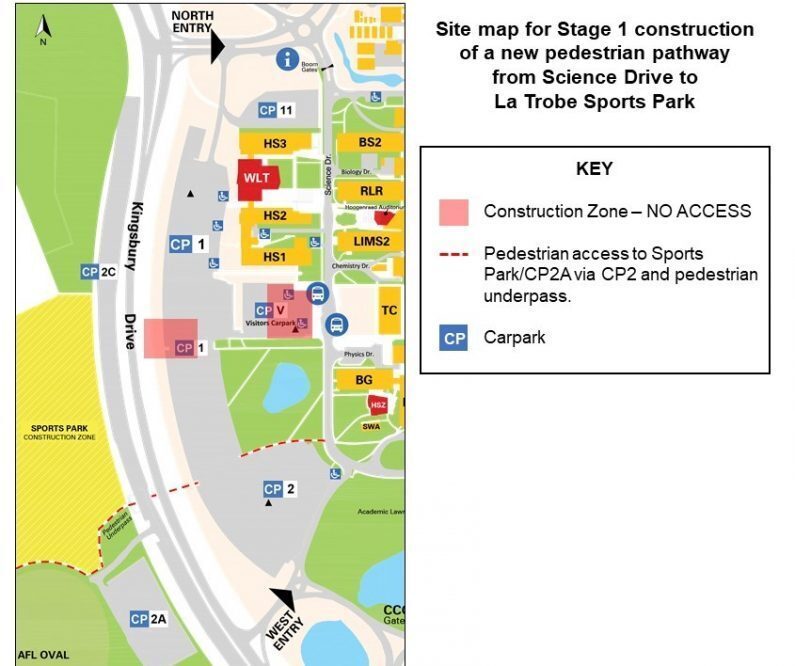 The construction works will take place in the Visitors Carpark and a section of Carpark 1 (CP1). Stage 1 works will run from 7-15 November 2019. During this time, there will be some reduced car and motorcycle parking spaces in Carpark 1 and the Visitors Carpark. Pedestrian access to the Sports Park remains unchanged via CP2 and the pedestrian underpass.
Stage 2 works will commence 18 November 2019 and continue until February 2020.