Meg Patterson is no stranger to Energy Breakthrough, Maryborough's annual human-powered vehicle race for school students.
In fact, this November will be the eighth time the Bendigo student participates in the program.
"I participated in the event for six years as a student with Catholic College Bendigo (now named Catherine McAuley College) and this will be my second year volunteering at the event," Meg says.
In fact, she says Energy Breakthrough is partly responsible for her decision to study a Bachelor of Exercise Science/Master of Exercise Physiology at La Trobe's Bendigo Campus.
"I have always had a passion for fitness and athlete performance," she says.
"Participating in a 24-hour event is physically and mentally exhausting for athletes and I was always interested in learning more about recovery strategies and how I could optimise my performance from a mechanical and physiological perspective.
"Therefore, in Year 10 when I discovered the Exercise Science course at La Trobe, I knew it was what I wanted to study in the future."
Now it's her goal to become an Accredited Exercise Physiologist and work in a clinical setting to assist in the rehabilitation of people with chronic conditions.
Racing through school
Meg first got involved with Energy Breakthrough (or EB, as it's affectionately know) in Year 7 on the recommendation of friends who'd already enjoyed the race in primary school.
"I had also seen the event on TV and thought I would be interesting to try," she says.
"Best decision I made!"
She recalls with excitement the feeling of racing inside a Human-Powered Vehicle (HPV).
"I have always been very competitive and enjoyed the opportunity to ride as fast as I possibly could," she says.
"I never felt scared because [my school] provided us with lots of opportunities to practice before the race, including in difficult conditions such as rain and at night."
But racing isn't the only experience Energy Breakthrough bestowed upon Meg.
She says it fostered her confidence, meaning she felt able to take on more leadership opportunities in the community and at University.
Then there were the lifelong friendships forged trackside in Maryborough.
"Even now, we still talk about fond memories from participating in the event every year," she says.
Volunteering with La Trobe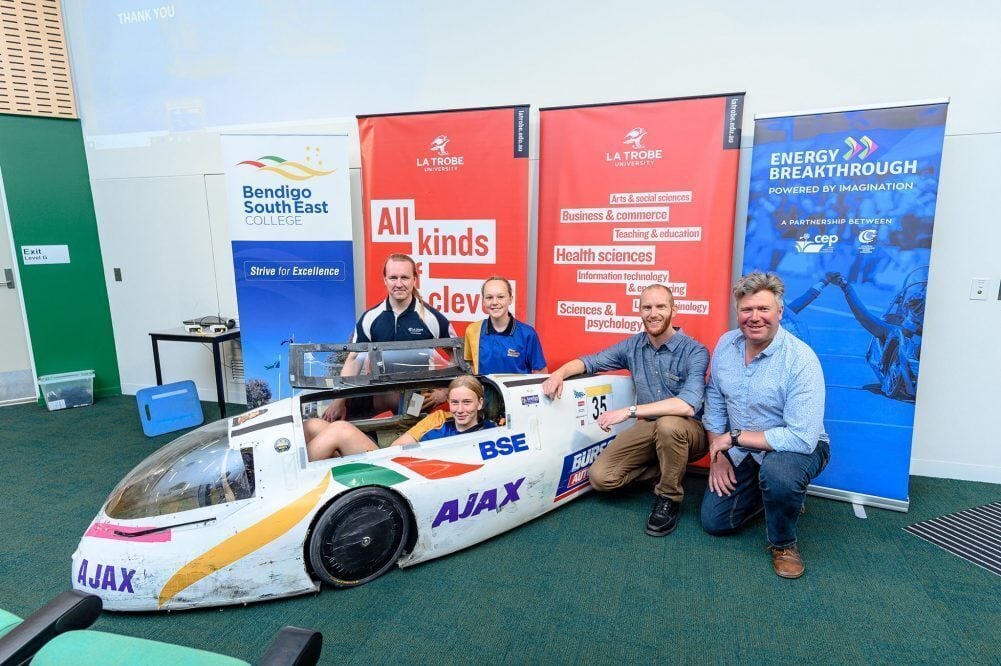 According to Meg, it's just as enjoyable taking part in EB as an adult.
"Watching the excitement on the participating students' faces as they perform throughout the event is contagious," she says.
"I strongly encourage all La Trobe students to volunteer for the event – after attending, you will be hooked!"
La Trobe students who volunteer will participate as marshals or as judges, helping assess the presentation element of the weekend.
"Being a past student, I know the time and effort schools put in to their presentations and wanted to be able to reward the teams with the best presentations," Meg says.
"I know by volunteering my time for the event I am enabling other students to have the same phenomenal experience I had when participating."
To find out more about volunteering and to register, visit this link.