La Trobe has so many programs available – pick one that you really like and get involved. Get to know your international students because they're wonderful people and you can learn a lot from them and they can learn a lot from you."

Katelyn Sutton, La Trobe student
Bachelor of Laws/ Bachelor of Psychological Science student Katelyn Sutton dedicates her spare time to helping international students transition to life in Melbourne.
Now, her contribution to international student experience at La Trobe has been recognised. Katelyn has been named as a finalist in the Internationalisation category of the 2019 Victorian International Education Awards (VIEA).
Hosting international students
La Trobe's International Student Host program presented Katelyn with her first opportunity to get involved on campus. She's been part of the team welcoming new students to campus every semester for years now – for so long she's lost count of the number of activities she's been involved in.
"I've probably met a few hundred new students. A lot of the time they're lost just like I was when I first arrived, so I help them find their way. Sometimes they've come straight from the airport, luggage in tow, and they're ready to check-in on campus. They're tired and overwhelmed, so I enjoy making that experience easier on them. I show them where their accommodation is, where's good to eat nearby and let them know their next steps."
Victoria is a beautiful state that provides the best education for all types of international students. International students should know that in Victoria, it does not matter where they choose to study; they will receive a great education and be welcomed with open arms by fellow domestic students and Victorians."

Katelyn Sutton, La Trobe student
I-Lead and the NGV
Katelyn is also excelling in a current position with I-Lead, an international student leadership committee. She has helped the University develop informational videos that connect and support the international student community.
Katelyn is also an ambassador for NGV and supported their International Student Night event in March 2019, aimed at connecting domestic and international students.
"Student night went really well," she said. "We had activities set up and it was really nice to see these were deliberately designed for international students to meet domestic students in a way you wouldn't normally meet. It's a way to embrace international students who love art and have that passion, as well as other domestic students, and really help them integrate into the Melbourne life."
Navigating the transition to Uni
Hailing from the Victorian regional hub of Shepparton, and with her family now living in New Zealand, Katelyn understands what it's like to be in a new environment far from home.
"It was a big move for me, and very confronting at first, definitely," said Katelyn. "I'm really enjoying it and I'm glad I did it."
After moving from Shepparton to Bendigo at the start of her degree, Katelyn then transferred to La Trobe's Bundoora Campus. She'd visited the campus once before making the move, and had only traveled to Melbourne a handful of times on family trips.
"Both regional and international students who move to Melbourne often have a lot in common in their transition. It's a big campus, so finding your way around can be a challenge at first. To be honest, I still have trouble finding my way sometimes! But everyone is incredibly helpful and nobody minds if you ask lots of questions. People will help you out."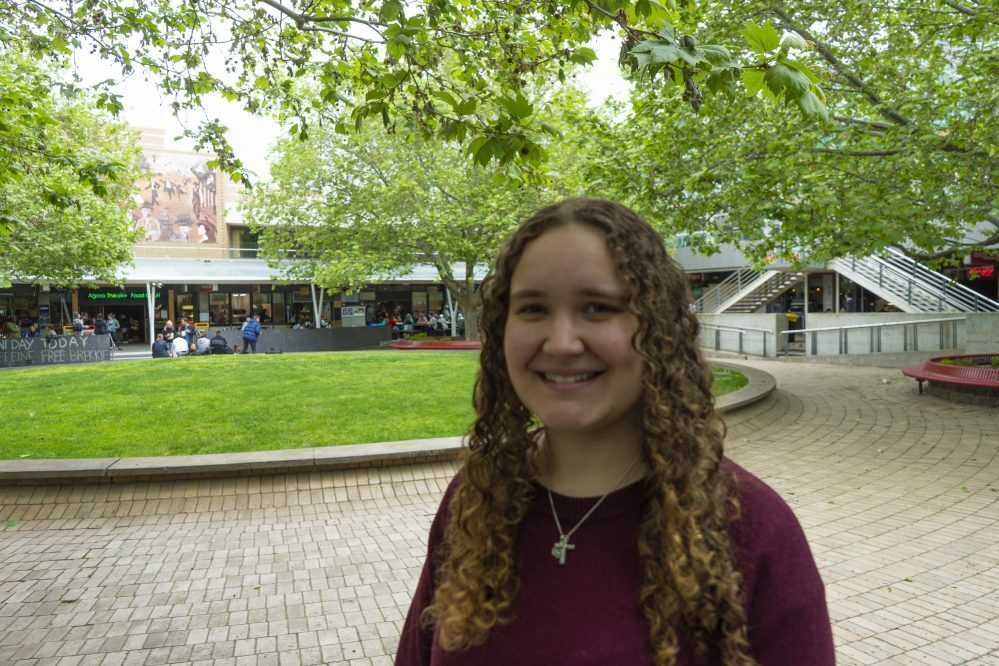 Sharehousing
In both Bendigo and Bundoora, Katelyn has lived in sharehouses with international students, where they navigated their new lives together.
"I think one of the advantages that came from having international students as housemates was that we were kind of learning about city life together. Some of them had been in Bundoora for longer than I had, so I was just constantly asking questions.
"In return, I was able to share some experiences with them too. We just had so much fun getting them to try Vegemite, trying out the local pubs, the football, that sort of thing. It was really good fun.
"A few of my housemates were from India and China. One of the girls was an African refugee, but funnily enough she grew up in Shepparton too. I'm still really good friends with her and we talk to each other all the time."
The La Trobe community
La Trobe's diverse community and Melbourne's reputation as a multicultural city means the comforts of home often aren't too far away for many international students.
"I think particularly in Melbourne and Victoria, there are just so many opportunities, so many cultures. You know, I'm sure it wouldn't take you long to find a place that reminds you of home, whether it be a restaurant or other students who come from the same country. Everyone is so helpful and you can ask pretty much any student here anything and they'll help you find your way. We're all in this together.
"I really like the community side of things here at La Trobe. I've helped out the international student services through various programs, and I love the staff and the community. It's just all very caring and nurturing and you feel like you've got someone there to support you if you're going through something difficult.
I would say that La Trobe's programs that help international students are some of the best. The staff here are really passionate about making sure our international students get the best Australian university experience possible and they're constantly thinking of ways to make them feel more comfortable, or make it easier to adjust to life in Melbourne."
Why you should get involved
Katelyn says that while it's rewarding to be recognised for her work with international students and named as a VIEA finalist, what she really hopes is that her story encourages other domestic students to get involved with their international student community.
"I've gained so much happiness and lots of friendships from volunteering with international students. I've now got more friends that are international students than I do domestic students. It's really made me happy doing all these things and helping out other students.
"There's so much knowledge and culture there that is just waiting for you. La Trobe has so many programs that are available – pick one that you really like and get involved. Get to know your international students because they're wonderful people and you can learn a lot from them and they can learn a lot from you."