After Year 12, Mathias Talbo felt like his world was falling apart. He hadn't performed as well as he'd hoped, and a future as a University student seemed out of reach.
"I didn't know what I wanted to do. It took me under when I failed; it destroyed me," he said. "I didn't feel like I could get up in the mornings. I felt tired and directionless."
What Mathias couldn't see was that in less than ten years, he'd be standing at his graduation ceremony at La Trobe's Bundoora Campus, a Bachelor of Computer Science testamur in his hands, with first-class honours.
And he'd be armed with more than an accreditation. He'd have discovered his passion and found the right people to help him pursue it.
'Failing' Year 12 to graduating with first-class honours
Mathias was determined to go to University, but he didn't know which course would be the right fit. He'd always had a creative side, and grew up playing the piano and acting.
"Francesca Calati, La Trobe's Science Outreach Program Manager, gave me the opportunity to undertake the pathway program at La Trobe," said Mathias. This program allowed him to qualify for undergraduate studies, and he first decided to pursue drama and the arts.
While Mathias enjoyed his drama studies, it wasn't the type of challenge he craved. A lack of deep enthusiasm for his chosen direction, with a dash of imposter syndrome thrown into the mix, led Mathias to feel like he was constantly behind the eight-ball.
"When I went to University, every day it just compounded the feeling of failing," he said. "It took me a long time to realise that it's okay, people make mistakes, we don't always do well.
"But it's one of the things I feel isn't expressed – that it's okay to be behind, it's okay to make mistakes and not always be perfect. It will work out. Life will find a way to work itself out. You don't need to constantly tell yourself 'well, I didn't do this right, or this right' – there are bigger issues at hand."
Computer science wasn't immediately on Mathias' radar.
"I've always had a respect for and an interest in maths," he said. "I think maths is a beautiful language; it's an art form. The creativity and abstract thought is really interesting. It turns out that computer science is just kind of an extension of maths. You're just learning to program in a language much like linguistics; to express yourself in a different manner, and maths is at the core with its abstract way of thinking.
"La Trobe always let me jump around and learn from my mistakes. The fact that La Trobe gave me that chance is something I won't forget easily."
Graduating with a Bachelor of Computer Science in 2015, Mathias decided he'd gain experience in the workforce before returning to complete his honours year. He worked in app development for a few years post-University for well-known brands.
While working, Mathias received a shock diagnosis that would shape his future direction.
The autoimmune disease that changed everything
"I found out I have rheumatoid arthritis, which is an autoimmune disease and that kind of shook my world up a bit," said Mathias.
The signs had been there since he was a child, tracing his symptoms all the way back to age 11.
"I was really tired and exhausted all the time, and I found out that this was part of it. I don't want to use this as an excuse for my failures, because I made those choices. But it taught me a lot.
"Dealing with an autoimmune disease, I don't want it to define me. But it's still part of my life and I live with it day-to-day.
"That's what drove me to study deep learning with regards to biological science. I felt so strongly that it's the way forward, it's the way we should go.
"If I could do one thing with my future work, to maybe help one person or one child not feel the pain of an autoimmune disease, that would make a difference."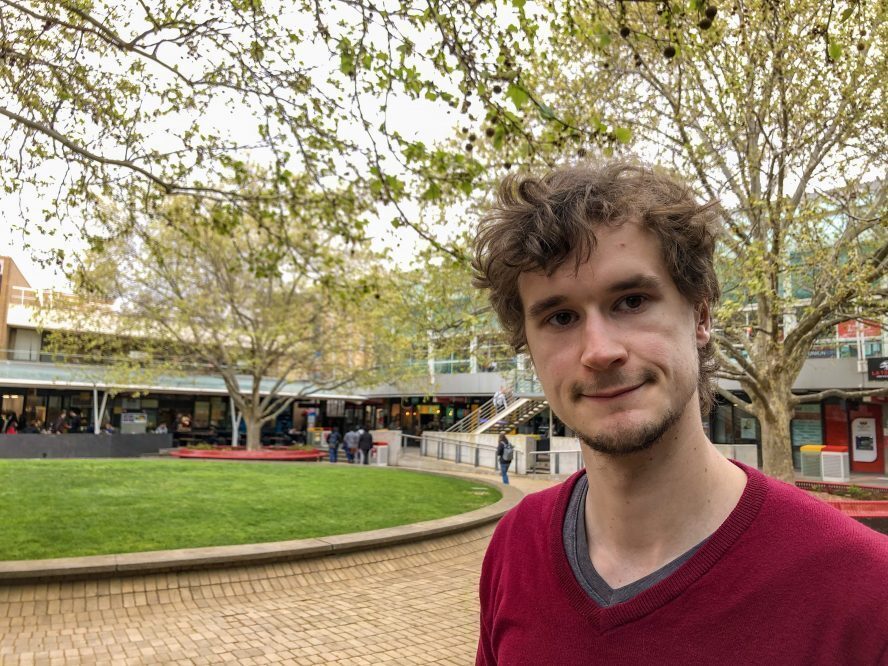 Honours and PhD: biological data, AI and deep learning
Mathias' return to La Trobe as an honours student saw him investigate the application of artificial intelligence (AI) within deep learning.
Mathias is about to publish a paper, which involves using biological data to make a probability distribution, which is then trained to predict results.
"The idea behind it is to go in the direction of personalised medicine," said Mathias. "It's about having the ability to look at biological data in a different way than we normally would. If we keep going in the same direction, we end up following the same path which means nothing new and different."
Mathias' next goal is to pursue a PhD, continuing his exploration of AI and deep learning to better understand how our environments we live in everyday impact our health.
The environment at La Trobe has made all the difference to his success in learning, says Mathias.
"My supervisor, Professor Phoebe Chen, has been a huge support to me. She's very inspirational.
"It's not just academics either. There are so many students around me who push themselves to grow, and I think that it's a very inspirational environment.
"La Trobe is really focused on the core idea of learning and I truly believe that the 'all kinds of clever' thing is really true. I found it very empowering to be a student here and I'm proud to be part of La Trobe. I love the intellectual freedom here; that you don't have to conform to what is classified as the norm – the fact that you can really be who you are."
The power of resilience
Mathias' pathway from high school to University graduate has been filled with ups-and-downs, and he never expected to be where he is today.
"Overall I'd never give it away for anything else because I learnt so much from falling down and picking myself back up. Having that opportunity to do something that I'm proud of, to redo my studies, I'm so grateful.
"One thing about doing my honours, is I realised how much I don't know and just how big the world is.
"The biggest thing that I'm passionate about and that I've learnt with machine learning is that we aren't machines. We make mistakes and we should learn from them as opposed to thinking of them as an end road."
Share your La Trobe story
Have you got an interesting story about your time at La Trobe? We love to hear it – just email us mylatrobe@latrobe.edu.au with your story.