La Trobe graduate Mary Aidonopoulos was named a finalist for Law Student of the Year at the Lawyers' Weekly Women in Law Awards. Mary graduated from a Bachelor of Laws (Honours)/Bachelor of Science (Biochemistry/Chemistry) double degree in 2019, and has since gone on to establish a career in the legal profession.
"I am honoured to be named a finalist, it is a privilege to be recognised by such a prestigious awards program and to be nominated alongside numerous brilliant and talented women," says Mary.
Mary says the decision to study law was the most significant opportunity and risk she's ever pursued.
"Being named a finalist in the Women in Law awards is confirmation for me that this risk paid off and that my hard work in law school has been recognised on a national scale," she says.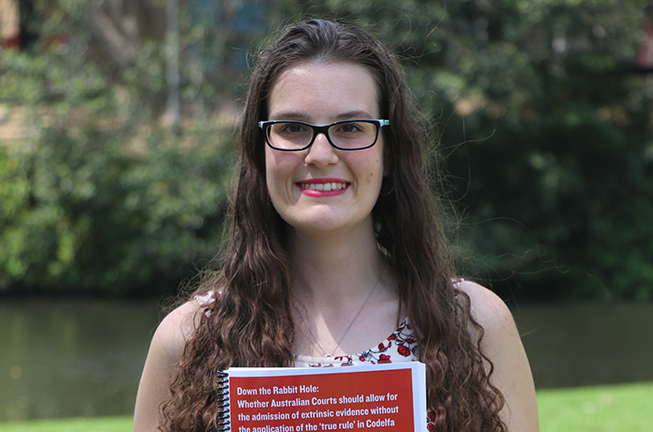 Law vs Science
A career in law wasn't always on the cards for Mary. She'd planned to pursue medicine with the goal of becoming a doctor. Mary didn't take Legal Studies classes in VCE and instead focused on science. When she completed Year 12, La Trobe offered Mary the unique opportunity to study both law and science in a double degree combination.
"I did not know what to expect and felt outside of my comfort zone," she says. "I arrived at University on the first day eager to learn about what a Law degree entailed and to give it everything I had. After my first class, I was excited about the law and knew that this felt right. The further I went into my law degree, the more I realized that this was for me. The initial discomfort forced me to grow and allowed me to discover a new passion in an area I had not originally considered."
Mary was able to balance her new passion for law whilst maintaining her interest in science, and worked as a Samples Coordinator at the agrochemical company Solvay Interox during her studies.
She wasn't aware of the intersection between law and science until her third year of university, when her biochemistry lecturer began discussing intellectual property laws.
"My lecturer was discussing the Human Genome Project and was informing the class about Celera Genomics' endeavour to patent the human genome," she says. "Former President Bill Clinton responded that no one could patent the human genome. This was the first time I was exposed to law and science in a collaborative sense and I was thoroughly intrigued. I spoke to my lecturer after class to gain further insight and was given further resources to learn more about this fascinating area.
"As my curiosity grew, in my fourth year, I completed the Intellectual Property law elective, and this confirmed my genuine interest in this area. I was also fortunate enough to complete a clerkship in the Intellectual Property team at King & Wood Mallesons and was exposed to matters which utilised my science degree and showed me how powerful this skillset is."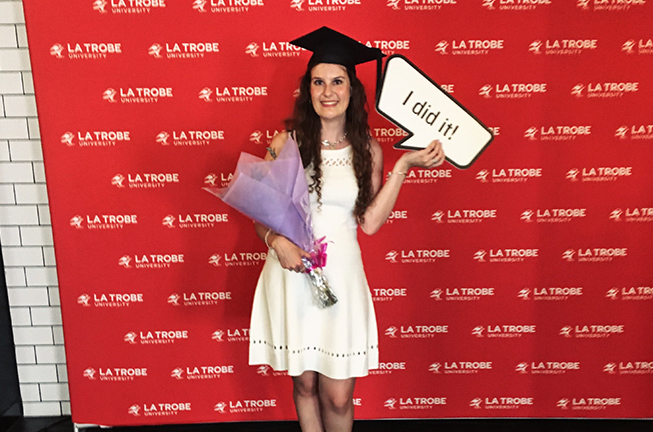 Using La Trobe as a launchpad to establish a career
While studying at La Trobe, Mary stepped up to the opportunities available to her.
First up in 2016, she traveled to the US via a program with La Trobe Abroad, completing a summer subject, Comparative Contract Law, at Michigan State University.
"It was one of the best things I have done and I am so proud to be a Spartan – Go Green!"
This wouldn't be the only time Mary would take up the opportunity to travel with her degree. After well-and-truly catching the travel bug, Mary returned to the US during the summer of the following year. This time her destination was the Big Apple. She completed an eight week internship at Friedman Vartolo LLP, a next generation law firm based in New York City.
"I worked in the uncontested New York Foreclosure, Real Estate and Litigation departments. This included regular court appearances and drafting motions and affidavits. It was honestly one of the best experiences of my life!"
The following year, Mary spent her winter break interning in Medibank's in-house legal team in Melbourne. There, you could find her undertaking legal research, as well as drafting and reviewing contracts.
"After this internship, I was very fortunate to have been invited to return to Medibank," she says. "I worked in Medibank's Company Secretariat team in 2018 and then worked as a Paralegal in the Procurement and Privacy team in 2019."
In February 2020, Mary commenced the Graduate Program at King & Wood Mallesons, undertaking rotations in different areas of the company.
"This gives each Graduate the exciting opportunity to experience and fully embrace different areas of law and try something new," she says. "My first rotation in the Mergers & Acquisitions practice group, working on a variety of commercial, private equity and corporate governance matters."
In September of this year, Mary was officially admitted as an Australian lawyer.
A Golden Key
Mary's involvement in the Golden Key International Honours Society has opened doors for her as a student. The society recognises high-achieving students who are in the top 15% of their course.
"I have been involved with the Executive Committee of the La Trobe Golden Key Chapter since 2016, serving as Academic Officer in 2016, Vice President in 2017 and President from 2018-2020."
One of the best aspects of Golden Key is the connections students make with others who share the same passion for learning.
"I owe a lot to Golden Key," says Mary. "I completed my internship in New York City through Golden Key due to their partnership with The Intern Group. I attended the Asia-Pacific Conference in Sydney in 2017 where I heard from fantastic Keynote speakers including Dylan Alcott OAM, and had the opportunity to meet and befriend other Golden Key members from all around the world. I have made so many lifelong friends and professional networks through the events I have attended over the years."
Elevating Women in Law
"I believe it is important to recognise women in law as it can inspire other women to strive for their goals with the mindset that they can accomplish anything," says Mary.
She encourages other students to put themselves forward for any awards and opportunities that come their way.
"Awards such as this can be an invaluable way to join the legal community. You can grow your connections and meet the best women in the legal profession.
"Additionally, the legal profession is getting more competitive and it can be hard to distinguish yourself and develop your own personal brand. The more women that apply for awards such as this; the more it inspires others to do the same. I encourage anyone who is reading this to be courageous and take any opportunity that is given to them."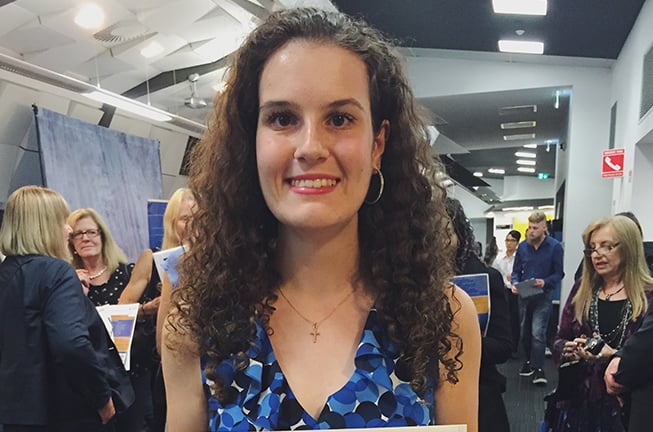 La Trobe's unique experiences
While studying at La Trobe's Melbourne (Bundoora) Campus, Mary got involved in events hosted by clubs including the Law Student Association, Chemistry Krew and Dumbledore's army. There, she met many of her friends and made connections for the future.
"During my time at La Trobe, I met so many incredible and strong women from different backgrounds," she says. "The people I met and the friends I have made throughout my degrees are friends for life. Being surrounded by so many powerful women everyday during my degree teaches you how to be strong-minded and confident."
La Trobe's Bundoora Campus proved to be a haven for Mary, who looks back fondly on her time spent enjoying the grounds between lectures.
"I love everything about La Trobe. The campus is beautiful and it provides such a relaxing environment to study with its numerous gardens, wildlife and outdoor areas.
Reflecting upon her studies at La Trobe, Mary is grateful for the academic staff that supported her throughout her degrees.
"The lectures and tutors I had during my degrees were incredible and were genuinely interested in my learning and development. The opportunities La Trobe has given me domestically and internationally within my degree have been life-changing and I wouldn't be the person I am today without it.
"My Company Law tutor in my final year is actually the reason I found out about the Law Student of the Year Award and she was the one who encouraged me to apply. I am incredibly thankful to be representing La Trobe University on a national scale at the awards. I was fortunate enough to have countless opportunities throughout my degree locally and abroad and incredible guidance from my lecturers and tutors. My university shaped me into the person I am today and I am so grateful for all of the support I was given during my degree."
What's next?
Mary knows how competitive entry into law can be for new graduates, and she wants to help make the process easier for others.
"I recognise that I am in a fortunate position and can give back," she says. "I am passionate about being able to help other law students navigate the complex and at times, confusing process of clerkships and law school.
"I recognise that this is a large goal as I am still new to the legal profession and can only talk to my experience. However, the feedback I have received illustrates how beneficial speaking to other students can be and ultimately every person I can help and mentor is one step closer to achieving this goal.
"I am proud to be a mentor to students and it makes me so happy when I can see them achieving their goals. I am constantly talking to students and giving advice on a career in commercial law and I take every chance I get to attend networking events and have attended panel events at universities."