Bendigo Campus' final year Bachelor of Laws (Honours) student Khayshie Tilak Ramesh has been awarded the title of Law Student of the Year at the Victorian Legal Awards.
The award is another feather in the cap of Khayshie, who was both surprised and delighted to co-win the award with fellow aspiring lawyer Beau Arnfield.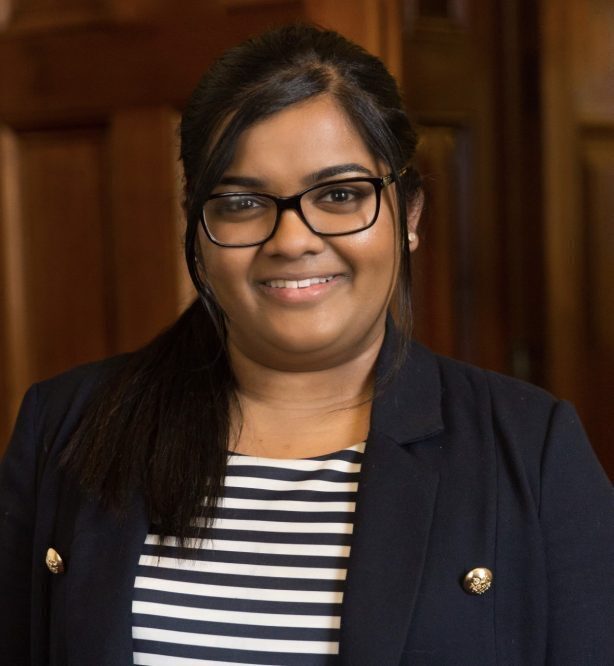 Khayshie is the first Youth Mayor of Bendigo, a long time community legal centre volunteer and is completing her honours thesis. She has been named in the Top 100 Future Leaders of Australia and was Young Citizen of the Year 2017. Khayshie is a trained mediator and serves as a Loddon Campaspe Multicultural Services board director, a Multicultural Youth Network member, the Executive Officer of the National Rural Law and Justice Alliance and as the Victorian Multicultural Youth Commissioner.
MyLaTrobe caught up with Khayshie after the awards.
"I am in my final year of Bachelor of Laws (Honours) at the Bendigo La Trobe campus, currently completing my thesis on conflict of interest within regional boards.
"I had no idea that I was going to win the award. I decided to make the trek from Bendigo to Melbourne for the event, and booked a hotel for the night with my sister who was my guest. I was very lucky that La Trobe Law School supported me to attend by sponsoring the ticket price.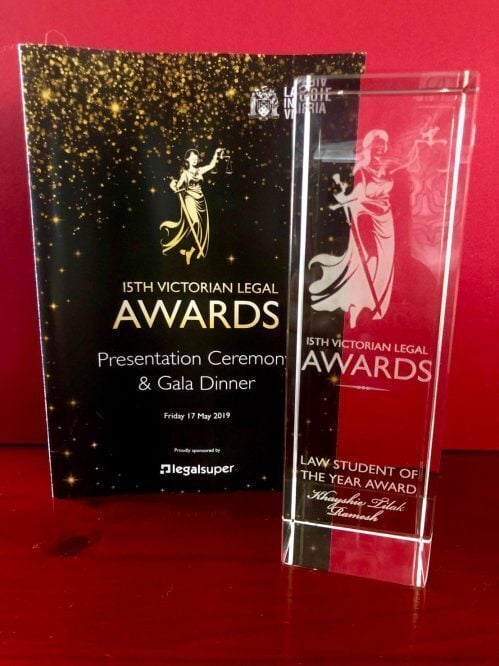 "Previous winners of the award have been extremely focused on solely legal endeavours such as doing numerous clerkships, mooting competitions and being president of their respective law clubs. Being in a rural area, opportunities for competitive mooting and clerkships are very slim and I hadn't done anything of the sort. As a result, I counted myself out of the running very early on as most of my achievements and roles are in non-traditional advocacy such as multiculturalism, youth leadership and local community commitment.
"I had a mouthful of food when the award category was announced, since I was so sure that it wouldn't be me. The calibre of the other finalists was astounding and many of them were already working at firms in different capacities. Then, the suspenseful announcement was made that there were joint winners for the category. One name was called and then somehow my name was called next. To be honest, I was in complete shock when my name went across the screen. So much so that I didn't even get up until my sister tapped me on the shoulder and forced me to stand. I was shaking when I got on stage and all eloquence seemed to fail me when I got up for my acceptance speech. Nonetheless, I managed to (very shakily) thank my family, thank my community and thank La Trobe for all of their support.
"I think I won because the legal profession is starting to commend those who take an interest in helping their community and using their skills to make meaningful change. Both of us who won the category are involved in social justice and helping vulnerable communities which is invaluable. It is so important that community contribution is valued and that the Law Institute of Victoria is holding this work up so highly.
"I think this award is very meaningful as it recognises student contribution above and beyond the completion of the law degree itself. I am also hoping that it will help me secure a job for next year in an innovative law firm or government department role. I really want to work somewhere where I can continue to help vulnerable communities and explore my passion for dispute resolution and empathy within legal practice. I am excited to see where this takes me.
I think this award is very meaningful as it recognises student contribution above and beyond the completion of the law degree itself… I am excited to see where this takes me."

Khayshie Tilak Ramesh, La Trobe Law student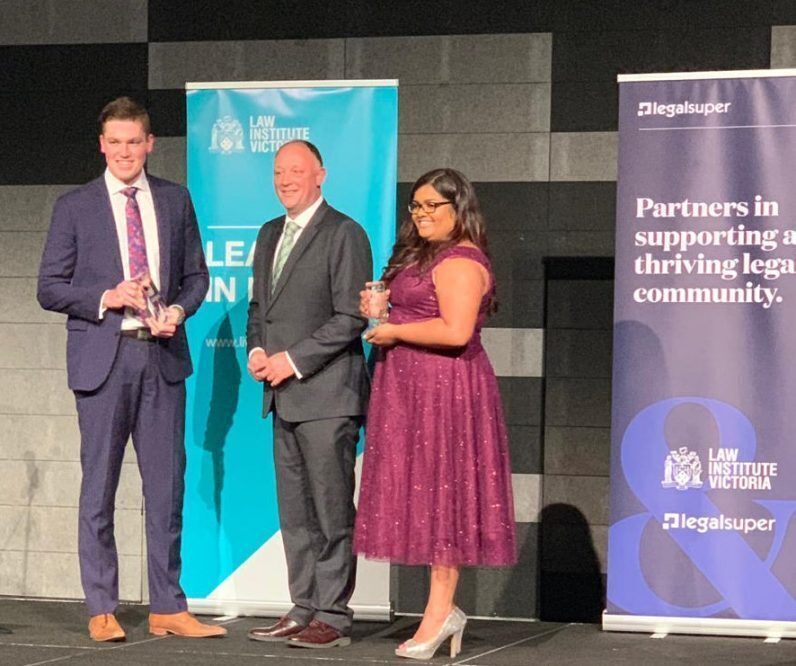 "The event itself was very fancy! It was held in the Docklands and was full of lawyers and legal community from all walks of life. I was lucky enough to be seated with Freyja McCarthy (Senior Legal Counsel and Privacy Officer of the Telecommunications Industry Ombudsman – winner of In-house Counsel of the Year category) and her team, Judi Jones (Telecommunications Industry Ombudsman), as well as David McKenzie who received a certificate of service for his many years in the legal profession. I was able to do a lot of networking on the night in different circles which is great for me as I'm usually only networking regionally. It was also really awesome to meet other regional lawyers such as Jacqui Brauman who won regional lawyer of the year. It great to see regional people cheering other regional people on. Everyone from her firm, TBA Law, were super supportive and lovely to talk to.
I enjoy studying at La Trobe because they have a social justice focus and afford me the flexibility to be involved in all of the things that I am. I find that the staff are extremely passionate about what they do and are always ready to give me advice on my ideas or guidance when I am in doubt.

Khayshie Tilak Ramesh, La Trobe Law student
"Prior to studying at La Trobe, I completed VCE at Girton Grammar School in Bendigo. My advice to other law students is to find something that you love and shape your career around it. I think we are in a time where we can really love our jobs and not work just out of necessity in a traditional career. By no means have I followed the path of the textbook law student but what I have managed to do is make my degree work for me in spaces that I am passionate about, such as multicultural and youth advocacy. It isn't easy but it is rewarding.
"I balance my community work and my education through merging them together. Take every opportunity as a new learning experience and take solace in that you will always be learning irrespective of whether that's in a classroom or not."