A group of La Trobe students are stepping up to help out those in need during the pandemic, providing 1,500 free frozen meals to students at Melbourne Campus each week.
The students are all members of the La Trobe club, 'Two Birds One Scone', which as the name suggests, was established to tackle two major issues – food insecurity and food wastage.
Before the pandemic, Two Birds One Scone were collecting unused food from La Trobe retailers. They worked with the Salvos, churches and other charities to provide this food, much of which would otherwise go to waste, to those in need in our community, such as single parents or those experiencing homelessness.
Two Birds One Scone also partners with an SecondBite, an organisation founded by two La Trobe alumni, Ian and Simone Carson, that rescues surplus food from retailers for redistribution to charities running food programs.
The club was set up by La Trobe Bachelor of Laws and Bachelor of Finance student Melissa Lee in 2016, and has been credited with saving more than seven tons of food from landfill. In turn, the club has been able to feed hundreds of Melbournians in need.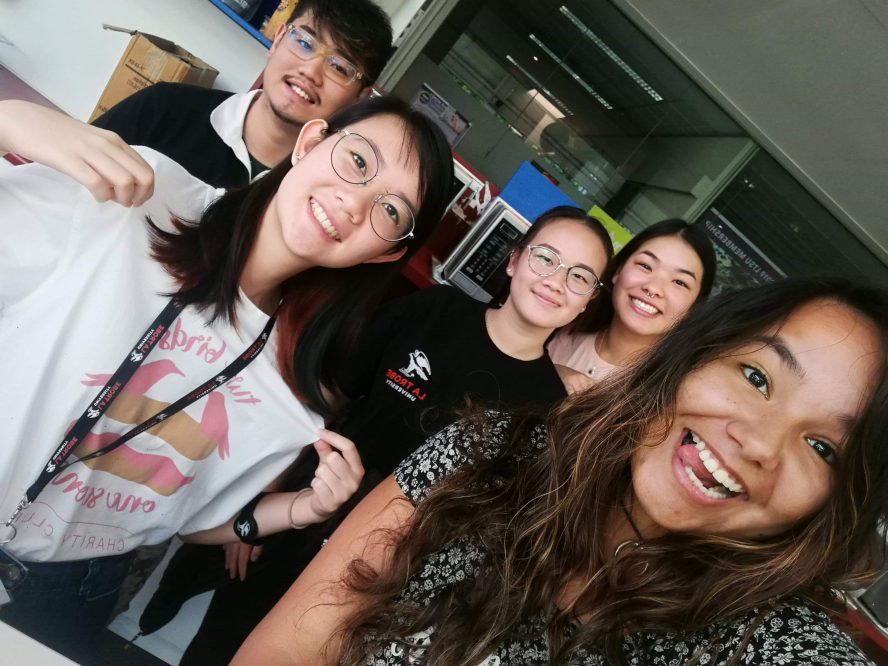 Now the club, led by President Laurence Cashin, has launched a spinoff initiative to support the University's students through the pandemic with free frozen meals.
Laurence knows, better than most, the impact food insecurity can have on a person.
"During the first few years after my parent's divorce, I saw firsthand the impact food insecurity can have," he says. "I saw it in the health of my parents, my sisters and myself – both mental and physical. St Fidelis would deliver bread to us and ocassionally we got food coupons from the Salvation Army."
This experience stayed with Laurence, now a third year biomedical sciences student at La Trobe, and proved a catalyst for getting involved in the Two Birds One Scone club.
The pandemic opened Laurence's eyes to the financial struggles some students were facing. He decided to take action to help support the students around him, launching the club's new initiative.
"During the pandemic lock-down, I was conscious that students and their parents, particularly international ones, were struggling to secure good quality food because they'd lost their jobs.
"The trigger for me happened before the pandemic, in 2018, when an international student asked if we could give him some of the food we'd collected from the campus cafés at the end of the day. I felt terrible for not being able to help someone in need in that moment. We knew we needed to increase our capacity so that we could support more students, more often.
"From then-on, I bought canned tuna and other non-perishables to give to students who asked. That's when I thought of the Free Student Food Program, and first approached SecondBite with the idea.
"I worked closely with La Trobe International Student Services, Financial Aid and Student College Leaders. At first, I personally collected meals from Secondbite using eskies to deliver them to the most affected through student college leaders. This solution was temporary and necessary whilst the formal program was being arranged."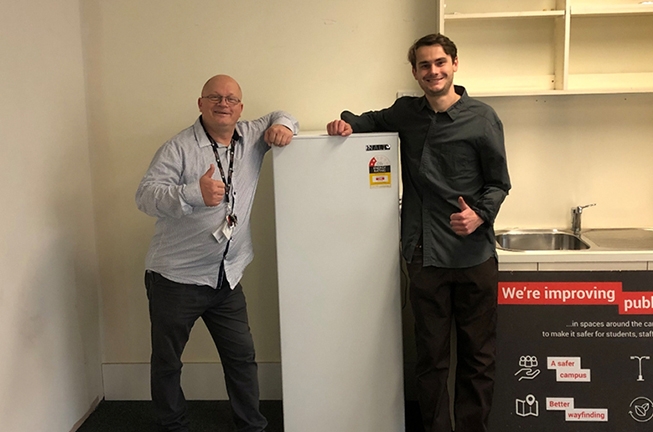 Laurence and his fellow Two Birds One Scone club members did all this whilst preparing for final assessments and completing medical school applications.
"Knowing I'd be helping people gave me the drive and energy I needed to keep going," he said.
Two Birds One Scone partnered with La Trobe's sustainability team to offset emissions from the program. The University also provided a leasing space in the Agora for the program's food distribution, as well as freezer space to store the frozen meals.
Knowing students accessing food will likely need further support, Two Birds One Scone and La Trobe have partnered to make sure the right supports are in place. A holistic range of services including financial assistance, access to International Student Services, free counselling and more will be accessible to students.
"Students who feel overwhelmed in any facet of life, please do not hesitate to reach out to support that is available to you, in whatever form," Laurence says. "Asking for help shows strength – not weakness. Students who have friends that are struggling, please encourage your friends to seek help, ask them how they are going and listen without judgement."
How students can access the Free Student Food Program
Two Birds One Scone club are offering free frozen meals from SecondBite to La Trobe students in need.
Find them in the Agora (113 Agora West) from 3 p.m. – 6 p.m. on weekdays. Freezers are staffed by volunteers from the club.
Domestic students are be able to collect free meals by presenting their student card in conjunction with a health care card at their initial collection. International students can receive free meals for one week and can seek one of La Trobe's support services to approve continual support. It is advised that students bring a cooler bag with them and meals must be frozen within 2 hours of collection. Food safety documents will be provided to students at collection.
The program can scale up its services to meet student demand, with thousands of meals per week throughout the year.
"We implement best food safety practices, and the interest of students is at the heart of what we do – student safety, privacy, assistance and inclusion," says Laurence.