A film involving two La Trobe students has taken out the top gong in the 'super short drama' category of the 2019 Berlin Flash Film Festival. Their short film, Curtain Call, has been nominated in a further two international film festivals.
The third year students, Isabella Mullany-Knight and Madie Forssman, are both majoring in media industries as part of their Bachelor of Media and Communications degrees at La Trobe.
The pair travelled to Michigan State University in the U.S. for three weeks on a short overseas program through YMCA Global Study. The program, titled 'Lights, Camera, Action!' saw Madie and Isabella learn from 24 time Emmy award-winning television journalist Troy Hale, while earning credits towards their La Trobe degree.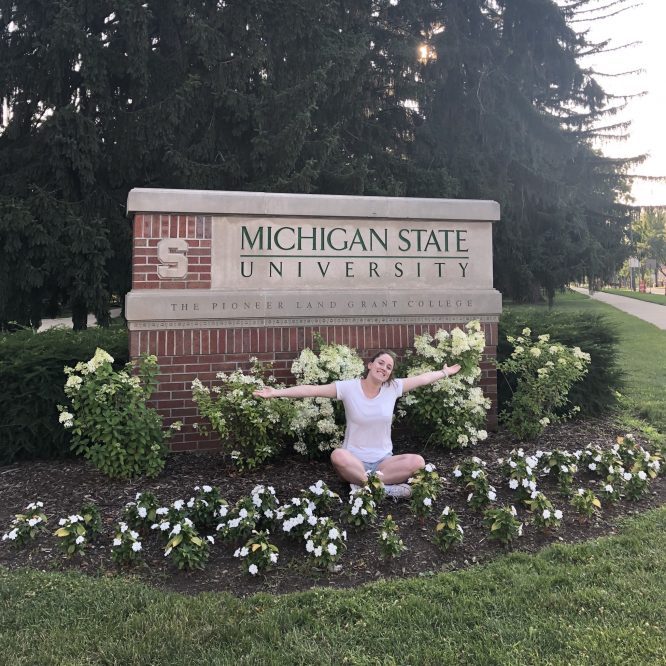 'Lights, Camera, Action!'
Dodging Melbourne's winter weather during the Semester break, Isabella and Madie headed to Michigan State University to undertake the intensive course. They began training in pre-production, on set production and post-production, building their skills in script writing, editing, production planning and using professional film-making equipment.
"The first day I was sitting in class with Troy talking about different film techniques was so surreal to me," said Madie. "I'm just a normal Uni student and couldn't believe I had this opportunity. I had the very same feeling the next day learning about sound with Jon Whiting, who has also won Emmy awards for his work."
"Every day that we spent on set was amazing," added Isabella. "I'd do anything to go back to those moments."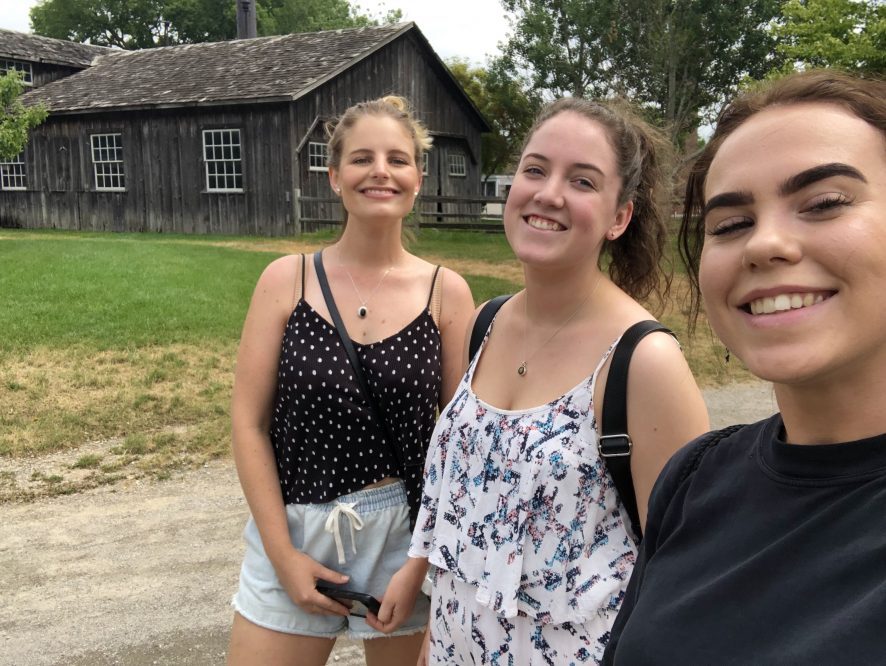 Curtain Call receives acclaim
The class of 30 students made eight films over the three week course. They were then encouraged to enter their films into as many international film festivals as possible. Curtain Call, one of the films Madie and Isabella worked on, was nominated in three – the Berlin Flash Film Festival, the Wirksworth 3 Minute Film Festival and the Miami Independent Film Festival. After taking out the top spot in the 'super short drama' category of the 2019 Berlin Flash Film Festival, Madie and Isabella are eagerly awaiting the outcome of the final two festivals.
"We're especially proud of Curtain Call," said Isabella. "We worked in a crew of 10 on set, and had help from our classmates and other students taking part in the American Semester Program.
"Our teacher, Troy Hale, was extremely knowledgeable but also so supportive, kind and humble. I still can't believe how much Troy and Jon were able to teach us in such a short amount of time.
"We'll be keeping an eye out when they're premiered and we're honestly just really excited to have international audiences see our film. I think the next step for us is to just keep creating as much as we can and to keep entering our work into every festival that will take it."
If these walls could speak
Curtain Call takes a unique look at the classic beauty and history of theatre.
"It takes the angle of what an old theatre would say if the walls could speak about its experience, with all the things that it has seen and heard throughout its history," said Madie.
"The film was narrated through the fictional 'voice' of the theatre, telling the stories of its past," said Isabella.
"We tried to focus on the chilling features of an empty theatre and then contrasted it to the life and colour it exudes when in use. The film aimed to encourage audiences to attend theatre and remember the beauty of live entertainment. We created ghost-like affects through editing and were really lucky to be able to film in Michigan State's amazing Fairchild Theatre."
Life on set
"The course was super challenging," said Isabella. "We'd sometimes be awake until midnight filming and then up at 7 a.m. to start again.
"When you're given just three weeks to make what you'd usually have twice as long to create, you're always going to be pushing yourself really hard but I loved every single second of it.
"The special thing about this course is that from start to finish you're constantly surrounded by people with similar mindsets and interests to you. Every person in your class wants to be there and wants to make something great and it's so much fun working together."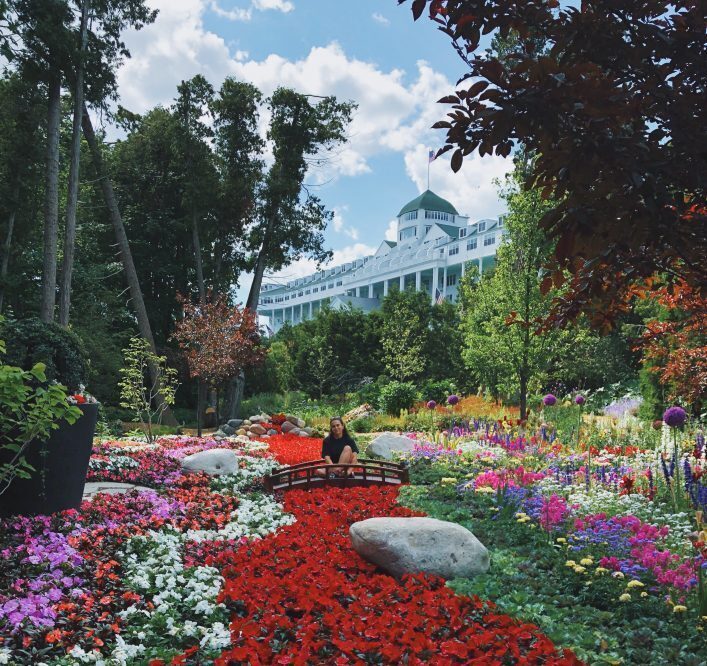 Why an early morning on-campus info session was a game-changer
An early morning phone call was not how Isabella thought this overseas experience would begin. It was her friend and classmate Madie on the phone, demanding she get out of bed and head to Uni immediately to attend an information session. Madie had seen a YMCA Global Study poster on campus and it piqued her interest.
"Once I'd attended the info session I was all in," said Madie. "I just had to go. It seemed like such a great opportunity. In the end, it was 110% worth it and one of the best experiences I've ever had."
Uni life in America 'just like the movies'
Michigan State University (MSU), with its dorms, dining halls and University spirit was a familiar sight for Isabella and Madie, who'd seen it before on screen.
"American College life is just like the movies," said Madie. "The campus was beautiful and there were squirrels running about."
"Every inch of the campus is covered in beautiful architecture and greenery," said Isabella. "I remember feeling so happy and fortunate to be in such a beautiful place, studying what I loved with a new group of lovely friends."
In true U.S. College style, the pair kitted themselves out in their College team's merch – the Spartans.
"Everyone at MSU is super passionate about the college spirit and their mascot 'Sparty' and I think most people in the program ended up leaving with some Spartan merch," said Isabella. "We were taught from the first day that if we ever see someone wearing MSU merch in any part of the world we're meant to yell "Go Green!" and they'll (hopefully) reply "Go White!" I saw it happen on one of our field trips in the north of Michigan and it was pretty great."
MSU made sure Isabella and Madie were able to enjoy as many American experiences as they could squeeze into their schedule. They took a trip on a yellow school bus, attended a baseball game, visited famous American stores and had their own graduation ceremony at the end of the program.
They also headed out on field trips to Lake Lansing, Mackinac Island, Chicago and Detroit.
After the program finished, Madie headed off on holiday to Hawaii, while Isabella toured San Francisco, Yosemite and Los Angeles.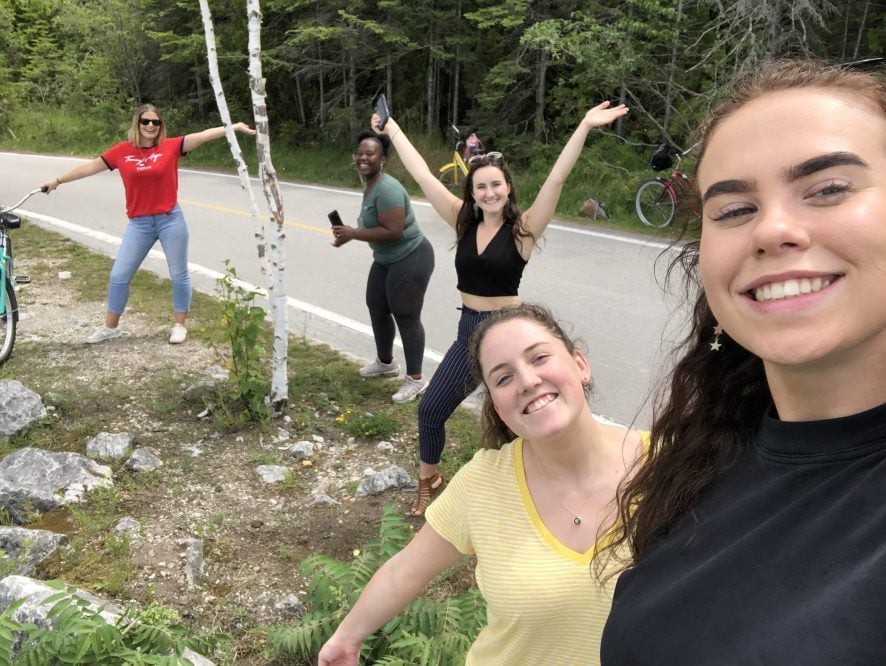 Why YOU should consider a short overseas program
"I think that everybody, no matter what they're studying should try to go overseas with it," said Madie. "It opens you up to new experiences and people that you would never meet otherwise.
"It's also a great way to see other parts of the world that aren't so touristy (such as East Lansing) that you probably would never choose to visit otherwise. I honestly couldn't recommend it enough."
Isabella couldn't recommend MSU's 'Lights, Camera, Action!' enough. Her top three reasons to take the leap include:
You're able to combine study and travel
You meet an amazing group of people with similar interests
You learn important skills and come away from the course with great films you can use in your future portfolio.
Take the leap – go overseas!
Find out more about the amazing exchange opportunities on offer at La Trobe and scholarships and funding options.
The first deadlines for exchange in 2020 are coming up really soon. Don't miss out! Hit the link below to find out about all deadlines the steps you need to take to make it happen.
Got a brilliant story from exchange? Share it with MyLaTrobe
If you have an exchange story you'd like to share, email mylatrobe@latrobe.edu.au