A La Trobe University student who has overcome adversity to fulfil her studies has received the prestigious Order of Australia Association Foundation Scholarship at a ceremony in Hobart on Saturday.
Bachelor of Arts and Law student Hannah Gandy, who attended The Pavilion School – a Victorian State Secondary School for students who have been disengaged or excluded from mainstream education – was recognised for her community work, including reengaging students in education.
"I think that one of the biggest challenges I faced in my journey to university has been a result of disengaging from education for a number of years in early secondary school," Hannah says.
"Around year 8, I enrolled in the Pavilion School. At this school the students had experienced significant disadvantage and it was working with them and hearing their stories which inspired me, alongside supportive staff members to reengage in education."
Hannah was the first student from The Pavilion to complete her VCE, and studied two university subjects in her final year through La Trobe's challenging VCE Plus program.
"I was the first (and only) student from the Pavilion School to ever complete my Victorian Certificate of Education," Hannah says.
I was the school captain of my school, and I think that because students saw me raise the bar for education it helped grow a sense of school community and helped others understand that despite challenging backgrounds they were able to achieve whatever they wanted."

Hannah Gandy, La Trobe student
"The moment this really stood out to me was when I was on a camp and a student had said to everyone (during a question asking game) that I had been her inspiration to take her education seriously."
As part of the scholarship, Hannah will receive $40,000 towards her studies and an opportunity to build an ongoing mentor relationship with a member of the Order of Australia, who is eminent in Ms Gandy's field of study.
"Having access to a mentor in my chosen field will be of enormous benefit. I have always wanted to work with young people, which has been a strong focus of my community work," Hannah says.
"Being able to share my aspirations and receive guidance from a mentor who is eminent in the field of law or politics will be extremely valuable."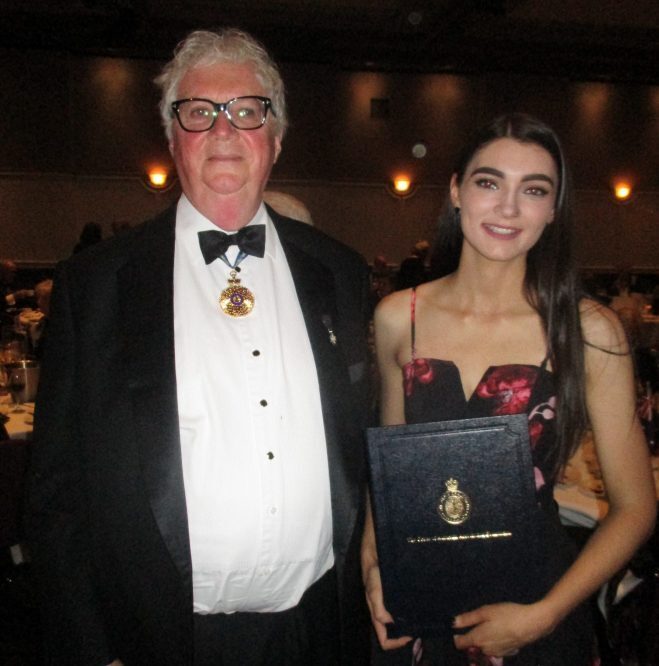 An advocate for flexible learning schools, Hannah and is employed as a youth outreach worker for Banyule Council. She is a mentor to students at The Pavilion School and works with La Trobe University to support students at disadvantaged schools.
Hannah said the scholarship will make a significant difference while she completes her studies and focuses on a career working with young people.
"The scholarship will help me by furthering my ability to act as a positive role model for the students who I have worked with. It will help provide financial support so that I can focus more on working with young people, and will provide me with a great mentor to help me achieve my goals," Hannah says.
" I really want to make a change in education. I want to help young people who don't receive a fair education to be able to reach their goals.

Hannah Gandy, La Trobe student
"I think that this is a structural issue that evident within the primary and secondary schooling systems which are tailored to a certain type of student."
Hannah's exceptional academic achievements earned her early enrolment at La Trobe through the University's ASPIRE program.
Now in her third-year of study, Hannah is participating in La Trobe's Hallmark program, which partners students with world-class researchers.
"I definitely feel very supported by La Trobe, in whatever I do. The University has provided me a lot of opportunities to become involved in things that I am interested in and have supported me academically, in my career and also as an athlete.
"I work for the La Trobe School Partnerships Program, helping to open up the idea of university to a range of low SES schools in the northern suburbs.
"I've also been employed at the Fair Work Commission for over three-and-a-half years, firstly in a ad hoc projects team and now in award modernisation.
"I'm employed by the Banyule Council as a youth outreach worker and was selected a while ago as one of the 'one hundred most inspirational people' within my council, which was a great achievement."
Hannah is also registered in La Trobe's Elite Athlete program and will represent Australia in the 2019 World Roller Games.
"I'm a coach for freestyle slalom skating and believe that it's really important for young people to be engaged in sport. In July I will be representing Australia in the World Roller Games in women's freestyle slalom skating, which I am really excited for."
La Trobe University Vice-Chancellor, Professor John Dewar, congratulated Hannah on receiving the Order of Australia Foundation Scholarship.
"Hannah has not only achieved excellent academic results, but she has made a deep and lasting impact in her own community, which is something La Trobe values highly," Professor Dewar said.
"Hannah has a bright future ahead of her, and her stellar development as a student speaks to the importance of education and community.
"La Trobe will continue to support Hannah through her studies and ensure she remains challenged and inspired to achieve and make a difference."