At a time of national crisis, it is everyone's responsibility to help in their own way. Getting protective equipment is a small thing that I could do given my network here in Australia and overseas.'

La Trobe University Public Health Senior Lecturer Dr Zhanming Liang
As countries braced for COVID-19 to hit, the demand for protective equipment for frontline medical staff went into overdrive. A worldwide shortage caused many frontline workers to wonder if they'd be able to adequately protect themselves during the crisis. As the outbreak spread, supplies became increasingly difficult to access, including here in Australia.
Rising to the challenge was La Trobe Senior Lecturer in Public Health Dr Zhanming (Ming) Liang and her friend Shawn Lin.
The pair had previously worked together to organise medical supplies to be sent to the heart of the initial outbreak in Wuhan, China.
As the outbreak grew in Australia, the pair shifted their efforts to supporting Australian frontline medical staff. They reached out to fellow La Trobe academics and staff, as well as their contacts in the Australian-Chinese community, raising enough to purchase more than 65,000 Level 1 Surgical Masks that meet Therapeutic Goods Administration standards.
Ming and Shawn distributed the tens of thousands of masks to Primary Health Networks in Victoria, New South Wales, South Australia and Queensland.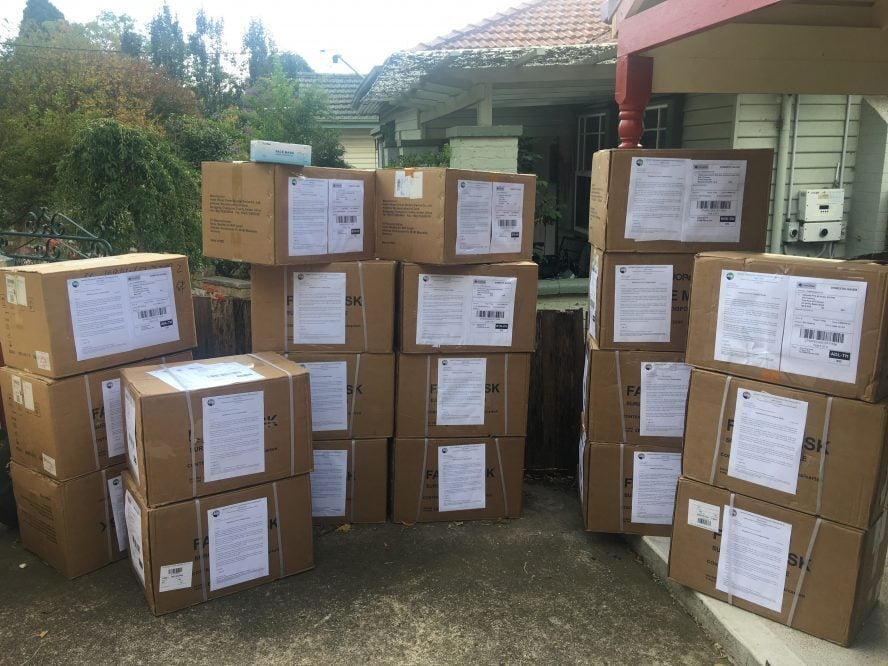 Making the impossible happen
Acquiring large quantities of suitable protective wear during a pandemic was no easy feat. In the first week of April, Ming put the call-out to her network within Australia and China and launched a fundraising campaign.
As President of the Society for Health Administration Programs in Education (SHAPE), Ming knows that importance of consulting health services to identify their actual needs. SHAPE connected Ming, Shawn and their small project team to the Department of Health in New South Wales and Victoria, as well as other health services, to identify the urgent needs of frontline staff. SHAPE's Executive Committee also connected the project team to a number of Primary Health Networks in different states.
Less than a week after their campaign launch, the Chinese government took control of the quality of medical supplies being exported, reducing the accredited manufacturer pool down to just 525 within China.
Given the high demand from the US, Canada, UK and other European countries, buying surgical masks within the first few weeks of April was a mission nearing impossible.
But Ming, Shawn and their team made it happen with assistance from Shandong Qianfoshan Hospital in China, one of the major hospitals that sent medical teams into Wuhan to battle the virus.
Although she's based at La Trobe University's Bundoora Campus, Ming is also an Adjunct Professor at Shandong Qianfoshan Hospital and Shandong University and has undertaken two research projects at Shandong Qianfoshan Hospital. The connection proved vital.
Forty-two directors of nursing from Shandong Qianfoshan hospital donated 4,000 surgical masks, 100 kn95 masks and 20 isolation gowns. The Chinese community within Melbourne also responded to Ming's call-out, collecting 1,200 masks to be delivered to North West Melbourne Primary Health Networks. On top of these supplies were the 65,000 surgical masks Ming secured from a renowned manufacturer in Henan, China, using donations to her fundraising campaign.
The supplies were flown from Guangzhou Airport and arrived in Melbourne during the final week of April.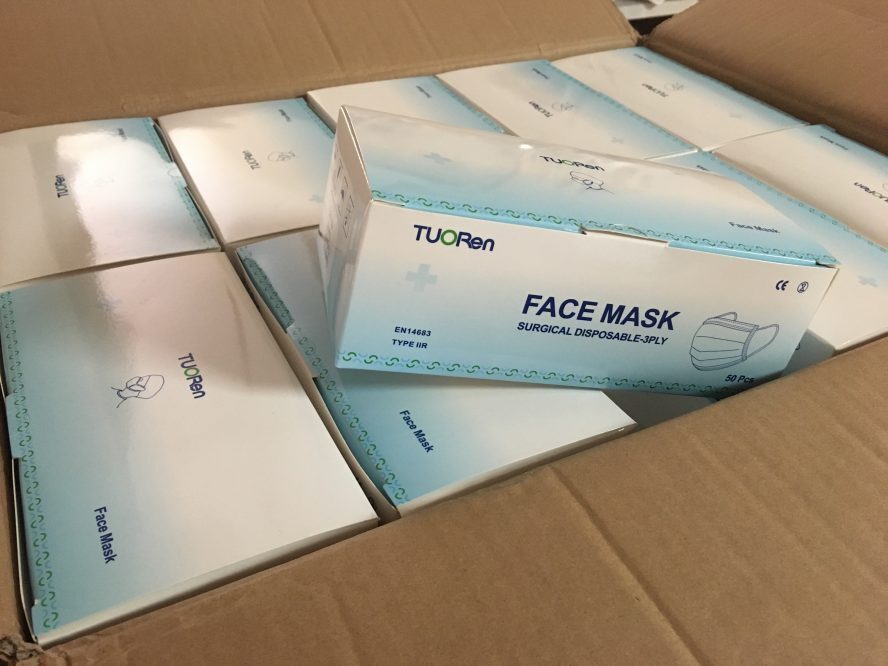 By the end of the month, the boxes had been safely delivered to seven public health networks in four states, ready for distribution to general practitioners, Aboriginal medical services, allied health professionals and
pharmacy staff.
"It was a difficult process, and I'm exhausted," Ming says.
"But the support from my colleagues at SHAPE, La Trobe, those in China and also my other personal networks including my university alumni community in Melbourne were enormous. I am extremely grateful for the support from Shawn and the commitment from our team members Jie Fang, Yan Xia, Sarah Zhu, Angel Chung, Virginia Lam, Michelle Xie, Emily Huang, Lilian Xiao and many more.
"I am touched when hearing kind words from colleagues in the Public Health Networks about how grateful they are. I also feel very relieved as it has been a very difficult project to complete with many hurdles to overcome."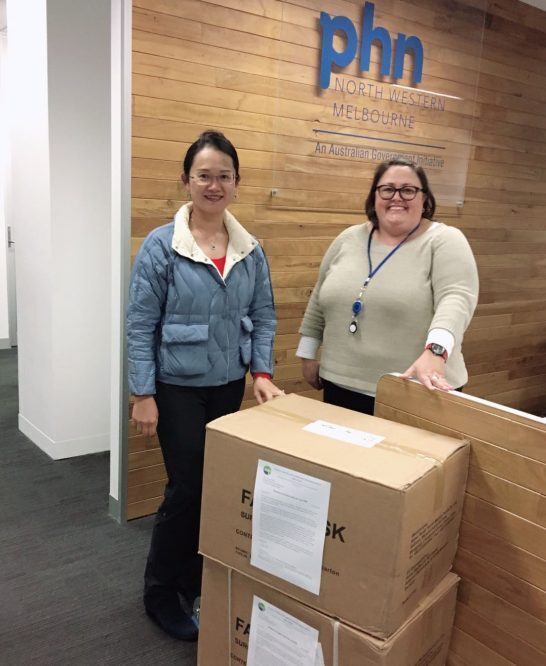 Australian-Chinese community rallies
Close to 100 individuals donated to Ming and Shawn's campaign. The majority of these donors were from Australian-Chinese communities in Victoria, New South Wales and Queensland. Academics from Australian Universities contributed to the cause, as did a number people living in China.
La Trobe's Dean and Head of School of Public Health and Psychology promoted the cause. A number of La Trobe University staff, including those from the Department of Public Health donated to the project.
"At a time of national crisis, it is everyone's responsibility to help in their own way," Ming says.
"Getting protective equipment is a small thing that I can do given my network here in Australia and overseas.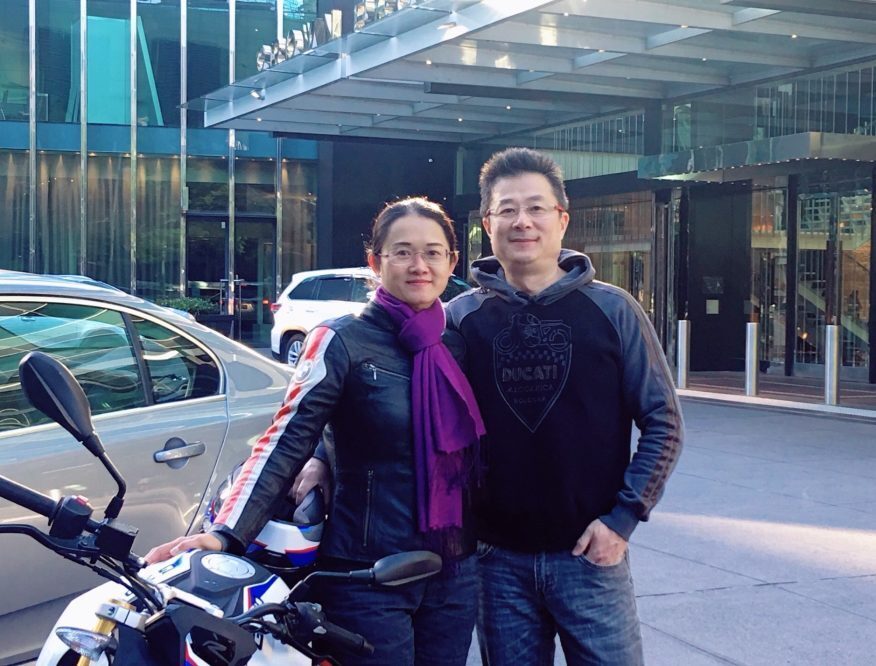 "I'm so grateful for all the assistance received from many individuals in Australia and in China. Their generosity and trust made the success of this project possible.
"We are grateful for the work that the Australian health system has done in controlling the COVID-19 outbreak and protecting all Australians. Through this small donation and kind gesture, we wish to show how much we appreciate the great work and dedication of frontline staff."