This week at La Trobe's GradsFest, Kylie Rofe joined a profession that, you could say, runs in her blood. It's a career that's seen her family care for others during wars, pandemics and emergencies of all kinds. This week, Kylie graduated from La Trobe as a fourth generation nurse.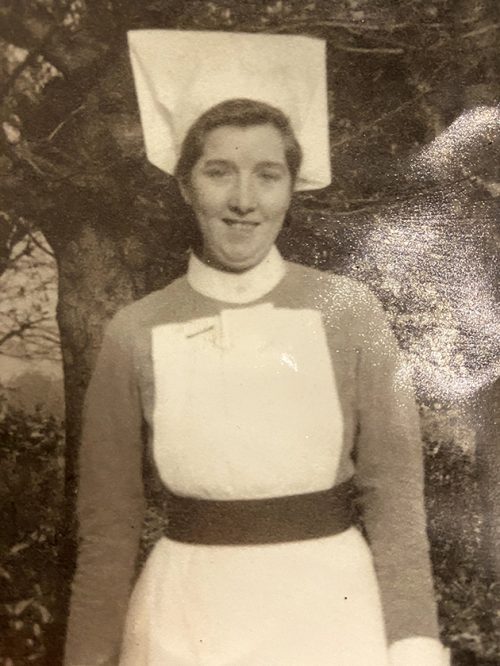 The first person in Kylie's family to take the leap into nursing was her great-grandmother, Edith Seymour. As bombs dropped on London during World War 2, Edith prepared for a rush on the hospital. Bombs were always followed by births, as panicked mothers went into labour. Edith was there to hold their hands.
A desperate 16-year-old Edith had snuck into the nursing profession in the first place, lying about her age to get a job at Grove Hospital in London, where the minimum age was 18. Her father had died from injuries sustained during World War 1 and Edith's family needed her income to survive. She nursed for 18 years in the area of midwifery and infant welfare, before moving to Australia after the war in 1949. She spent her life working as a bush nurse in Glenwills in rural Victoria, often on her own, treating those who turned up on her doorstep. She also delivered babies and escorted patients to Bairnsdale Hospital if they were too unwell to make the journey alone.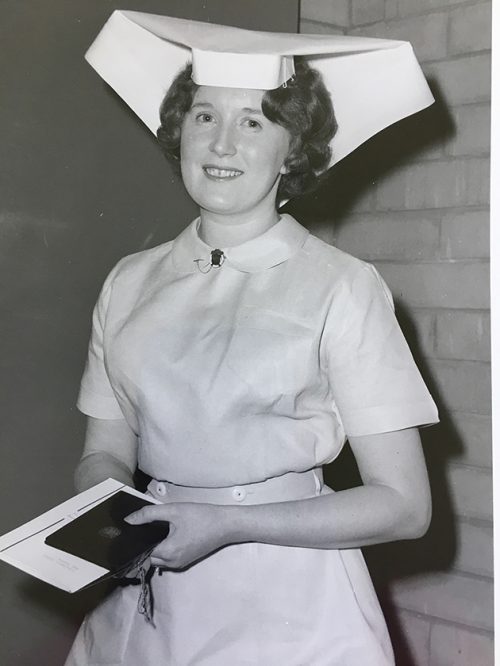 Edith's daughter Cynthia Barr followed her mother into the profession, training at Wangaratta Base Hospital in 1961. She nursed for 37 years in Benalla, Sale and Traralgon in the surgical, theatre and emergency departments.
Cynthia's daughter and Kylie's mum, Janine Rofe, is a third generation emergency nurse. She completed her graduate year at the Melbourne's Alfred Hospital before traveling around Australia as a nurse. Janine settled in Darwin, where she worked for 10 years in the burns surgical high dependency unit. There, she worked with vulnerable communities and cared for mostly Aboriginal and Torres Strait Islander patients.
After a decade, Janine returned to Victoria, working in Benalla's emergency department for a further 10 years. Like Kylie, Janine studied at La Trobe, completing a first line emergency care and immunisaton course, an especially relevant decision for where Janine would find herself next: managing a medical centre during a pandemic.
Inspired by those in her who've gone before her, Kylie enrolled into La Trobe's Bachelor of Nursing.
"I chose to study nursing as I knew I wanted a career that gave back to the community and seeing how rewarding it was for my mother and grandmother helped me know nursing was exactly what I wanted to do," she says.
While studying at La Trobe's Bundoora Campus, Kylie lived on campus at Menzies College and made life-long friends.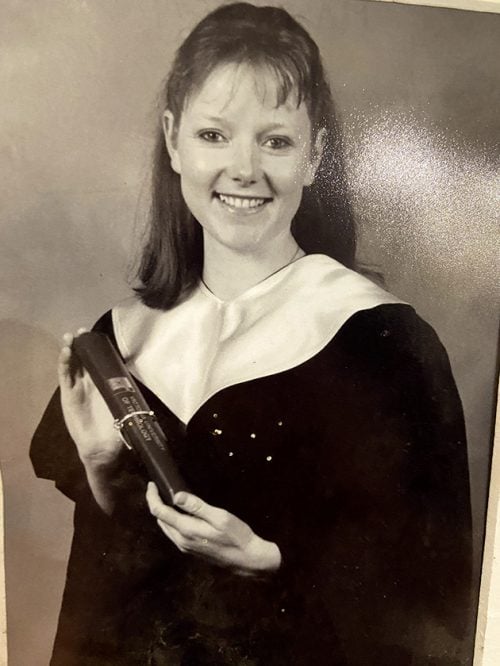 "What I loved the most about my time at La Trobe was the amazing people I met living at college and during my nursing studies," she says.
The Austin Hospital became Kylie's nursing clinical school, thanks to La Trobe's partnership with Austin Health.
"Being able to attend placements in a large public hospital on wards such as respiratory, neurological surgery and emergency has given me a wide range of experience and confidence to work as a graduate nurse in 2021," she says.
She is looking forward to supporting and caring for patients as individuals.
"Hospital can be a scary place for some people, so being a person who helps them feel more comfortable and secure is important to me as a nurse," she says.
"I want to help them feel better in what can be one of the worst moments of their life and when they're most vulnerable."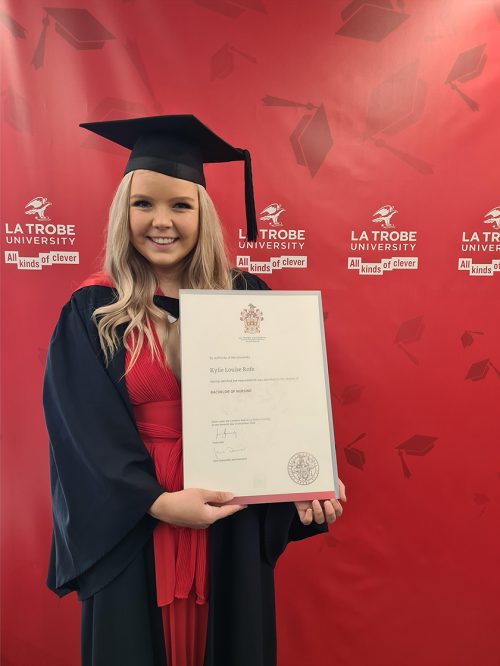 Kylie celebrated the end of her degree with her family and friends at La Trobe's GradsFest, Victoria's first on-campus graduation event since the COVID-19 pandemic began. 3,500 students donned mortar boards and gowns throughout December 2020, welcoming their closest loved ones to campus to celebrate their achievements.
"I thoroughly enjoyed my gradfest experience," Kylie says. "It was extremely well-organised considering the COVID-19 restrictions. Everyone still got to have their moment with their close family and friends."
Kylie has secured a graduate role at the Northern Hospital and can't wait to follow in the footsteps of the women in her family.
"I am extremely excited that I have been able to graduate in a career where I am able to work and travel," she says.
"I am shocked that this chapter of my life is over but I'm also excited to start the next chapter where I can go into the nursing workforce and make a difference in people's lives."