Over the past 10 years, student Jasmine Le Tisser has faced an unimaginable raft of health issues. She has been diagnosed with scoliosis, had two small tumours located in the lower lumber of her spine, and suffered from severe epilepsy. Within the past three years alone, she has also had surgery to remove tumours on four parts of her brain.
All of these health issues are linked to Neurofibromatosis (NF), a set of three complex genetic conditions that cause tumours to form on nerve cells throughout the body. Jasmine is one of 10,000 Australians to be born with the condition written in her genes.
Colour-changes and headaches
At age eleven, Jasmine noticed she was seeing the world a little differently. Objects she'd once known to be one colour were now appearing as another. The onset of red and green colour-blindness was a symptom of something more serious.
"It all began with an optic glioma behind my eyes," says Jasmine. The benign brain tumour that had formed on the optic nerve crossing into Jasmine's brain would prove to be the trigger for her colour-blindness.
The tumour on Jasmine's brain wasn't the only one doctors found on her MRI scan. They also found two small tumours in her lumbar spine, as well as scoliosis.
"The best option was to do 12 months of chemotherapy – once every 28 days. My family and I would drive two hours to the Royal Children's Hospital to receive treatment."
Chemotherapy treatment afforded Jasmine three years or relative peace, where she could enjoy going to school and hanging out with friends. She still had routine scans, and in 2015 a worrying speck appeared on her brain scan. Within six months, the speck had doubled in size.
Jasmine was just 15 at the time when doctors decided to operate to remove the aggressive pilocytic astrocytoma in the back of her parietal lobe.
Four years later, Jasmine was back in Melbourne again for another surgery, this time at the Royal Melbourne Hospital. A neurosurgeon removed the entire right temporal lobe of her brain and resected her hippocampus and amygdala. It was all in the aim of stopping the aggressive epilepsy Jasmine had been experiencing, with more than thirty seizures a month that were unresponsive to medication. It worked and, to this day, Jasmine is seizure-free.
In 2020, Jasmine had her third surgery, a left frontal craniotomy to remove a fast-growing benign brain tumour in her left frontal lobe.
"As you can imagine, I've spent a lot of time in hospital and lots of time recovering from my surgeries and treatment," she says.
"I've missed out on a lot of things that normal teenagers take for granted. People and specialists sometimes forget that there is a real person behind those scans and test results. A person who wants to live out their youth the same way anybody else would."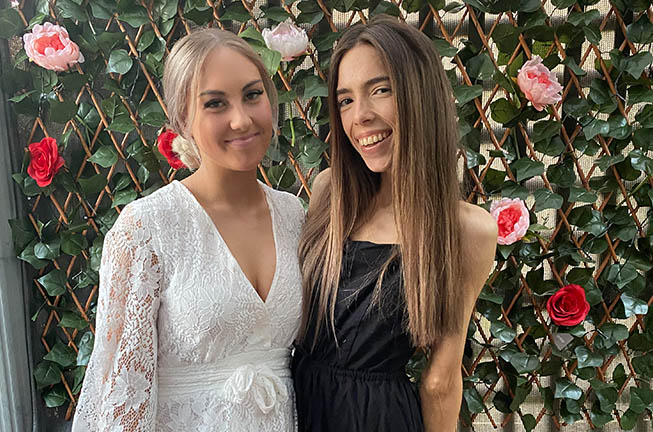 Shaped by NF, but not defined by it
Despite all that Jasmine has endured, she says her NF doesn't define her and she hopes that other people with the condition feel the same.
"I'd remind others who also have NF to remember that you aren't your health condition," she says. "There's so much more to life than just the hospital. You can still live the life you want to live. Find out what works for you and go for it. We didn't choose our genes, but we can choose how we wear them."
Jasmine says her experiences with NF have shaped the person she's become.
"They've made me wiser and more compassionate," she says. "And more loving of the world I live in and the people in it. My NF has taught me to appreciate things, and to take opportunities by the hands and grasp onto them."
And that's exactly what Jasmine has done. She took the leap and moved two hours away from her family home to study a Bachelor of Media and Communication at La Trobe's Bundoora Campus, majoring in journalism.
"Within my first two years of university, I've tackled two major brain surgeries, not letting any of this to hold me back," she says.
"I didn't want to be the bystander in my story, so I chose to be the protagonist. To follow this degree I had to make the mighty move of all moves two hours away from my rural country home. La Trobe was the only place that offered exactly what I wanted – the facilities and the student/teaching environment.
"I chose to study Journalism because I love to write, create visual and audio content. The degree sends me down so many different paths."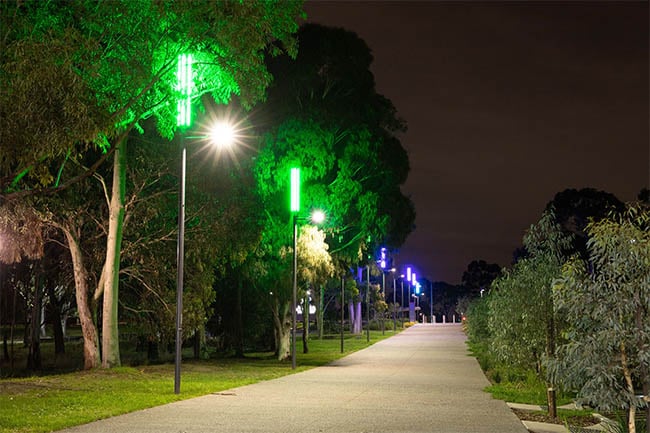 Raising awareness
On Monday 17 May, 2021, Jasmine is lighting up the pathway between Science Drive and Kingsbury Drive at La Trobe's Bundoora Campus as part of the 'Make NF Shine' campaign.
Jasmine interns for the Children's Tumour Foundation, the organisation behind this year's campaign in Australia that aims to spark a community conversation about the condition during NF Awareness Month.
More than 50 locations across Australia are lighting up their buildings, monuments and landmarks blue and green to bring NF out of the shadows. It's one of 53 sites across Australia taking part in the global movement, with Australia's participation rivaling that of the U.S. and U.K. Jasmine has played a big part in the success of Australia's campaign, spending hours researching locations, businesses and government departments who may want to take part.
"I have emailed, cold called and even hand-written letters to key locations around Australia, using my personal experience of NF to inspire support," she says. "I have thrown every ounce of my energy and passion into creating the best possible outcome for the Children's Tumour Foundation and the broader NF community."
Jasmine is driven to create positive change in the future for those impacted by NF and their families, and this campaign is a big part of that.
"NF is part of my DNA, but my passion to support this cause runs through my veins," she says. "By using my time to help light up buildings around Australia, I have been able to focus my energy and hopefully see a noticeable shift in awareness and understanding of Neurofibromatosis. I see this as an opportunity to help recognise a large community of people who have felt invisible for far too long."