Thursday 5 May 2022 is International Day of the Midwife.
The College of Midwives at our Bendigo campus are hosting a Walk With Widwives event.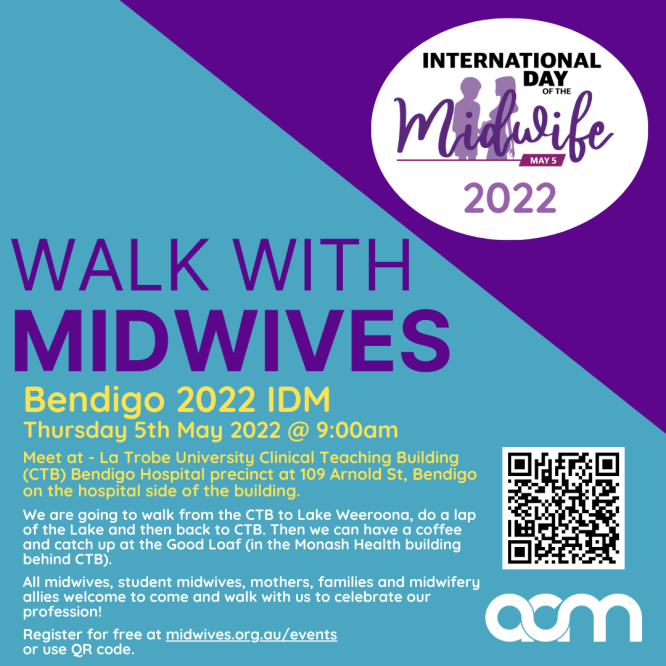 When: Thursday 5 May 2022, from 9am
Where: Meeting at La Trobe University Clinical Teaching Building (CTB), Bendigo Hospital precinct at 109 Arnold St, Bendigo on the hospital side of the building.
The walk will begin from the CTB to Lake Weeroona, doing a lap of the Lake and then back to CTB.
All midwives, student midwives, mothers, families and midwifery allies welcome to join in on the walk and have a coffee and catch up at the Good Loaf afterwards (in the Monash Health building behind CTB).
The Australian Nursing and Midwifery Federation (ANWF) are hosting an International Midwives Day Forum.
Hear from presenters in the midwifery space, who will discuss issues and innovations in midwifery practice:
Adjunct Professor Tanya Farrell – Acting Chief Nursing and Midwifery Officer and Chair of the Consultative Council on Obstetric and Paediatric Mortality and Morbidity;
Fiona Faulks, Lecturer – Nursing & Midwifery, La Trobe University – Rural Department of Nursing & Midwifery;
Madeleine Harradence, Assistant Secretary, ANMF (Vic Branch);
Nicole Allan, Maternity Services Officer, ANMF (Vic Branch); and
Some of our newest entrants into the maternity workforce space – Registered Undergraduate Students of Midwifery (RUSOMs).
When: Thursday 5 May 2022, 2pm – 3:30pm
Where: Carson Conference Centre, 535 Elizabeth Street Melbourne Victoria, 3000