It's the news you've all been waiting for….IGA Xpress will be opening in the Agora at the Melbourne Campus at 10am on Monday, 24 May 2021!
To celebrate the opening of the new IGA, spend $30 in store and you can go into the draw to win a 50 inch TV! Enter your details with the IGA staff at the checkout. The lucky winner will be drawn by IGA on Monday 7 June 2021. See in store for further details.
The store will be just like a mini-supermarket with a great range of produce and products for the La Trobe community studying, living or working on campus, including:
A fresh produce section with market style fruit and vegetables
Fresh meats from the butcher
Grab-and-go food and ready-made meals
Health foods
Over the counter pharmaceutical goods
International dry groceries
Liquor
Fairtrade products
With over 3,000 products in store at competitive prices, you'll be able to grab something convenient for your lunch, pick up something for dinner on the way home or do your regular food shop!
In addition to being able to withdraw cash over the counter with no fees (minimum spend $5), the store also has an ATM inside – withdrawal fees may apply for certain bank cards and will be indicated on screen before the transaction is processed. And in line with our efforts to reduce single use plastics on campus – don't forget to BYO reusable shopping bags, or you can buy one in-store for 15c.
Owner Hitesh Palta, said he looks forward to joining the La Trobe community and welcoming customers in store, which will be led by Paul Gambins who has 34 years' experience in the retail industry. You might spot some familiar faces too, with some of our very own students working in the store.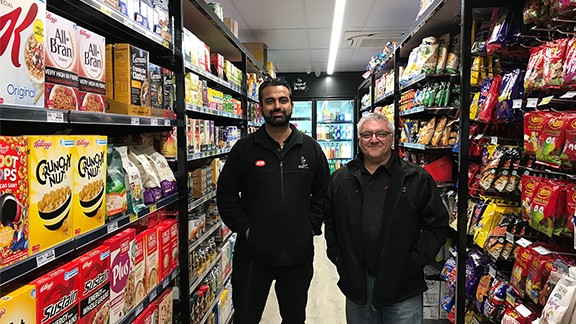 "We're really excited to be opening in the Agora. Myself and our friendly team are looking forward to getting to know the staff, students and residents at La Trobe, as well as those visiting the campus," he said.
Hitesh was behind the introduction of 'elderly hour' at his Altona store at the height of the COVID-19 pandemic and lockdown restrictions last year, and said there will also be a community focus at the Agora store through the IGA Community Chest program.
"This means that when our customers purchase a product with the Community Chest logo printed on the label, a percentage of that goes into our charity pool and at the end of the year we distribute that money to a charity of our choice," he said.
The IGA Xpress adds to the diverse retail and service offering in the Agora which is central to the campus and a part of La Trobe's University City of the Future plan. There are many cafés, restaurants and retail outlets at our Melbourne Campus – whether you're looking for a quiet spot for a coffee, a bite to eat or retail shops and services, there are plenty of options to explore.
IGA Xpress trading hours:
Monday to Friday: 8am to 6pm
Saturday to Sunday: 11am to 4pm
A reminder that La Trobe is committed to providing a safe, healthy, productive and supportive environment for all staff and students. Please refer to the Alcohol and Drugs (staff) and Alcohol and drugs (students) policies when considering the purchase of liquor.