The Agora IGA Xpress is turning one this month! To acknowledge this milestone, and the continuing support of the La Trobe student community, store owner Hitesh Palta (pictured below) and his team are giving one lucky shopper (who spends $30 or more instore) a 50-inch ultra-high-definition Smart TV.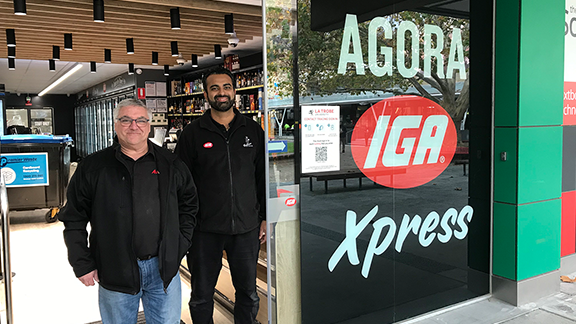 As store owner, Hitesh is proud of the IGA Xpress' wide range of fresh produce, great products and friendly staff – all of which have seen the store become an Agora staple for La Trobe staff, students and the broader community since it opened in May 2021.
Hitesh and his team are grateful for the community support for the store – especially, as he says, given the COVID-19 related challenges of their first year.
"During this past year, our store has experienced many challenges, none of which greater than the isolations and lockdowns associated with COVID-19, causing many to work and study at home, online and off-campus," Hitesh said.
He outlines how they have been able to overcome these challenges, "through the continued support, assistance, and patronage by you, the La Trobe University staff and students".
As they mark the store's first birthday, Hitesh can happily report that the IGA Xpress, "is currently experiencing positive feedback and increased trade". And as a sign of appreciation to the store's customer-base and to mark this birthday occasion, the IGA Xpress is giving away a smart TV to one lucky customer.
Next time you're on campus, be sure to stop by the IGA Xpress and spend $30 or more in one transaction to be entered into the draw to win a Ffalcon 50-inch UHD Smart TV. More details, including terms and conditions, are available instore.
While you're there, you'll notice the Agora IGA Xpress' extensive range including fresh meats from the butcher, ready-to-eat meals, international dry groceries, and fair trade products. And there's no signs of Hitesh and his team slowing down with new offerings regularly added in the store!
Since opening, they have stocked more new and exciting items for the LTU Community to enjoy, including a sugar lolly station, various American imports, international coffees and giftware.
When the store opened in May 2021, Hitesh outlined his community-focused commitment to La Trobe. In the last twelve months, he has certainly ensured that the IGA Xpress' impact goes beyond its great in-store variety, with the retailer supporting our LTU community by donating 40 boxes of hand sanitizer to the University, and assisting the wider Victorian community by donating $250 to the Royal Children's Hospital through the IGA Community Chest initiative.
The Agora IGA Xpress forms part of the diverse retail and service offering in the Agora which is central to the campus and a part of La Trobe's University City of the Future plan. There are many cafés, restaurants and retail outlets at our Melbourne (Bundoora) Campus – whether you're looking for a quiet spot for a coffee, a bite to eat with friends, or retail shops and services, there are many options to explore.
IGA Xpress trading hours:
Monday to Friday: 8am to 6pm
Saturday to Sunday: 11am to 4pm
A reminder that La Trobe is committed to providing a safe, healthy, productive and supportive environment for all staff and students. Please refer to the Alcohol and Drugs (staff) and Alcohol and Drugs (students) policies when considering the purchase of liquor.