NAIDOC Week celebrations have begun across Australia for another year, offering all Australians a chance to celebrate the history, culture and achievements of Aboriginal and Torres Strait Islander people.
This year, the theme for NAIDOC Week is Voice, Treaty, Truth: three key elements set out in the Uluru Statement from the Heart.
The theme was the inspiration for a speech by the Bendigo Campus' Indigenous Academic Enrichment Adviser, Tashara Roberts, at the outset of NAIDOC Week celebrations in Bendigo on Thursday.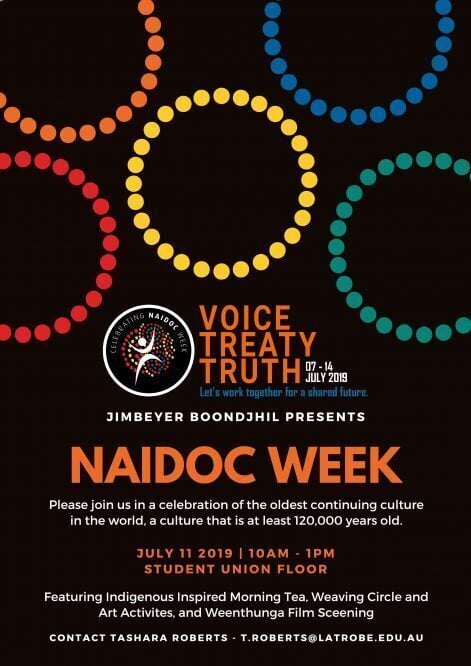 She used her speech to call for treaty, Constitutional recognition for Aboriginal people and a First Nations voice in the Australian Parliament.
Tashara says these are the ways to "heal the divisions of the past".
Her unit will host a morning tea, film screening and series of Indigenous art activities at the Bendigo Campus' SU Floor from 10am to 1pm this Thursday 11 July.
In the meantime, you can read her speech here:
"I'd like to pay my respects to the Djaara people of the Dja Dja Wurrung language group, who are one of five mobs that make up the Kulin Nation. The Djaara people are the traditional owners of the lands that we meet on today, have been the custodians of this land for many centuries and continue to care for this country today.
We are here because it is NAIDOC week and in Victoria this week is now a fortnight long celebration. However NAIDOC started as a day of observance, and I think that makes this year's NAIDOC theme more poignant: Voice. Treaty. Truth – let's work together.
My bloodline connects me to the first humans to ever leave their footprints on these lands and the oldest continuing culture in the world.
I am Dja Dja Wurrung and Yorta Yorta. But like many of you, I also have ancestry that comes from other lands, in my family's case, this is England and Germany. I am both Aboriginal and Australian. Like many of you I am a result from a union that did not sit comfortably with Australian society, and because of this union, I am both black and white.
I have a lived experience and memories that could only have been experienced on this continent, the continent we now know as Australia.
But am I really Australian? Am I really Aboriginal? I am neither and both. Like many of my countrymen I don't really fit anywhere and as a result experience both racism and lateral violence. This makes me think a lot about the identity politics of these lands. I often wonder, what does it even mean to be Australian? Yet I still call myself an Indigenous Australian.
As someone who identifies as an Indigenous Australian, I am torn between embracing and celebrating the uniqueness, and multiculturalism that is Australia and all that is great about our nation. But I am only too aware that this country has not been so great for everyone.
The truth is that our shared history is not pretty. For Indigenous Australians it is a history of bigotry, loss, pain and misery. It is a history of Massacre, segregation, slavery, assimilation, stolen children, servitude, intervention, incarceration and a genocide that has continued for 231 years. Sadly, most Australians have no idea about this history and so much of it goes unacknowledged. This history does not make it into history class, for much of Australia, it is a forgotten history. But we must remember and pay tribute, as a nation to these historical events, just as we do for the Anzacs and just as we do on Remembrance Day.
Australia needs to remember all of its history, not only the history that is palatable. Yet by remembering do we need to hold on to the pain and anger? I'd argue that in order to heal, in order to reconcile; we need to acknowledge, make amends and then let go and forgive. In order for us to work together, to be 'one people' we must forgive and collectively ask ourselves some difficult questions.
What does it mean to be a nation united, one people?
What will that look like?
What would it look like if we'd been settled instead of being invaded?
How do we get there?
How will we know we have made it? How much is enough?
How can truth, justice and equality truly work for all of us?
We need to start asking these questions of ourselves and each other, because a treaty process is just around the corner and if it doesn't happen now, it might never happen.
In Stan Grant's book Australia Day, he grapples with similar questions. He explores what it means to be an Indigenous Australian and how we might put aside those things that divide us and rather unite as one nation.
Unity is part of Aboriginal philosophy, we are each other. I am part of you, just as you are part of me, we are all connected. I'd like to see a time when we can really say 'We are now one people', just as New Zealand did on the day they signed the Treaty of Waitangi in 1840. We are the only Indigenous peoples in a commonwealth country without a treaty in place.
Makarrata is a Yolngu word which captures the concept of two parties coming together after a struggle, healing the divisions of the past. It is about acknowledging that something has been done wrong, and it seeks to make things right.
We have been talking about a Treaty of Commitment – or Makarrata – since the year of my birth in 1979. That's 40 years, maybe two-thirds of my life waiting for treaty.
I hope to spend the last part of my life with a treaty in place. It's time for treaty, its time for recognition, its time for reconciliation and it is time for a First Nations Voice to Parliament, it is time that Australia heard our voice."