First up, please don't passive-aggressively share this article in your assignment's group chat. That's not helping anyone.
Group work can be a challenge, but there's a reason why it's such an important part of Uni. Group work encourages a heap of behaviours that will be both valued and essential in the workplace after you graduate. Communication skills, the ability to empathise with others, teamwork, productivity and cooperation with people who may be different to you are all necessary to conquer that group assignment. And, we know employers are looking for these 'soft skills' too.
You may even learn about conflict negotiation if someone in your group drops off the grid and fades into oblivion. Let's face it, it's not ideal but it can happen.
So, how can you avoid being 'that person' in group work who sends a cold shiver down the spines of their peers? And instead be the absolute star everyone in your course dreams about being grouped with? Here are six ways.
Set clear objectives
Have a kick-off meeting and agree to goals and tasks. Then set deadlines that work for everyone in the group, allowing a little buffer room in case something goes wrong or an unexpected hold-up occurs. It's important everyone in the group agrees on the goals set and tasks assigned to them, as people work more effectively when they know exactly what is expected of them.
To ensure your group meetings are effective, set at least one goal for each meeting. Talk about what you want to achieve at the start of the meeting, and then circle back at the end to confirm you've accomplished it. This is a great way to keep conversation on track and feeling like you're all getting somewhere.
Respect each individual's strengths – and play to them
Each member of your group will likely possess a skill or piece of the puzzle another does not. Respect one another's strengths (and weaknesses) and discuss what each member is capable of contributing to the project. Then, create a plan with a series of objectives and tasks everyone agrees to. People are far more likely to achieve success if they've all agreed to a common goal and are clear on how to reach it.
Divide and conquer
During your initial project planning, get to know each group member's strengths. Break down tasks and decide together on who will undertake each one. Set deadlines and consider the resources required for each task as a group – some members may know about resources others are unaware of. Discuss any challenges and set a time to touch base regularly to avoid any last minute panicking.
When it comes to group work, everyone is responsible for making sure that the rules of academic integrity are followed. So make sure everyone checks their work."

Kat Nordern, Advocate at the La Trobe Student Union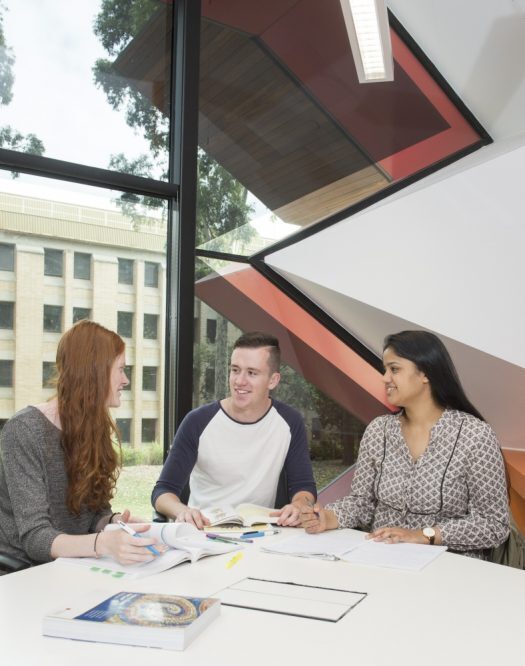 Make the most of the Cloud
Use innovative, cloud-based project management apps such as Trello, Asana or Taskworld to manage tasks, share commentary and save files and links in a single destination, accessible from any device.
Capitalise on file-sharing through free online sites such as Google Drive or Dropbox as a way to keep on track and work collaboratively across geographic distances, or in groups where it's hard to find common time to meet face-to-face.
Keep in touch with your teammates
Group work can be intimidating for some students. If you notice one of your team struggling to keep engaged, take the time to double back and ensure everyone on the team is moving forward at the same pace.
Empathy is key when working in a team, and this is a skill that employers are increasingly seeking out in graduates. And, you never know what someone is going through, so it's important to be supportive and kind to your classmates.
Keep connected with your team via a group chat and update everyone with any deviations from the agreed plan. Be respectful in your conversations and don't exclude any members from your communications – it's bullying and you don't want to be that person in the group chat.
Do your personal best
Don't deviate from the plan, or if you have to, communicate it with others in the group. Others in your group are relying on you to keep your word and try your best.
Things don't always go to plan in group work. You can contact your tutor if you are having difficulties and remember that you can always come and speak to an advocate."

April Orr, Advocate at the La Trobe Student Union