There were two main influences behind student Samuel Walker's decision to study a Bachelor of Cybersecurity at La Trobe's Bundoora Campus.
The first was in 2011, when a hacker group called LulzSec began hacking numerous companies and leaking the private data of their customers online. One notable attack was on the Sony Playstation Network, which allows people to play videogames online. Lulzsec took the network down for about a month, stealing the personal data of 77 million PlayStation users in the process.
"The hack on PlayStation made me really take note of the issues surrounding cybersecurity, or as one of my co-workers put it, 'I got into Cybersecurity because I couldn't play the Playstation'," says Sam.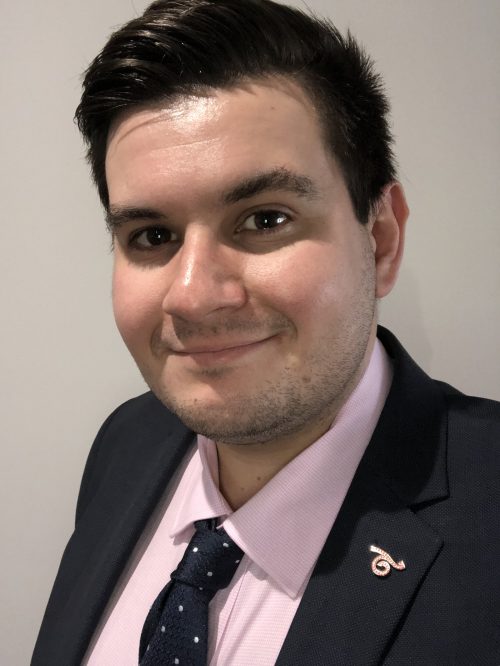 The second reason Sam became interested in cybersecurity was through playing a video game released in 2014 called 'Watch Dogs', a Grand Theft Auto-style game set in a futuristic Chicago.
"In the game, the city's entire infrastructure is networked together and involves computer hacking," he says. "I remember saying. 'This will be real life in 20 years' when I first played it. Fast forward to 2020 and we're now talking about the advent of 5G, IoT and 'smart cities'."
A self-confessed 'computer nerd' growing up on Queensland's Sunshine Coast, Sam was fascinated with 4Chan, Anonymous and the acts of 'hacktivism' they performed.
Cybersecurity is an interest that's paid off, with Sam landing a well-paid full-time position in his final year of study.
The winding road to University
When Sam caught the tram through the city in Melbourne on his way to his retail job, he'd stare out the window at the university students passing by out the window, wondering if he'd ever be among them.
Discouragement in his high school years had seen Sam close the door to further study. But as he passed those students in the city each day on the way to his retail job, the door started to crack open.
"I was never really good at academia," he says. "When I was in Year 11 at high school, I got pulled aside by my Geography teacher, who basically told me I was wasting his time, wasting my time and to essentially give up and drop out of school. Being a naïve 16-year-old with low self-esteem, I believed what he said and stopped applying myself. I barely graduated Year 12 without an ATAR."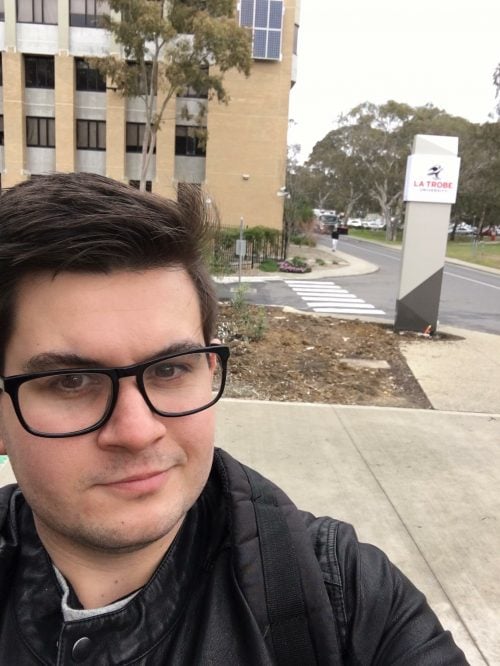 After high school, Sam felt listless, with no idea what he wanted to do and he felt his dreams of going to University were well and truly dashed. He worked for a few years in hospitality and tourism in Noosa on the Sunshine Coast before deciding to make a change.
"I knew that I had an interest in IT, but there was no IT industry on the Sunshine Coast – it's all hospitality and tourism up there," he says.
Thinking ahead to where he wanted to be in five years time, Sam settled upon making the move to Melbourne. Once he reached Melbourne, he knew he could see himself working in IT and started putting his plans into action to reach his goal.
He sat the Special Tertiary Admissions Test (STAT) test and attained a high score. Perhaps, he thought, his high school teacher may not have been right about him after all.
Sam arrived at La Trobe as a mature aged student at the age of 24, first enrolling in a Bachelor of Information Technology. He planned to transfer to a Bachelor of Computer Science after one year. That was until La Trobe began offering the Bachelor of Cybersecurity. He transferred right away and hasn't looked back. It was the perfect fit.
Supported by Ngarn-gi Bagora Indigenous Centre
Sam is Torres Strait Islander, with his mother's side of the family from the Krurungal community on the Gold Coast. He's supported by the Ngarn-gi Bagora Indigenous Centre at Bundoora Campus.
"They've been fantastic. If I'm not in class, I'm usually at the Indigenous Centre. It's such a great space to study, have a yarn with Joel, Renee or any of the other Indigenous students or just relax between classes," he says.
Joel Upton, the University's Senior Indigenous Academic Enrichment Officer, has been a huge support to Sam.
"He's always available for a chat if you're struggling with something and offering various services and resources from the University," says Sam. "He really has students' best interests at heart."
Advice for other La Trobe students
One of Sam's favourite things about studying at La Trobe is the people.
"I enjoy the social aspect of studying at La Trobe. The thing that makes it so special for me is the people I've met in my studies and I really hope to keep in touch with them after Uni."
He's missing the casual catch ups on campus as Melbourne continues to crawl through Stage 4 lockdown.
"I really thrived on seeing people while waiting for class or talking cyber over a coffee with a classmate between lectures," he says, reminiscing on life before the pandemic.
Adjusting to online learning has brought its own unique challenges, but Sam and his classmates are determined to keep going and see the year out.
As he approaches the end of his degree, Sam is keen to share his learnings with others to give back to the community at La Trobe.
His three pieces of advice?
1. Get an internship or cadetship
"It'll get your foot in the door early and can lead to landing a job when you graduate, or even before you graduate. I was extremely lucky to land an internship in my first year which has led to being given permanent work in my third year on a good salary."
2. Manage and maximise your time
"Uni is completely different to high school, and the responsibility is all on you. When we're able to, if you can go to campus and spend the day there, do it. Don't fall for the trap of thinking "I'll stay home, skip class and catch up", because 9 times out of 10, you'll just fall behind."
3. If you're an Indigenous student, have a look at CareerTrackers
"They're a group that set you up with internships with big companies such as Commonwealth Bank, Qantas, ANZ, etc. and are also constantly facilitating professional development workshops. I wouldn't be working in the Cybersecurity field right now if it weren't for them."
Learn more about studying Cybersecurity