As a University, we are proud of our commitment to positive change and our ambition to do more than just the minimum. Get to know the range of support services, initiatives, programs and clubs you can access at La Trobe.
The LTSU Women's Department
Relaxing in a cosy room with empowering quotes scrawled across the walls at the Melbourne campus, it's hard not to feel inspired. The Women's Lounge in the Union Building at Bundoora campus is a welcoming place. It has a small microwave, fridge, coffee kettle, couches to sleep on, some clothes and pads/tampons if needed.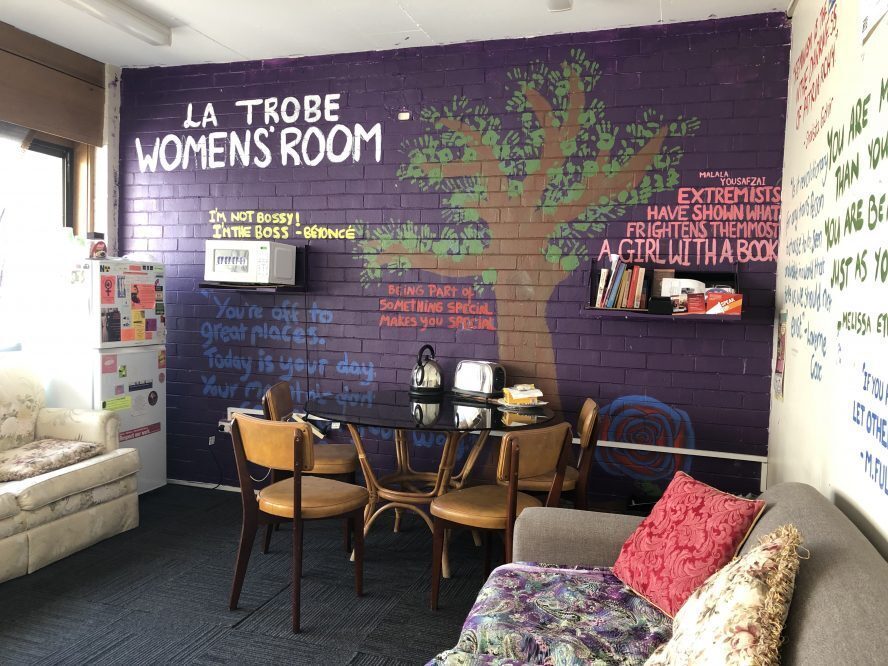 Astril Andrades and Sarah Saeed are the office bearers for the Women's Department at the La Trobe Student Union (LTSU). They empower and strive to create a safe network for women and students who identify as female at La Trobe University.
Attend one of the upcoming events organised by the Women's Department:
1) Free 6-week self-defence workshop (on first come basis]
2) Women's collective meetings
3) Mother's Day celebrations
SAGE Athena Swan Charter
La Trobe is on of 40 Australian universities, medical and publicly-funded research agencies taking part in the SAGE Athena Swan program. Through the program, La Trobe aims to create a more gender inclusive and diverse workplace.
La Trobe is one of only two institutions that have committed to apply the Charter's principles of gender equity, diversity and inclusion of underrepresented groups across all of our disciplinary areas, not only in science, technology, engineering, maths and medicine (STEMM).
Breastfeeding on campus
Did you know La Trobe provides breastfeeding facilities to women with babies who study or work at the University?
Every campus has parents or breastfeeding or special needs room with a table, power outlet, chair, sink and access to nearby refrigeration. Find this room at your campus here.
You can talk to your lecturer or supervisor to organise breaks for feeding/lactation.

Children on campus
If you are a student and need be, you can bring your child along with you to class, under unexpected or one-off circumstances like childcare cancellations or school holidays.
You can seek permission from teaching staff or supervisor. Check out The Children on Campus Policy to note any classrom restrictions.
Clubs and societies supporting gender equity
Seven Women
Join the Seven Women club, who support and empower disabled and marginalised women in Nepal by raising awareness and selling handcrafts. 100% of the funds raised are returned to Nepal.
Seven Women has helped over 5,000 women by providing education and employment opportunities.
She's The First
She's The First raises funds to provide scholarships to girls in low-income countries, making them first generation graduates. They bring awareness about the power of girls' education, gender equality and other global issues through our Global Awareness Program and other events around campus.
She's The First at La Trobe is the first STF campus chapter in Australia.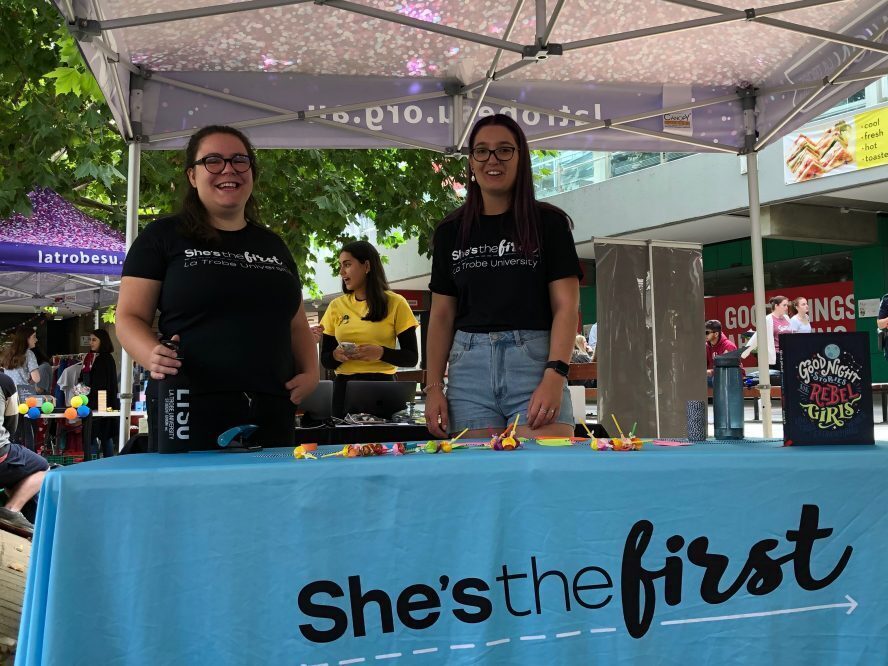 Scholarships for women at La Trobe
La Trobe offers a number of scholarships for current and future female domestic coursework students, including:
Women in Data Science Scholarship
Women in Engineering Scholarship
Women in IT Scholarship
Women in Cybersecurity Scholarship
Women in Leadership Bursary
Find out more about these scholarships and how you can apply here.
Welfare and support services
Respect at La Trobe
Health and Wellbeing at La Trobe has a Respect program which teaches you ways to manage differences respectfully, create respectful relationships, deal with cultural differences, negotiate needs, consent and respect on social media.
Speak Up
La Trobe operates a free and confidential reporting service for students who've been the victim of unacceptable, intimidating or even violent behaviour, on- or off-campus.
You can also report incidents that you've witnessed to Speak Up or raise concerns about the wellbeing of fellow students.
You can choose to remain anonymous if you wish. The contact details of Speak Up can be found here.
Trans, non-binary and gender diverse support
All trans, non-binary students can seek support from the LGBTIQA+ group which provides assistance changing your name and gender in University records. There are queer officers at the La Trobe Student Union office to facilitate queer chats; Queer counselling is provided by dedicated Queer counsellors. To know more, please visit the LGBTIQA+ support services.
Counselling
Access La Trobe's free counselling service, where you can choose to participate in face-to-face sessions, or speak to a counsellor by telephone or Zoom. La Trobe also provides specialist counselling for LGBTIQA+ and Indigenous students.