We all hope that someday we'll be able to change someone's life for the better. Or better yet, many lives. And what better way is there to lift someone up than by equipping them with the skills they need to determine their own future?
La Trobe graduate Ezatullah Alam wasn't prepared to wait to start making a difference. Fresh out of his Bachelor of Laws/Bachelor of Arts degree at La Trobe, he decided to set up an education program in his home country of Afghanistan.
Located in Afghanistan's Khost Province, the new initiative is named Ezatullah Alam Charity and Educational Foundation (EACEF).
The new program's aim? To help students from disadvantaged backgrounds, including orphans and rural students, to prepare for, and access, tertiary education.
At the start of the year, 180 boys and 70 girls were enrolled in Eztullah's program across four campuses – one in the main city and three campuses in rural districts. It was important to Eztullah that rural students have access to education within their local districts, as these were often the areas of greatest disadvantage.
"When I first came to Australia, I was given the opportunity to study," Ezatullah says. "I was and I am very fortunate. Now, I think that if I could give an opportunity to others to study and make their dreams come true then why shouldn't I give to those that deserve it the most?'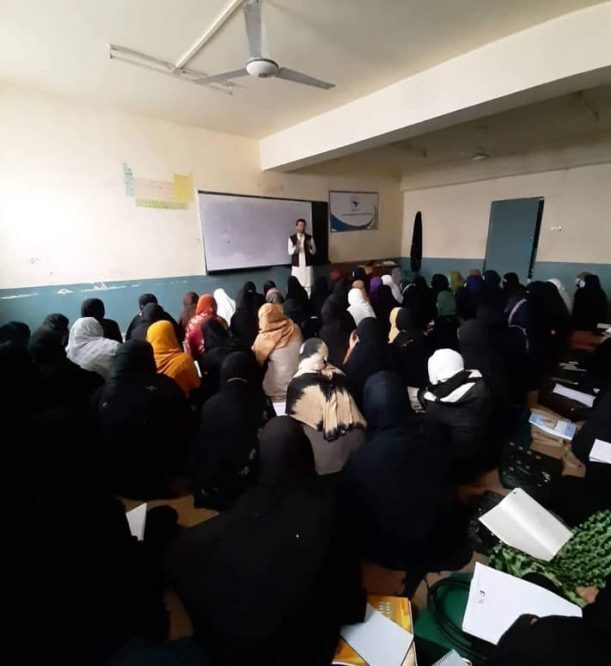 Ezatullah is passionate about supporting women to gain an education. "One educated woman can bring about a lot of change in society," he says. "Women play very crucial roles in the development of every society and therefore their skills and energy must be utilised."
He says the idea of education for women, orphans and poorer communities is relatively new in Afghanistan, and he wants to be part of the shift towards greater educational opportunities for these groups.
"I learnt about this idea while here in Australia," he says. "Now I have taken it back to Afghanistan. I'm sure that, once these kids grow up, they will try their best to help others who may need their help. So, I'm hoping to start a cycle."
Afghanistan is a country that has faced political turbulence for decades, with war, poverty and other hardships impacting families and orphaning large numbers of children.
Ezatullah believes Afghanistan's development hinges on improving the literacy rate of its citizens.
He says the ability to read and write is critical if people are going to stand up against corruption.
"When people are educated, they can hold governments to account, they will understand their basic human rights, they're more likely to be responsible citizens," he says.
For Ezatullah, this revelation sparked an idea. Although he was based in Melbourne, roughly 11,000 kilometres away from Afghanistan, he decided to start working on his project for change right away.
"There were many challenges," he says. "I wanted to launch an education program and to convince students to attend we'd need to find good teachers who could provide quality teaching."
The six-hour time difference between Melbourne and Khost Province added another complexity, but Ezatullah persisted.
He began contacting the headmasters of different schools to gather lists of contact information for students who may be interested in getting involved in his program. He'd grown up in Khost Province and had a few contacts already. With the help of two of his best friends, Ezatullah was able to pull it off. They're still helping him out today.
"In the beginning some people thought I was joking," he says. "They didn't believe my idea right up until I started classes!"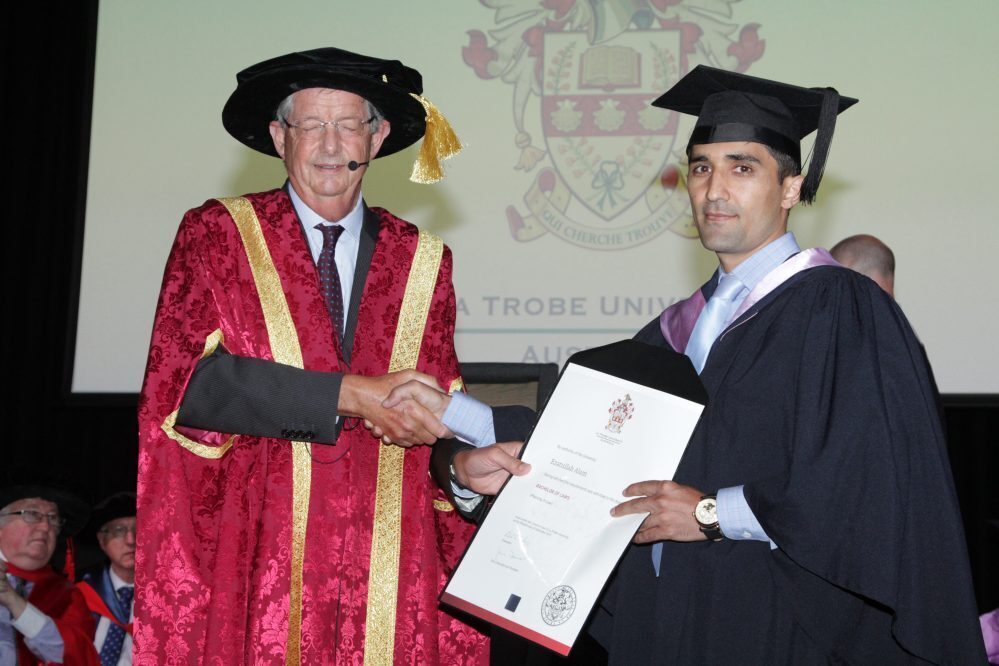 Ezatullah credits his Arts/Laws degrees for teaching him to think critically.
"My law degree especially taught me how to identify a few solutions at once for a specific problem and then choose the best one. During my law degree, I learnt what a responsible and strong government should look like. But, for this to happen, a society needs to have the right people to form such a government. Therefore, in any society, until majority of the people are educated, countries like Afghanistan cannot rebuild. We cannot rely on just foreign aid and money alone.
"Similarly, in my Arts degree, I studied the socioeconomic and political problems of other third world and developing countries and how they overcame these problems. In some of the cases, education and hard work were part of the keys to their success."
Ezatullah knows his solution is a long-term one, and he might not see the big changes he feels Afghanistan needs for a long time. But, he hopes the role he's playing to help educate the next generation will have a positive impact on society.
COVID-19 has presented an unexpected hurdle for Ezatullah, with all schools and universities closing in Afghanistan due to the pandemic. With cases on the decline, students may be able to return to classes in winter, an ideal time for Ezatullah's program which operates from December through to March. So far, his programs haven't been impacted, but his team are preparing for the worst regardless, with Zoom classes ready to go as an alternative.
While working with his teaching teams to organise materials for classes later in the year, Ezatullah has also been continuing his studies at La Trobe, having completing his Master of Laws.
"I am very determined," he says. "And for as long as I can, I will run this program."