Accounting graduate (alumna) Enakshi Rodrigo-Undugodage knew the career path she wanted to pursue at the age of 15. What she didn't know was how exciting and colourful the road to becoming an accountant would be. Enakshi shares how getting involved in clubs at Uni and saying yes to work opportunities landed her a graduate position.
"My experience at La Trobe was better than I could have planned. I found the La Trobe experience to be very social and inclusive. There was always an event of some form taking place on campus, irrespective of whether it was organised by the university or a club or even the student union, the events were for the entire university community and they welcomed everyone.
"That's probably one of the things that stood-out most to me while I was at La Trobe. It's a very inclusive university, and it's universities like this one that have a lasting impact on their graduates."

Enakshi, La Trobe graduate (alumni)
I got involved with the Commerce Students' Association and joined as their Director of Events, before eventually moving into the role of Co-President in my final year.
I knew what I wanted to do from the age of 15, so while I was in high school, I did a subject that gave student's an idea of the four VCE commerce subjects; Legal Studies, Business Management, Economics and Accounting. Out of these four subject areas I gravitated towards Accounting.
I remember coming home one day and telling my mum that I was going to study accounting at university because it's fun. Needless to say, mum had to take a minute to process what I had said!
I didn't really understand what options I had career-wise until I started university. After attending a few information sessions and doing some research, I found out all the different options a degree in Accounting could give me.
It wasn't until I did a summer internship in the Business Advisory and Assurance team at Pitcher Partners, that I learnt about auditing and what auditors do. That internship helped me decide that I wanted to start my career in Auditing at a large Accounting firm.
I got a call a week after my internship had finished. I had just come home from the gym so the only thing I could think of was having a shower.
When I got the call, I just couldn't believe what had happened. It took me at least ten minutes to realise that I had been given a job offer. Once I realised what had happened, I called my mum and just cried. Never in my wildest dreams did I think I'd be offered a job, especially at a company that I really loved working for."

Enakshi, La Trobe graduate (alumni)
I'm really excited to finally start my accounting career next week!
If I could travel back in time and speak with my about-to-graduate self, I'd tell myself that everything will work out, to keep doing my best, and to enjoy my graduation, it's the best day of my life and I absolutely deserved it.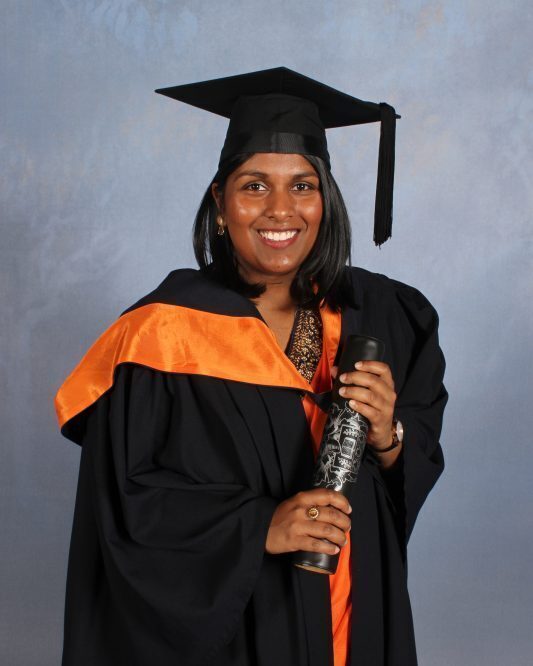 "Over the three years of my degree, I've learnt that things happen for a reason. If you're struggling with a subject, or just life in general; that's okay. Take a step back, reach out for help if you need it and do it at your pace. If it's meant to be, it will be. As long as you're working hard and putting in the effort, that is enough."

Enakshi, La Trobe graduate (alumni)
Skills that I learnt at Uni that I've found to be invaluable in the workplace include being able to talk to another person and the ability to empathise. It's one thing to know your job and know how to do it, but it's another thing to be able to have a conversation with a person, to understand the person you're talking to, in order to be able to help them."
Learn more about how you can can practical experience through a variety of different La Trobe programs and opportunities here.