Global Victoria, in conjunction with La Trobe University, are offering 45 students the opportunity to work on a 2-week real-world business experience.
The Global Victoria Intellect Program connects student teams to undertake international market research/analysis projects for real Victorian Exporter in February 2020.
Through the  Global Victoria Intellect Program students will act as 'business consultants' to conduct a market research analysis for a Victorian Exporter in this extra-curricular learning program.
Students will be required to commit to 25 hours over the 2-week program experience from 17-28 February, 2020, prior to the commencement of Semester 1, 2020.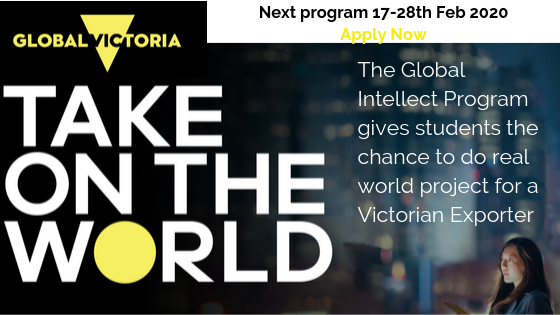 Student teams can meet in person or collaborate completely online to complete the project.
As a student consultant in this program, you will:
Work in a team with other students
Respond to an export brief provided by a Victorian exporter
Work with your allocated team to conduct a 2-week market research / market analysis project
Develop real world professional skills
To gain the digital certificate for completion, you must:
Attend a compulsory pre-program information session on 14 February in Melbourne CBD
Undertake the 25-hour time commitment across the 2 week program between 17 – 28 Feb, 2020
Draft market research report submission
Submit a final report
Complete a student feedback survey
The program aims to help improve your ability to:
Work well in a diverse team
Collaborate across disciplines
Manage a project
Deliver a market research project
TO APPLY
To apply, please complete the Expression of Interest form and attach your CV.
Applications close midnight NOVEMBER 7TH 2019.
You will be advised of the outcome by Monday 11th November 2019.