Get ready to schedule in an extended lunch break in Semester 2 next year because once this project finishes, you'll be wanting to hop on your bike or take an extra-long walk along La Trobe's new shared pathway.
As part of our transformation into a University City of the Future, construction has commenced on a 1.9km shared pathway connecting Plenty Road and Polaris with the Sports Park and Darebin Creek. Giving you improved access to Polaris Shopping Centre, the Nangak Tamboree Wildlife Sanctuary, other pathways, trails and transport networks, you'll be able to take a ride, skate, scoot, jog or walk through a 3-4 metre-wide well-lit pathway at any time!
Seen in the map below, once completed in June 2022, this pathway will make it easier to cross the University, connecting you from the north to the south of our Melbourne Campus.
Next time you're on campus, keep an eye out for construction – works have started along Moat Drive (in front of Glenn College and Menzies College) and will continue in this area until mid-December. Pedestrian bypasses will be in place around the perimeter of the works – refer to map below.
Highlights of the project:
A 1.9km long pathway that is 3-4 metres wide.
Lighting to improve safety after dark.
Directional and wayfinding signage to help people navigate through the campus.
Improved connections to other pathways, surrounding community and amenity such as the Nangak Tamboree Wildlife Sanctuary, Darebin Creek Trail, Polaris Shopping Centre, and nearby bushland reserves.
Forms part of the Northern Regional Trails Strategy and is a vital link in the local trails network.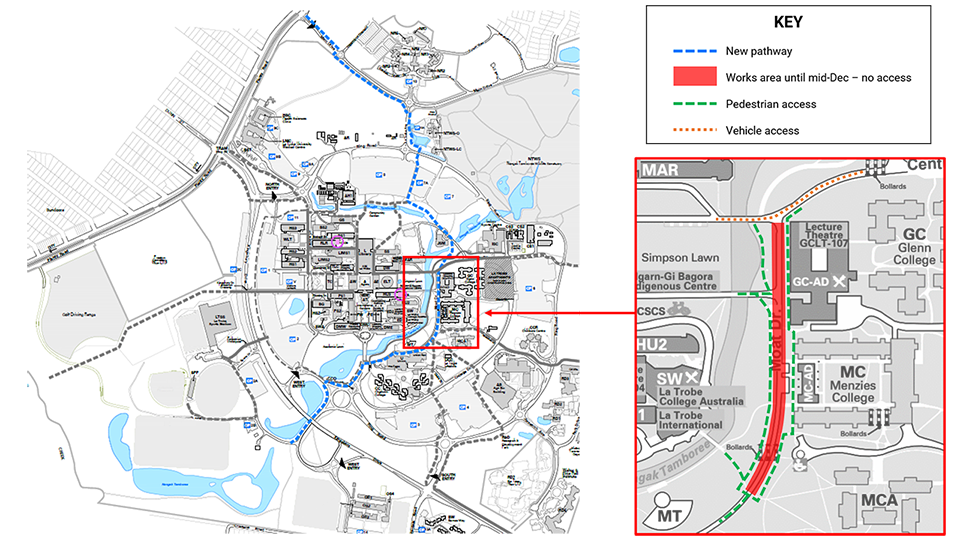 The La Trobe Shared Pathway project is supported by the Victorian Government through the Northern Metropolitan Trails Program.