A La Trobe PhD student is leading the charge to find a new vaccine to safeguard the Victorian livestock industry from a drug-resistant parasite. Gemma Zerna's has been supported to continue her research with a $40,000 scholarship from Meat and Livestock Australia (MLA).
This year, Gemma was awarded MLA's Postgraduate Study Award for her research into the red meat industry. The scholarship will support Gemma's studies and will also offer networking and training opportunities. Gemma will also receive mentoring to enable her to continue research within the red meat livestock industry upon completion of her PhD.
"With MLAs funding, I am now able to conduct an in-depth goat vaccine trial to test the capabilities of my vaccines. While talking with team members from MLA, they could also see my nerdy enthusiasm for controlling livestock parasites. I think that agriculture is a really important part of Australia and if I can do one little bit to help improve animal welfare and on-farm productivity then I'll be happy."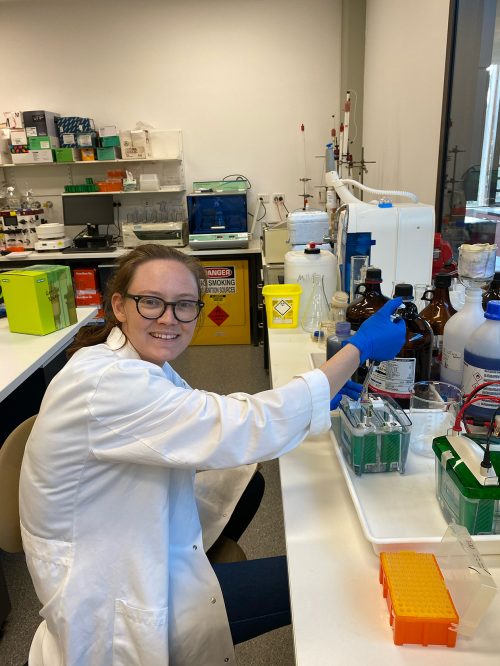 Gemma's research
Gemma spends her days working on a vaccine against an internal parasite that infects livestock like cattle, sheep and goats. This parasite, called liver fluke, causes significant damage to the animal, impacting their ability to produce meat, milk and wool.
Drugs are the only known way to control the parasite but one major milk-producing region in Victoria has a number of drug-resistant cases. This leaves open a window of risk for future control of this disease. Vaccine development has identified a number of potential proteins, but none them work well enough to produce a product that a farmer can use.
"My project is taking one of those sub-par proteins and working out the best way to present it to the host immune system," Gemma says. "I am doing this by linking the fluke antigen to an adjuvant that stimulates the opposite immune response that the parasite stimulates, therefore ideally damping the flukes affect on the host. I have also linked the antigen to a virus-like particle that displays over one hundred copies of the protein on the virus surface, creating a larger structure that will be recognised by the immune system differently compared to a small single protein. Both these ideas will increase the immune response to the antigen and induce a greater production of specific antibodies."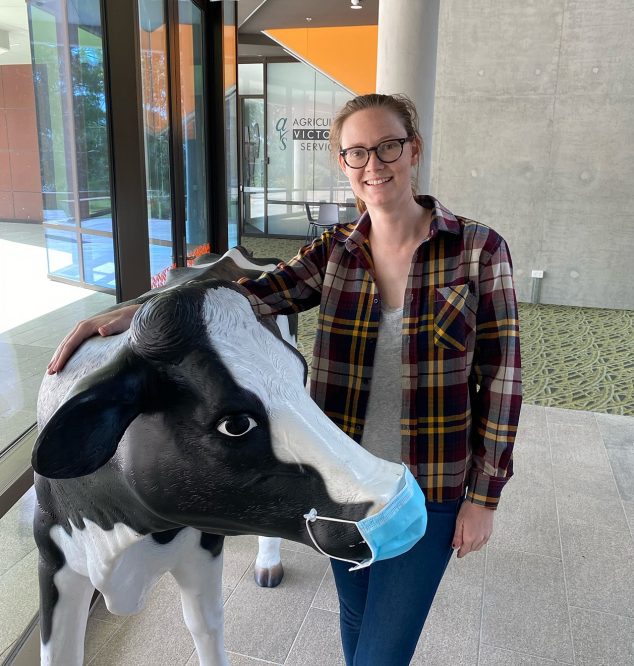 Gemma has always been interested in controlling disease and improving animal welfare. Liver fluke causes upwards of $3 billion to be lost globally per year, with $60-90 million of that lost here in Australia alone on lowered production rates and on control measures. Now, with the emergence of drug resistant flukes the impacts of this disease is likely to only increase.
"What I find troubling about parasites, besides the impact on the animal, is that they directly affect farmers. Developing a vaccine creates a long term solution for this disease. It improves animal health and puts more money into the farmers pockets."
The impact of a successful vaccine could extend much further than liver fluke. The method could be applied to a range of similar livestock diseases as well and speed up the availability of vaccines for farmers to use.
"I love that my project has a real world application that can improve animal welfare and directly help farmers," Gemma says. "I also really love the day-to-day work in the lab. To make a protein you have to working out the best method to get the result you want and this often requires a fair amount of troubleshooting. This is what I thrive on, I sort of love when things don't go as planned. I have been able to learn a range of pretty cool purification techniques to gain a functional protein that is in its best form to use in a vaccine."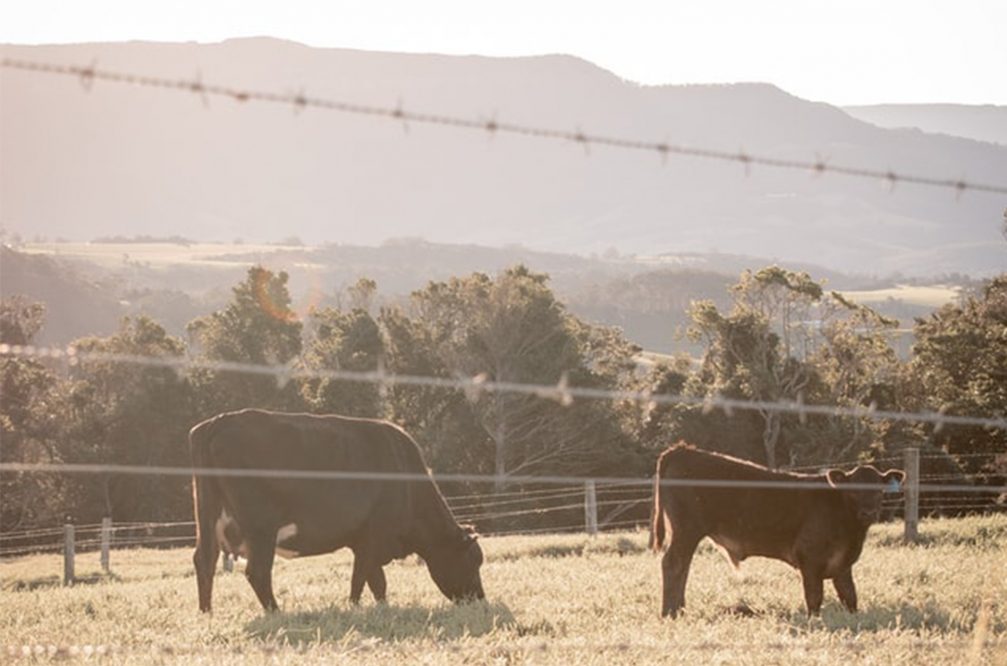 Life on the farm inspires a future in animal science
As a kid, Gemma's summers were spent a little differently to her friends in Melbourne's northern suburbs. Each year in the school holidays, she'd head away to her uncle's farm in remote New South Wales.
"I found my love for the outdoors and farming there," she says. "It gave me a taste of what our Aussie farmers do all year around. I learnt about all the factors farmers have to consider to get the optimal productivity out of their crop or livestock and it gave me more and more respect for just how smart they are."
Riding around on the back of the ute, mustering sheep and helping with the rice harvest kept her entertained, and sparked an interest that would shape her studies at La Trobe.
"I'm not surprised I've ended up in the agriculture sciences," Gemma says. She studied a Bachelor of Animal and Veterinary Biosciences at La Trobe, and is currently undertaking a PhD in Animal Science.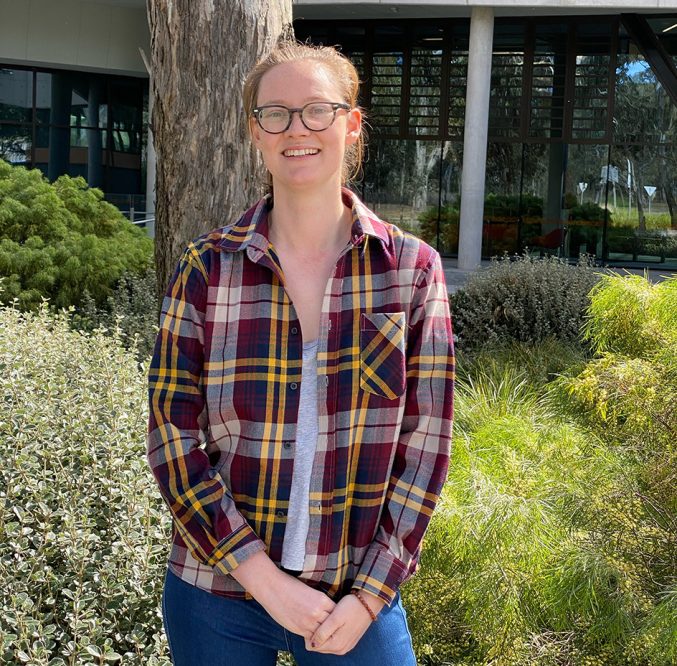 A La Trobian through-and-through
Though she loved science generally, the road to a PhD in Animal Science wasn't always clear-cut for Gemma. She simply pursued areas of interest and subjects she enjoyed.
"I do feel pretty lucky to have found something that I am quite passionate about. Pursuing a science degree was always the plan, with animal-based science a perfect combination of what I was good at and my love for animals.
"For me, La Trobe was the only uni I wanted to go to. It's a beautiful campus with all its trees and the friendly and relaxed environment that I still love experiencing after six years of studying here.
"I love the moat, the ducks/ducklings and the turtles! I still try and beat my ten turtle day, when I spotted ten turtles on the bridge near the Simpson lawn."
Beyond her PhD, Gemma hopes to stay in the field of animal sciences research and work towards helping livestock fight disease.