After growing up in a rural town in the Himalayas, Kinley Wangchuck experienced a huge adjustment when he moved to Melbourne to study. He quickly learnt to navigate the bustling city streets and his new life as an international student in Australia.
In his second year, Kinley is studying Teaching of English to Speakers of Other Languages (TESOL) at La Trobe and is making the most of Uni life in Melbourne.
Kinley reveals advice for other La Trobe students and how he's giving back by welcoming and supporting new international students.
From the Himalayas to the bright lights of Melbourne
"I am from the Kingdom of Bhutan, a small landlocked country, situated high up in the Himalayas. It is like a fairy tale country hidden among the clouds. Indeed, Bhutan is a Kingdom in the Sky with long winding roads, fluttering prayer flags, exotic temples and monasteries, pristine forest with rich biodiversity and a country that values Gross National Happiness over Gross National Product.
Australia was the first foreign country I ever visited. For thirty-five long years, I never visited another country, though I always wanted to travel and see the world, meet people and immerse myself in exotic cultures.
I never imagined that I would actually be living and studying in Australia. It's such a multicultural society that seems to be not just a country but like a whole world in itself!
Arriving at La Trobe
Coming to Australia has been a dream come true. However, on my first day in Australia it seemed like a bit of a nightmare. Buying something to eat. Crossing the road. Everything was too fast for me. Even the people walking beside me, were faster than me. For the first time in my life I literally felt lost in the middle of the crowd. I understood getting lost in the forest, but not in the street. Just imagine, a country man, just landed the night before, standing all alone on the side of the road suspicious of the traffic lights!

La Trobe 's Melbourne Campus is huge! I never imagined that it would be that big. At first, landing on campus was chaotic. I had so many questions to ask. How do I get to my class? How will I make friends? Who will my friends be? It was so confusing as a freshie. But after the first class, shaking hands with everyone with a big smile, all my questions were answered.
As a matured student, my transition to what I am today wasn't easy. Finding a friend from a like-minded group was very difficult, especially when many of the other students were younger than myself. I had to shed off this mindset and forget the age gap ready to step into the shoes of being like them.
Sitting in the class amongst the other students and listening and interacting with teachers were the most exciting moments for me. I had to take steps and make decisions to transform myself into what I am today. What did I do? I let go off all my fears, breaking it down by stepping out of my comfort zone.
My advice for International Students arriving at La Trobe
My advice to the newcomers is – don't be afraid to step out of your comfort zone. Many times I have had difficulties leaving mine. Initially, I too was shy and nervous. But I soon realised every one of us shares these same feelings.
Take every opportunity that comes your way. Don't wait for it. Go for it. Grab opportunities to volunteer, participate in activities and networking. It is a great way of expanding your circle of friends and life experiences."

Kinley Wangchuck, La Trobe international student
Don't simply focus on yourself. Become a member of clubs and volunteer to connect and make friends in your university. University is a great place to expand your perceptions and to be a part of the bigger world.
How I got involved in Uni life
The best thing about studying at La Trobe is its strong character of being a diverse and multicultural university. The harmonious culture of the University is the main reason I love studying at La Trobe.

I was involved in Student Union volunteerism, where I once volunteered to distribute 'free soup' during cold winter evenings at the university.
Outside University, I am an active volunteer in the community where I live. I volunteer as a soccer coach at Kingsbury United Soccer Club, where I was able to make friends with community members outside of La Trobe.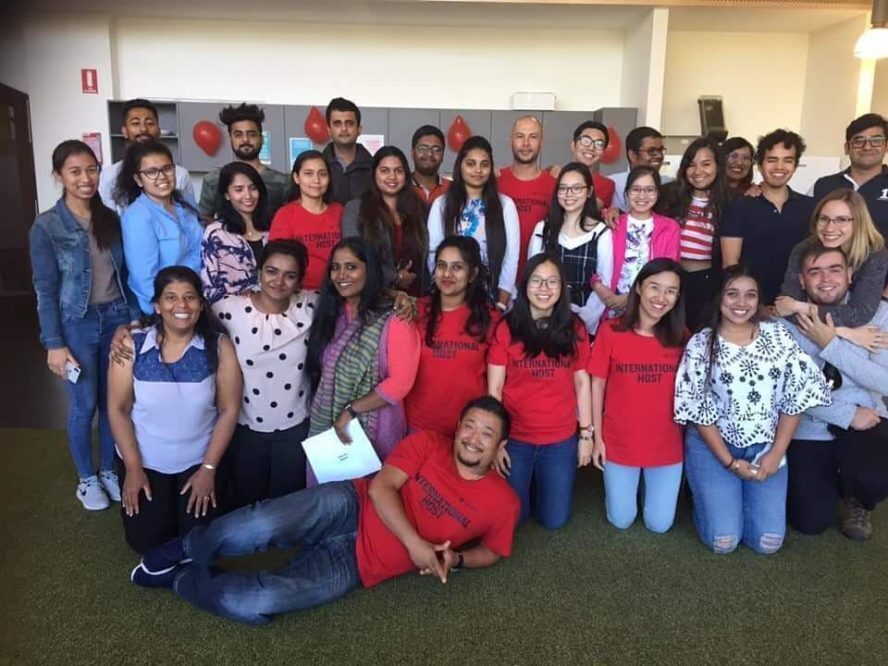 Why I chose to become an International Student Host
I decided to become an International Student Host because I know how it feels to attend University for the first time in another place, especially when it's really far away from our home country. I wanted to share my experience and wanted to help and support those newcomers to feel welcome and excited.
It's so rewarding when the confused and worried looks on new students' faces turn into a smile and when their eyes beam with excitement as they discover something new.
As an International Student Host, I made a lot of friends. I was able to form really strong friendships that grew deeper over time as we got to know each other well, and felt more welcome, cared for and loved.
As a Student Host, you need to be reliable, punctual, polite, patient and of all, being very helpful and supportive no matter what the situation is.
What I got out of the program
I underwent an intensive training in customer service skills including working with groups and running ice-breakers, responding to general student queries, and cross-cultural communication.
I've gained new skills organizing events, meeting and greeting people from different walks of life, sharing our thoughts and ideas, and helping and supporting each other. And I got closer to the students and university staff who taught me the values of punctuality, integrity and acknowledgement.
All-in-all, I'm most grateful for the experiences that I had during the International Student Host Program. I was able to meet new people and make friends from a range of backgrounds.
Why YOU should become an International Student Host
If you want to experience lots of opportunities to make new friends, become an International Student Host. It's a great opportunity to enhance your leadership skills and the best strategy to keep yourself connected and makes you feel proud of being one."
How to apply
Both domestic and international students can apply to become an International Student Host.