It's fair to say that most La Trobe students didn't expect to be studying online this semester.
But for many students in our community, studying from home is nothing unusual. In fact, that's how they complete the bulk of their degree.
It's a good time to check in with these online students because they are rich sources of advice for navigating our new way of working.
Bachelor of Food and Nutrition student Jasmine Howard has been studying online for two years now. A full-time Army medic, Jasmine needed a course she could complete at night or in her spare time.
She describes the online course as a "the perfect fit" for her interests and for her lifestyle.
That doesn't mean it's all been easy, though.
"Studying online takes time to adjust to as most of us are very accustomed to face-to-face education from our time in school," Jasmine says.
Something she relied on to get comfortable with this way of learning was the LMS.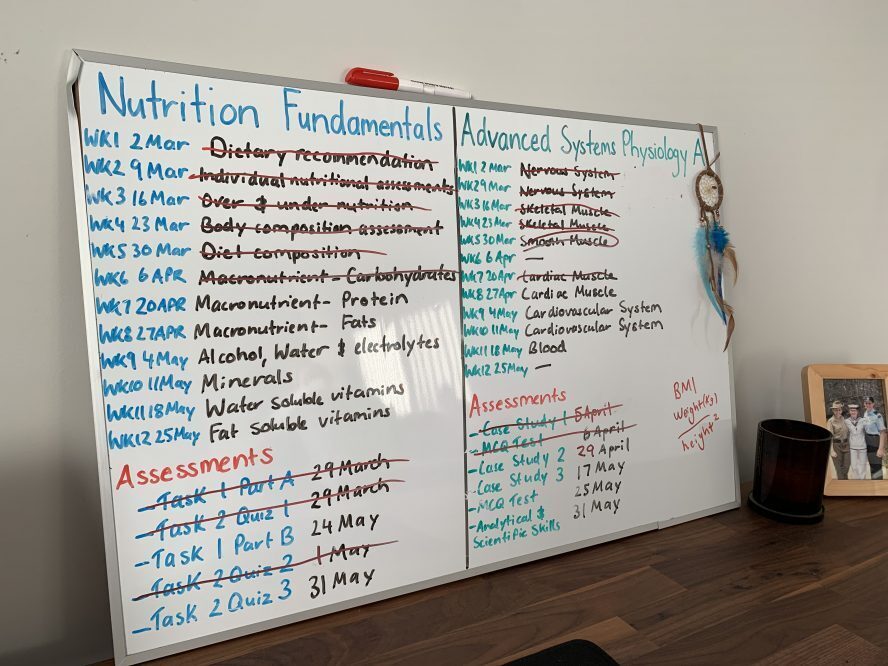 "[It] provides an incredible platform for communicating with your teachers and peers. Engaging in the forums is by far the best way to get answers to questions or to collaborate with peers and I've actually found this a really easy and enjoyable form of communication," she says.
"In my first year of study I had to work on a team report that required effective communication in order to successfully complete the task. Obviously this was challenging as the only form of communication was online, but with some patience and planning it all came together.
"Staying proactive and responding to forum posts, especially when collaborating online in a small group, is really important. Giving constructive feedback and being able to accept feedback are important aspects of effective team cohesion."
Four months ago, Jasmine's schedule got just a little bit busier with the arrival of her baby daughter. She says being a new mum and studying at the same time has its challenges, but with proper planning, it's manageable.
Her secret weapon is a whiteboard onto which she writes each week's content, assessments and quiz due dates, as well as any other important details.
"[It's been] the biggest game changer for me. I'm a very visual person so being able to see what I'm up to and what I need to complete for the week really helps keep me on track.
"Time management when studying online/from home is imperative as no one is really dictating to you when you should be reading or attending classes."
These days, her study schedule fits around her daughter's naptime.
"I use this time very efficiently as I know I may not have another window of opportunity throughout he day to study," Jasmine explains. It's not all work though: the aspiring nutritionist has also made exercise and a coffee part of her daily routine.
But when it's time to knuckle down, Jasmine says it's important to set aside some time for work and remove any distractions (like your phone or a TV).
"Setting a goal for what I want to achieve during that period of time has enabled me to progress forward and ensure I'm using my time effectively and efficiently even when studying form home," she says.
"Given the current climate, we are all going to be faced with some sort of challenge, like transitioning to online study. Planning ahead, developing a routine and staying engaged with your teachers and peers are things that will help overcome the challenges associated with studying online."