Fazela Abbasi wasn't prepared to wait until graduation to start putting the skills she's learnt in her Master of Social Work degree into practice. During what has a difficult year for most, Fazela has been selflessly volunteering her time to drive newly arrived migrant families to appointments in Shepparton, as well as undertaking community work at the local mosque. She has also been working with women from migrant and refugee backgrounds, raising awareness about the issue of family violence.
As a result or her unwavering commitment to supporting her community, Fazela has been named Shepparton's Young Volunteer of the Year at the Greater Shepparton City Council's Volunteer Recognition Awards.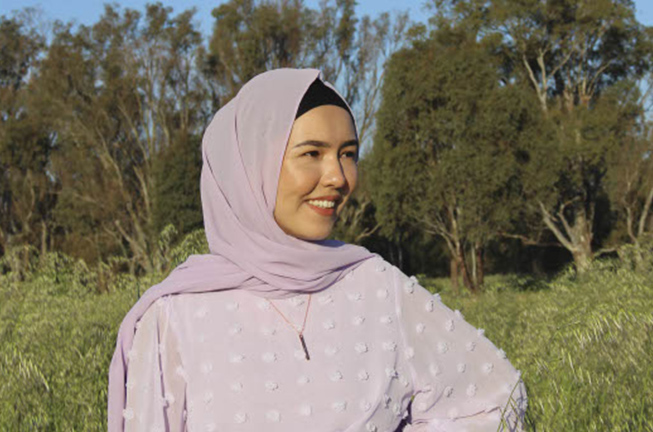 "I feel very lucky and honoured to be receiving such an award," she says. "I am sure there are so many youth out there who deserved this award as much as I did. My family and friends have been extremely proud."
Fazela completed a Bachelor of Arts at La Trobe's Shepparton Campus, before pursuing a her postgraduate studies in social work.
"I chose social work because I have a huge passion for working with people, particularly people who are vulnerable in our communities," she says. "As a young woman from refugee background, I believe my own personal experiences played a major role in choosing social work over any other profession."
Fazela got involved with Save the Children's Safer Pathways Project at the beginning of her social work studies in 2019, which raises awareness about family violence support. A family friend suggested she apply for a bi-cultural worker role, and she jumped at the opportunity.
"The concept of family violence varies from community to community and evidently it happens in every community regardless of culture or faith." she say. "Family violence is an issue that migrant and refugee women often experience but they may have limited awareness of the support system that they can reach out to.
"Through my work on the Safer Pathways project I have recognised that there are major gaps within the local family violence services that don't meet the needs of migrant and refugee women. Through collaboration, we are working closely with local specialist family violence services. We aim to address these gaps through capacity building trainings for service providers and community information sessions for migrant and refugee women to increase their awareness of services.
"Helping migrant and refugee women has been a great experience for me personally as I have connected with women from my own community to get a deeper understanding of the issues that they are experiencing and also use my role as a professional to address these issues and gaps."
For Fazela, volunteering is about acting on that intention of wanting the best for others, without receiving anything in return.
"I have found that volunteer work is very rewarding and extremely important as it is a two way relationship. I always wished to be the support person for those who are in need by continuing to promote social change, stand up for social justice and empower people. My passion for improving lives and communities has grown over the last two years of my degree and I am looking forward to the years ahead to discover many more."
Fazela has made it through her last semester at La Trobe in what has been a testing year for most students. She found it challenging to adapt to remote learning at first, but eventually got used to her regular Zoom classes online. Overall, studying in Shepparton has been a great move Fazela.
"To study in Shepparton and attend Uni from home has been extremely helpful for me. I have built connections with La Trobe staff and have had opportunity to sit with them at the cafeteria and discuss my study concerns, whereas this is not as easy at a bigger campus.
"I am the first in my family to have completed my postgraduate studies and I feel very lucky to have had this opportunity. Education has always been valued in my family as my parents were deprived of it growing up."
Looking forward to next year, Fazela hopes to establish a career as a social worker. As for now, she's keeping an open mind taking taking things as they come.