Be informed about the upcoming referendum by joining in A Conversation About the Voice to Parliament.
This student-initiated panel discussion on the Voice to Parliament aims to foster discussion and ensure everyone in the University community can make an informed decision when they cast their vote on October 14.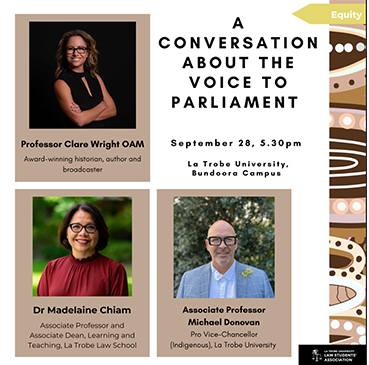 A Conversation About the Voice to Parliament has been organised by the Equity and Social Justice portfolio of the La Trobe Law Students' Association (LSA), in partnership with La Trobe Law School.
The panellists for this event will include academic and industry professionals who have had decades of experience in both constitutional law and Indigenous Australia affairs.
This free event is open to all in the La Trobe community. You do not have to be a Law student to attend.
A Conversation About the Voice to Parliament
Time: 5:30 pm – 6:45 pm
Date: Thursday 28 September 2023
Venue: La Trobe University Melbourne (Bundoora) Campus. Room to be confirmed.
Cost: Free
For any questions, please contact the LSA Director of Equity and Social Justice at equity@latrobelsa.com
See also:
2023  Referendum: what's it about?
2023 Referendum: what is the Aboriginal and Torres Strait Islander Voice?
Referendum 2023: La Trobe videos to help answer key questions