Next time you hop off the bus at the Science Drive interchange, or make your way from Car Park 1 to the Agora, you may notice a hive of construction activity on the western side of the campus, in and around Thomas Cherry (TC), Health Sciences 1 (HS1) and the Visitors Car Park (VCP).
Our University City of the Future transformation is underway! As part of this, a range of construction projects are taking place from November 2021 to August 2022. These include:
Creating a new Bio Innovation Hub and a Digital Innovation Hub in Thomas Cherry, as well as upgrades to the building façade and a new entry;
Creating a new GP Clinic and establishing new Telehealth facilities in Health Sciences 1;
Constructing a new pathway in the Visitors Car Park (VCP); and
Relocating the campus' substation (where our power comes from) between HS1 and VCP.
Additional works in the area include relocating the Student Services space on Level 2 of Thomas Cherry to Level 1; and creating a 'cold' shell on Level 4 of Thomas Cherry for a future partner.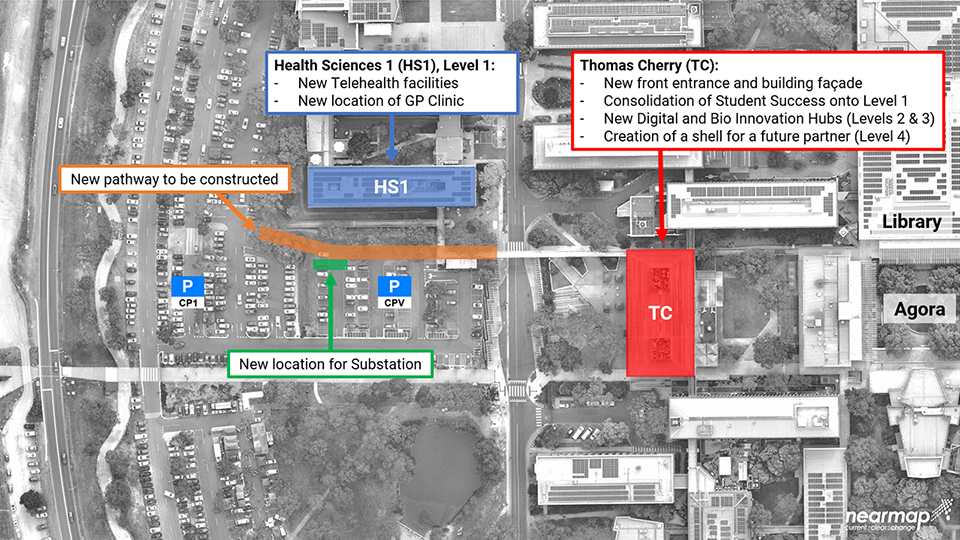 The first of these works in Health Sciences 1 – to create the new GP Clinic and establish new Telehealth facilities – will be kicking off in early November. Find out more about these projects below.
GP Clinic
The GP Clinic will be located in the heart of the campus on Level 1 of HS1. It will include six consultation rooms for GP clinicians, a treatment room and spaces for psychology and pathology services. A new front entrance to the GP Clinic will also be constructed on the south side of the building, with direct access to the Visitors Car Park. The clinic will be completed by late December 2021.
Telehealth facilities
The new Telehealth facilities will also be located on Level 1 HS1 and once complete, will ensure best-practice training for allied health and nursing students and better equip clinicians undertaking professional development.
The space will include consultation rooms, a telehealth classroom and breakout and informal learning spaces for students (including individual and group study booths). First up will be some demolition works, then fitting out the new facilities will commence in 2022, with the project to be complete by June 2022. Telehealth facilities will also be constructed on the Bendigo Campus.

Construction impacts
With lots of works going on, you may experience some impacts as a result of these works. This may include impacts like restricted access to buildings, increased noise, power outages or footpath closures.
As the HS1 works get underway, access to Level 1 of HS1 will be unavailable from 3 November to late December 2021. This includes access to and from the lift at this level, however, you can still get to the upper levels of HS1 from the level 2 walkway from Car Park 1 or via the HS2 building. There will also be a bit of extra noise until mid-November whilst demolition works take place.