From this week, the Bendigo campus will begin to look a bit different, and there may be some changes to the way you can move around the campus.
You'll see regional-based Contractor, Hansen Yuncken setting up their site amenities and temporary fencing on campus as they begin work on the Health and Biomedical Sciences Teaching and Research Hub and the AS1 and AS2 Space Optimisation Project.
The below campus map indicates the changes to access around the campus whilst construction works are underway – most notably, the GDP corridor will not be accessible during this time.
These works are expected to be completed to be ready for classes at the beginning of semester in March 2023.
Hansen Yuncken built La Trobe's Shepparton Campus 10 years ago and have undertaken several projects for the University. This Project involves converting some spaces in the GDP and CSC buildings into teaching and research labs, as well as converting the vacant fourth floor of the ET Building to a Health and Biomedical Sciences Teaching and Research Hub.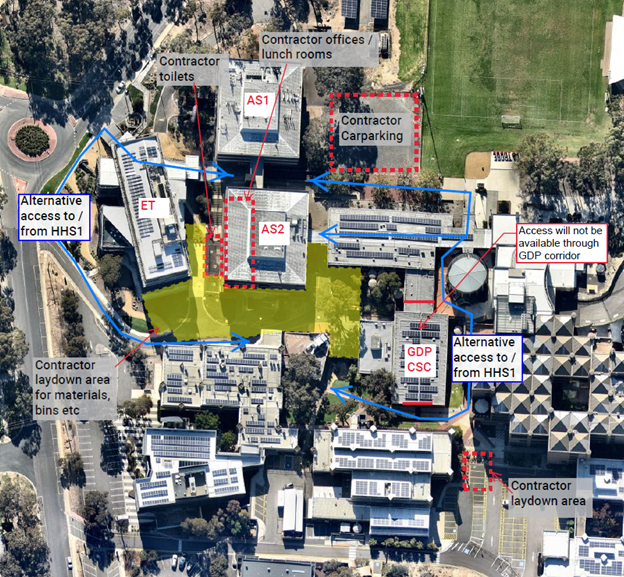 More information
For any enquiries about these projects, get in touch with the Bendigo Infrastructure and Operations team at io.bendigo@latrobe.edu.au or subscribe to impacts and outages for your building or campus at www.latrobe.edu.au/io/impacts-and-outages.