We welcome our new international students who have commenced studies at La Trobe University. We also extend a warm welcome to all returning international students. You are now entering the third week of classes and we hope you are settling in well.
If you missed Orientation then you can watch sessions and read useful information at the online Orientation website. Make sure to click on the "enrol" button.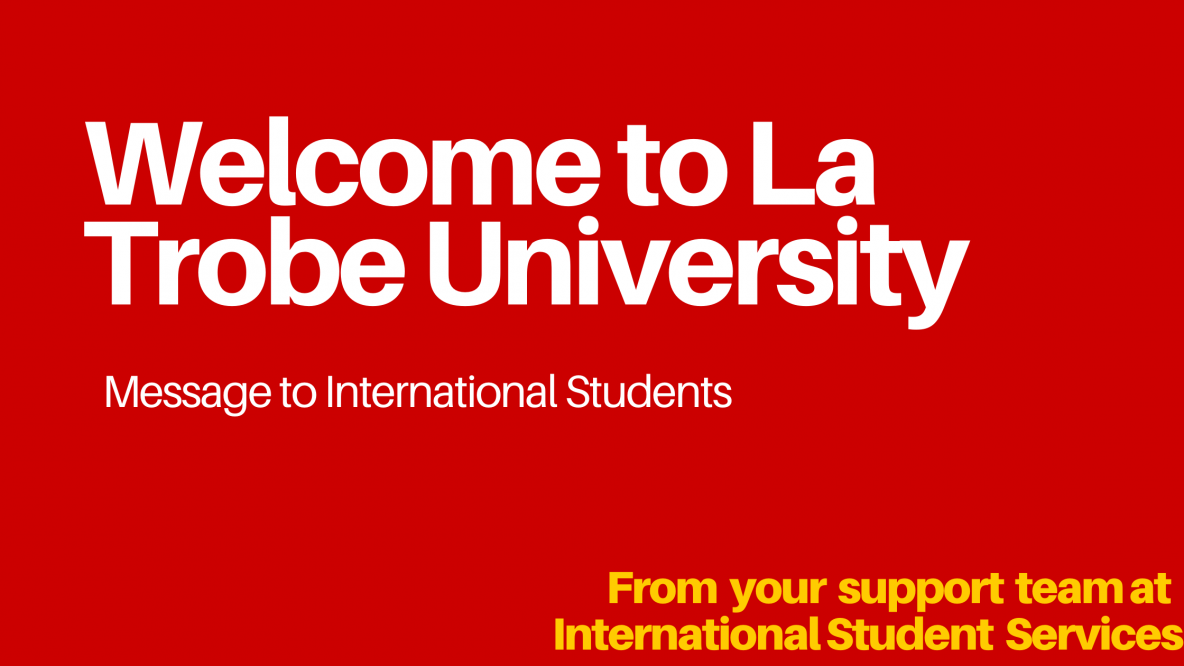 Did you know that the learning support teams are all online and ready to help? You can join a workshop or make an appointment to talk to a student Peer Learning Adviser or staff member about writing skills, maths support, chemistry support and more. Learn more here.
International Student Services can provide advice and guidance on a whole range of issues from your studies to a student visa, health, making friends, and volunteering and finding work. You can contact International Student Services through the following
Phone us on +61 3 9479 1199
Watch-International Student Services Welcome video.
24-hour student support hotline
If you need help after-hours (at night, during public holidays or on the weekends) call 1800 758 360 – we want to help you with anything you might be worried about (+61 2 8905 0307 from outside Australia).
50% Refund of Student Services & Amenities Fee for International Students
In response to the significant disruptions caused by COVID-19, La Trobe University is working hard to find ways to support our international students during this time.
As announced by MyLatrobe, International students can apply for a refund of half of the Semester 2, 2020 Student Services and Amenities Fee (SSAF). This means that $77 of the $154 SSAF which is included in your tuition fees will be refunded to you if you follow the below application instructions and meet the eligibility criteria.
How to Apply
Simply fill out the SSAF Application for Refund, and submit to LTIFinance@latrobe.edu.au with the subject line "SSAF Refund Semester 2 – Student ID".
To receive the refund you must:
• Be enrolled for Semester 2, 2020
• Have paid your fees
• Include an Australian Bank Account
Exceptions:
• International sponsored students (students who receive financial assistance from a government, organisation or company (not private individuals, relatives or benefactors) to study at La Trobe where their sponsor will generally pay tuition fees on their behalf.)
Your submission will be processed within 20 working days. However, it may take longer to appear in your bank account.
Stay connected
Don't miss out on important updates, news, and events. Stay connected to us by following MyLaTrobe, and for international student-specific news and updates follow the International Student Services Facebook page.
And don't forget the helpful Guide to Studying Online that has all this information and more. You can download a copy here.
Current students have until Census Date to withdraw from a subject without financial penalty. If you are thinking about changes to your enrolment due to the COVID-19 situation, please note below the Census dates of your studies and seek advice from our International Student Services team.
We wish you well and look forward to meeting in person when we return to campuses and the Australian border re-opens. Take good care and stay well!