Climate for Change is a volunteer-­powered, not-for-profit organisation on a mission to create the social mandate in Australia for effective action on climate change. 
For the first time, Climate for Change are launching a Climate Communications Bootcamp to build the capacity of up to 40 passionate people across Australia.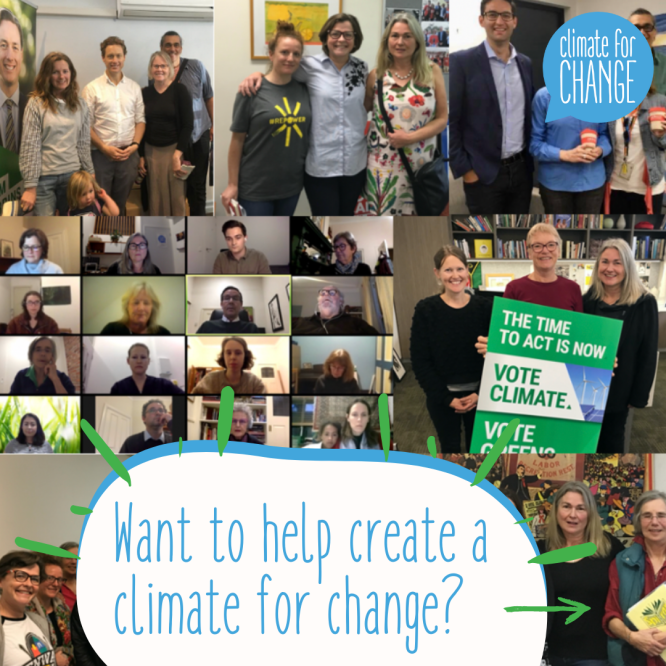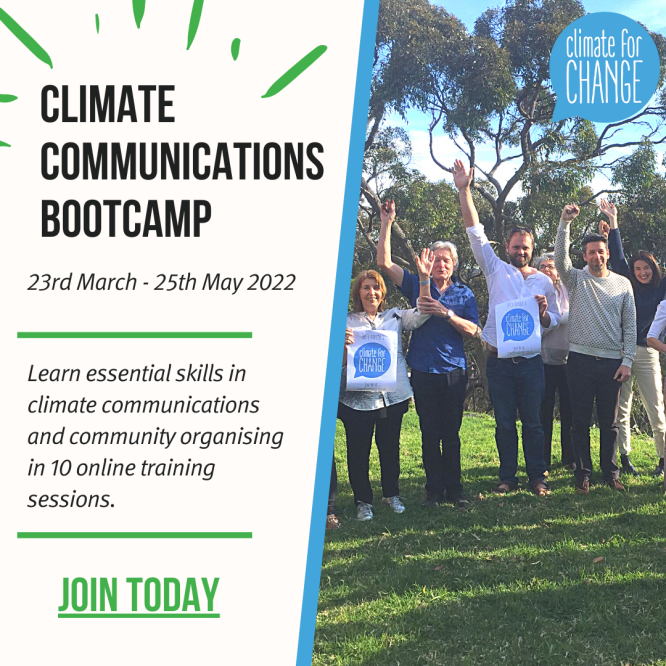 The ten week volunteer program involves weekly online training sessions, in which you learn essential skills for talking about climate change effectively with others. You will put these skills to immediate effect as a facilitator of climate conversations within your community as part of a Federal election campaign. By the completion of the program, you will be a confident climate change communicator, skilled at engaging others to take action.
The weekly training sessions, taught both in-house and by expert guest speakers, cover the following topics:
Personal narrative
Values and framing
Audience segmentation
Network mapping
Talking about climate change effectively
Community organising and more!
What's in it for you?
More than 20 hours of training in communications, community organising and more
Experience in setting and executing campaign targets
Experience within the not-for-profit and climate change sectors
Career and personal development
The chance to grow your personal and professional networks
Gaining the tools, knowledge and confidence needed to take action on climate change
An opportunity to help solve the climate crises 

Your commitment
Successful applicants are expected to:
Attend 80% of weekly trainings, held online on Wed evenings from March 23 to May 25, 2022
Host a Climate Conversation (using C4C's model) with their peers
Conduct at least 5 conversations (using various formats) about climate change within their community throughout the program duration
All of this should amount to a maximum of 4 to 6 hours of work per week over the two months

Key selection criteria:
Passionate about taking action on the climate crisis
Self-motivated; you can independently set goals and do the work to achieve them
Well-organised; you manage your tasks and time, and meet deadlines
Excited to try new things and take up challenges
Team-oriented, and eager to get to know other passionate people
Open to learning and building relationships in an online environment
Given this program is run online, we also require all participants to have access to a laptop or computer, with good internet connection.

This program is free of charge to committed volunteers.

All Climate for Change volunteers are required to sign the Climate for Change Volunteer Agreement. This includes a commitment not to give financial advice and to remain non-partisan when representing Climate for Change.
Applications are open, but be quick because there are just 40 spots available – apply now!
Applications close on Sunday 13th March.