Now that you've got extra time at home and spring has well and truly sprung, you might have noticed changes in the flora and fauna of your local area.
Whether it's new plant species that have emerged, native birds you've spied nestled among the trees or the buzzing sound you hear from the bees as they hover around flowering plants, having these observations documented helps scientists and land managers keep track of species in their area and monitor the effects of climate change.
So if you've ever wanted to contribute to the biodiversity of your local area, here is your chance to participate in the largest citizen science activity in the southern hemisphere – the Great Southern Bioblitz, which is running from 22-25 October 2021!
Anyone can participate in the Great Southern Bioblitz, and if you happen to live in or near Banyule or Darebin council areas, you could win a Pollinator Prize Pack courtesy of the Nangak Tamboree Wildlife Sanctuary, who are participating this year as an umbrella project!
During the Bioblitz, the Sanctuary will be discovering as much biodiversity as possible throughout the Nangak Tamboree corridor at La Trobe, as well as the Darebin Creek area and the surrounding bushland areas in Darebin and Banyule. The top contributor as part of this umbrella project will win the Pollinator Prize Pack, complete with a bug pad, 10 pollinator attracting plants and a 2022 Nangak Tamboree Wildlife Sanctuary calendar! The next top 5 contributors will win their very own copy of the calendar – which features beautiful photos of flora and fauna of the Sanctuary.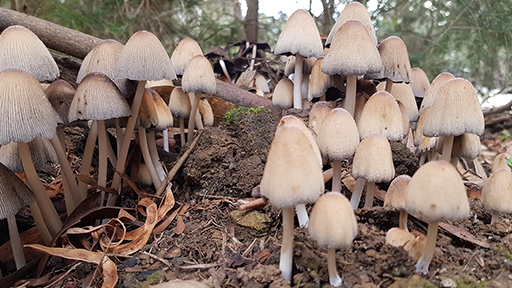 How do I get involved?
It's simple and easy to get involved – you don't have to be an expert and you don't even have to leave your home, as all forms of life – including those in your very own backyard – count toward the tally!
Download the iNaturalist app onto your phone (available via the App Store or Google Play) or use the web based version.
Register an account.
Join the Nangak Tamboree Wildlife Sanctuary project (if you live in or near Banyule or Darebin council and want a chance to win prizes!) or choose one that's local to you.
From 22-25 October, get outdoors and start spotting!
Upload your sightings via the app.
What happens next?
The iNaturalist app uses artificial intelligence to help you identify the flora or fauna you've observed. The more sightings uploaded, the more the program 'learns' how to identify them! Other scientists and naturalists will also help to identify and verify your observations – so all you really have to do is simply observe! The data then feeds into the Atlas of Living Australia database, managed by CSIRO.
---
So whether you just want to get out and about and in touch with nature or are looking for something to get the kids involved in, the Great Southern Bioblitz is a great and effective way to contribute to the biodiversity of your local area!