Hi, my name is Bradyn McGregor and I am a third year Bendigo Bachelor of Business student majoring in Management and Marketing. I have a keen interest in the field of marketing and as part of my studies I took the opportunity to undertake a Work Integrated Learning placement to gain industry experience and become career ready.
I secured a placement with La Trobe Abroad as part of the Work Placement Program subject ASC3WPP. As an intern I worked alongside my supervisor to create 11 promotional flyers for key geographical regions around the world. Each flyer showcases a destination, facts about that destination and past student experiences while also offering tips to future students on areas such as accommodation and socialising. The flyers will provide valuable information to current and future students who are interested in studying overseas but need a little more help deciding on where to go. You can find the published flyers in the La Trobe Abroad – The Global Student Experience LMS module.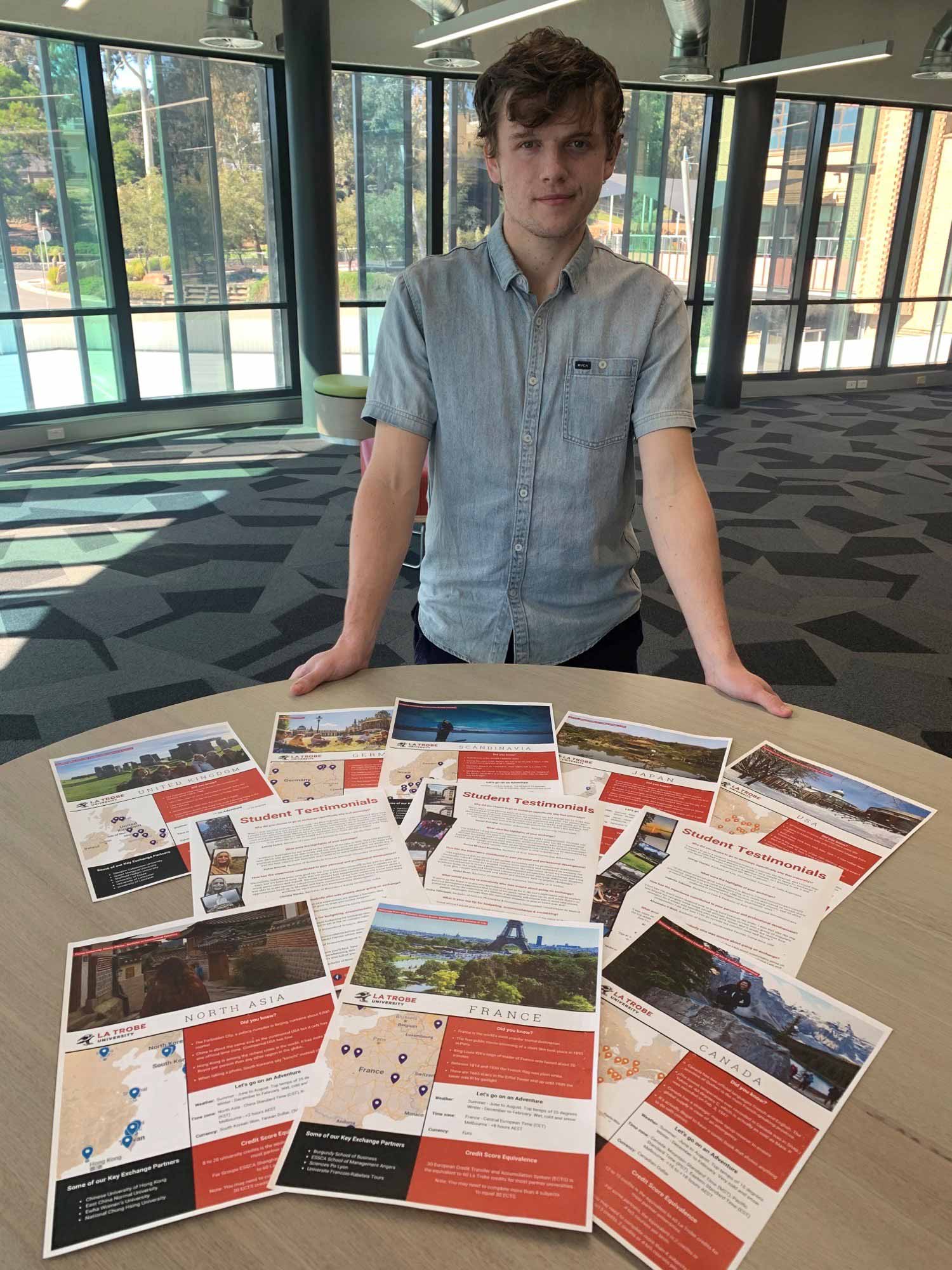 I have found the experience, as a whole, to be a rewarding, engaging and exciting experience that has allowed me to build upon key skills that I learned while studying my business degree. Since undertaking my placement, I have been able to significantly develop and improve skills such as digital design and public speaking skills, which will not only help me now with my degree but also into my future career. I would highly recommend any opportunity to gain industry experience with La Trobe Abroad, you will not regret it and you will have so much fun throughout.
"I would recommend this experience to any student looking to gain industry experience as part of their degree."
Top remote learning tips as an intern
Learning remotely as an intern can be hard for students and I encountered some moments of difficulties that I otherwise wouldn't experience face to face, so here is some advice for remote learning as an intern:
Be organised and self-sufficient whilst regularly maintaining contact with your supervisor. Keep on top of your work, clarify expectations when needed and organise a time to regularly meet with your supervisor to get feedback on your work.
Effectively utilise your time, particularly in transitional period at the start of the internship (gives your supervisor a great first impression).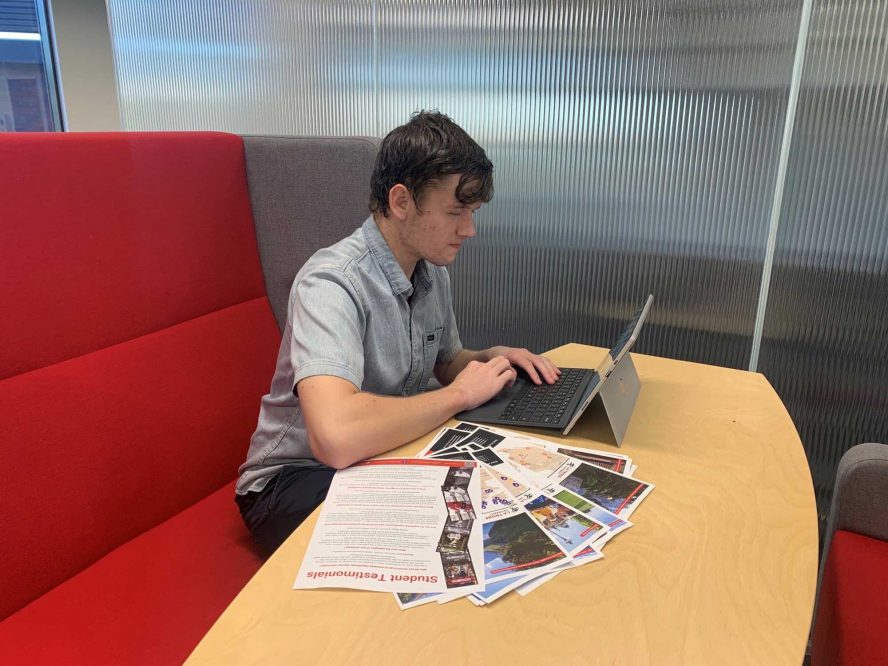 Why you should intern for La Trobe Abroad
Thinking about or inspired to study overseas? Well, a placement offered by La Trobe Abroad is the fit for you. You gain the experience of working with a highly motivated and friendly team as well as get the opportunity to create material and content that will be beneficial for students interested in studying overseas. The three reasons as to why I believe students should take up a placement opportunity are:
If you are keen on studying overseas, this placement is must have opportunity to learn and explore the ins and outs of La Trobe Abroad and what programs they offer to students. It has given me the travel bug and increased my desire to potentially study overseas or just in general go abroad in the future.
Undertaking a placement such as this has given me the opportunity to build connections and establish a professional network. Students who also undertake this placement will have the opportunity to do the same and ultimately will enhance career opportunities.
To gain the confidence, skills and experience to further your career aspirations. Whilst undertaking this placement I had the forum to present ideas about promotional material during the process of creating flyers to the La Trobe Abroad team and they have given me feedback on this work. This has given me a great deal of confidence and afforded me the opportunity to build up skills such as public speaking skills and digital design skills through the utilisation of Canva to come up with interesting and engaging promotional material for future students who want to study overseas.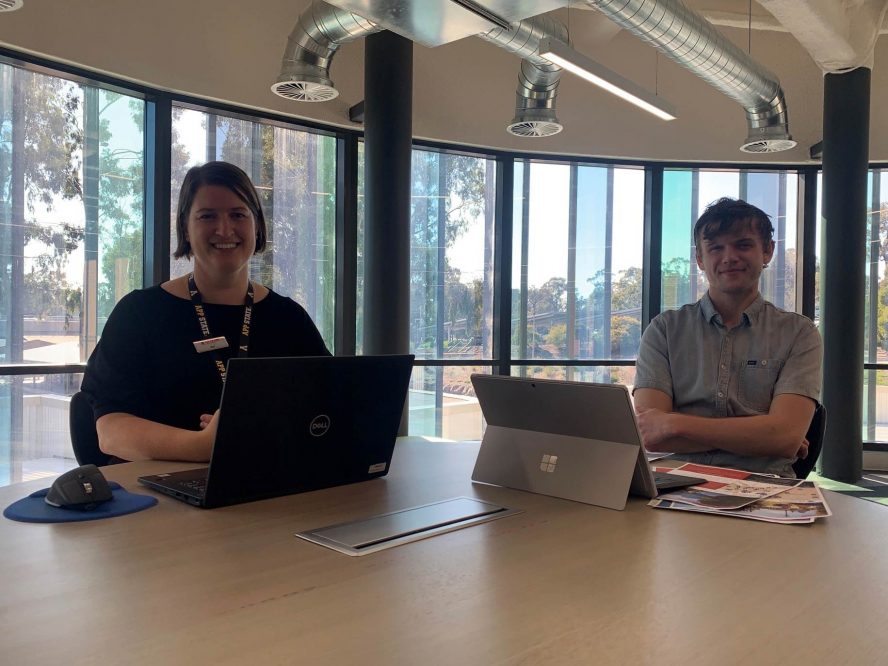 How I found the La Trobe Abroad placement
I found the La Trobe Abroad placement through my student emails, more specifically an email from the work integrated learning team. I would recommend to students if these opportunities present themselves, take them. A placement will give you the best preparation and experience for future career aspirations as well as give you the opportunity to work alongside some amazing people like the La Trobe Abroad team.
Search for opportunities and access resources on CareerHub or email assc.internships@latrobe.edu.au to express your interest for Semester 2 and beyond.