Missing life on campus? Find out what the Bendigo Student Association is doing this week to make student life better – even while we are learning remotely.
Discount hoodie sale
Feeling that icy winter chill?
The BSA has got you covered with their warm, cosy jumpers – at clearance sale prices!
The good people at the BSA have been selling these jumpers for years and the feedback has been fantastic. 
So secure yours today at the bargain price of just $15! 
But be quick: there are very limited size options.
And you need to live locally or have a local delivery address, because the BSA is going to deliver the goodies for free!
Find out more at the BSA website.
Free Student Legal Service
The BSA Student Legal Service is available for telephone consultations.
Call direct on 03 5445 0909 or 1800 450 909 (toll free from outside Bendigo) to make an appointment.
The service offers free and confidential advice from qualified and experienced lawyers on things like:
• Employment Rights
• Fines
• Crime
• Family Violence
• Family Law
• Child Protection
• Consumer Matters
• Tenancy Issues
For a full list and more info, visit the BSA website.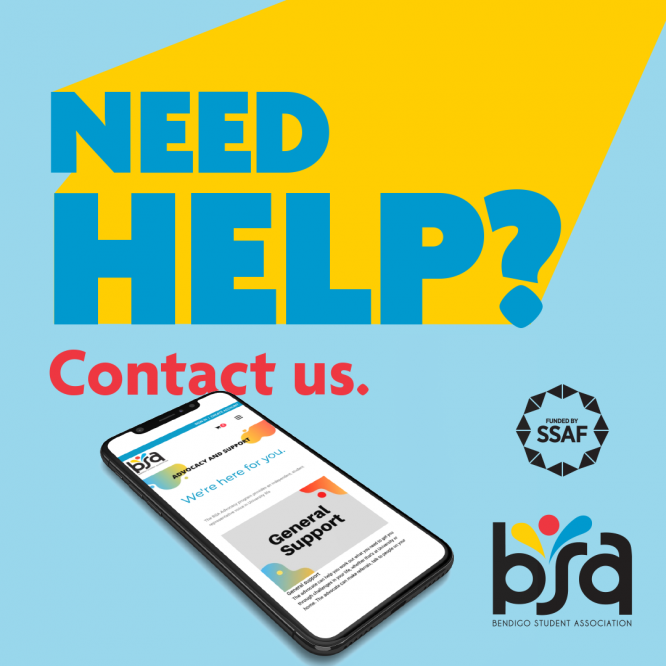 Advocacy & Support Services
Your student advocate is still here for you.
The BSA Advocate, Michelle, will listen, help work out problems, talk with your lecturer, and more.
Available by Zoom, telephone or email.
Contact Michelle m.barton@latrobe.edu.au or 0413 430 822