If you didn't make it to Monday's Postgraduate Expo in Bendigo, you sure missed out!
Not only were our academics on-hand to help with your questions about further study, but we heard the moving, motivating stories of two stellar alumni: Flash Farm founder and animal therapy pioneer Kristy Kemp and Carlton Football Club player Kerryn Harrington, who is also a physiotherapist for the Blues.

Despite working very different jobs, Kristy and Kerryn have a couple of things in common: they are both Bendigonians, and both of them were inspired to pursue their chosen careers after first-hand experiences with professionals in those fields.
Helping others on road to recovery
LaTrobe Bendigo Post Graduate Expo2019 pic by Bill Conroy Press1Photography 7/10/2019
Kristy Kemp's pathway to Social Work began when she was a patient at the Peter MacCallum Cancer Centre where she received life-saving cancer treatment.
During her stay, two very different appointments with two very different social workers would not only help define her future career, but also the way she would go about her work.
Kristy clearly remembers the first, unsuccessful appointment as the social worker tried counselling her about her impending hair loss. But the mother-of-two felt as if she wasn't being heard. She was more concerned about having to explain to her children what she was battling and why she needed to be apart from them.
She cautiously agreed to meet with another social worker and the experience was a far more positive one. They organised for Kristy to have a phone so she could read to her children at night, even though they were back in Bendigo with their grandparents.
It's this sort of compassion she aims to bring to her interactions with children who visit her animal therapy farm, Flash Farm, on Bendigo's outskirts.
She set up the facility on her family property last year after graduating from La Trobe's Bachelor of Human Services/Master of Social Work.
Every year, she welcomes more than 60 young people aged from seven to 17, who are living in residential or foster care.
The therapy animals at Flash Farm include chickens, alpacas, goats and horses, one of which receives a very special response from Kristy's clients.
Millie the one-eyed horse was near-death when the RSPCA rescued her from a property with 150 other animals.
Vets described the beaten animal's recovery as miraculous.
"We tell Millie's story every single day and the kids that are in care turn around and say, 'That horse – she wasn't loved, she was beaten, but she's found a home and she's loved. I'm going to find that one day'," Kristy explains.
It was La Trobe staff who encouraged Kristy to "take her learning and back herself", an important lesson in the setup of Flash Farm.
"There were hiccups and bumps in the road that we had to go through, but my amazing lecturers who were really understanding," she says.
She's now exploring the idea of returning to University as a PhD candidate.
Today her son also attends La Trobe in Bendigo, while her daughter is aspiring to enrol in the Campus' Physiotherapy course.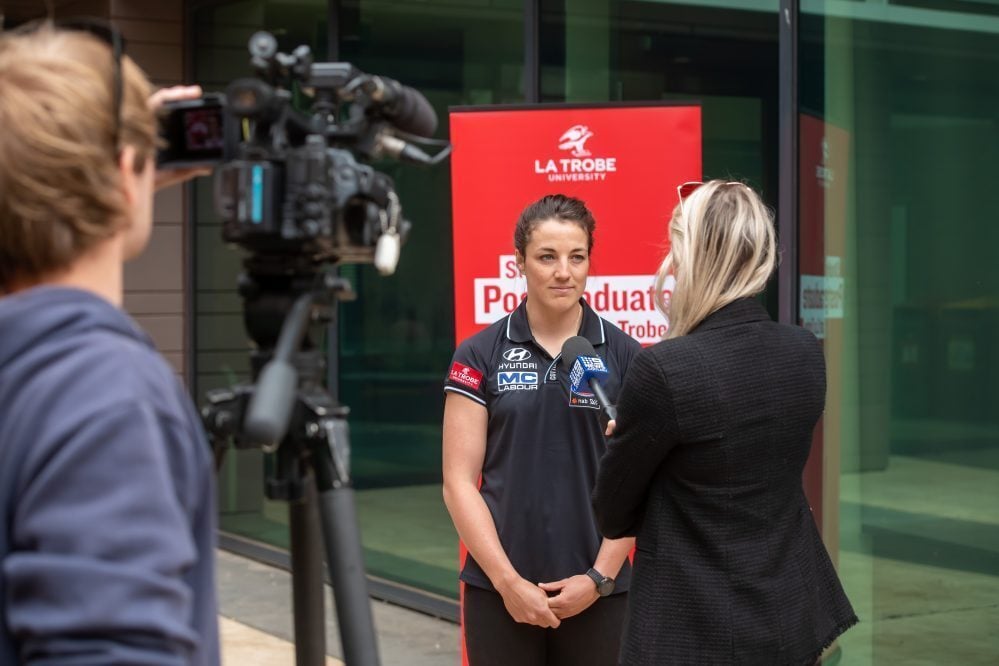 From court to field to clinic
Kerryn Harrington has made a name for herself as an elite athlete in not one but two sporting codes.
The former Bendigo Spirit basketball player has since moved on to the AFLW where she stars for this year's runners-up, the Carlton Blues.
But on top of her dual sporting success, Kerryn is a pioneer in other ways: she also works behind the scenes at Carlton where she's the club's only woman physiotherapist.
The seeds of Kerryn's future career were sown when she battled a knee injury in her teenage years.

She remembers the care and professionalism of the physiotherapists who attended her.
But it wasn't until another serious knee injury left her temporarily on the sidelines that she seriously began considering her future outside of sport.
"It took me another setback to realise this basketball journey's not going to last forever: I'm actually going to have to do something outside of basketball to sustain a life and provide an income," Kerryn says.
She first completed the Bachelor of Exercise Science before being accepted into the postgraduate Master of Physiotherapy Practice.
Still, she says she never could've imagined where she is today: a player for Carlton in the AFLW competition and a physiotherapy for the club's men's team.
"I grew up in a very Carlton-dominated house. I was born navy. There was no choice, basically," Kerryn says.

"When I put my mind to something and there's something I want to do, I tend to pursue it very heavily. I find the means and the ways to do it."
Asked why she decided to stay at La Trobe in Bendigo for her postgraduate Physiotherapy studies, Kerryn explains there were several reasons.

Not only is the city home to national-level women's basketball team the Bendigo Spirit, but she could also live at home while studying (allowing her to focus on Uni and her sport).
"Also, the relationships the regional campuses have with their students, being part of a smaller cohort than at metropolitan campuses," she adds.