It's a tough time for many in our community and the last thing you need to worry about is where your next meals is coming from.

That's why the Bendigo Student Association and Shepparton Students' Association are both offering a food share service for students at their respective campuses.
Bendigo
From Wednesday 20 May, the BSA Food Relief Program is available again!
At the moment, only pantry items are available.
To collect food relief, students must write to BSA's Advocacy Engagement Officer, Michelle, before coming on campus, at email address m.barton@latrobe.edu.au.
Please note that Social distancing and hygiene rules apply.
More info: https://www.bsabendigo.com.au/foodreliefprogram
Shepparton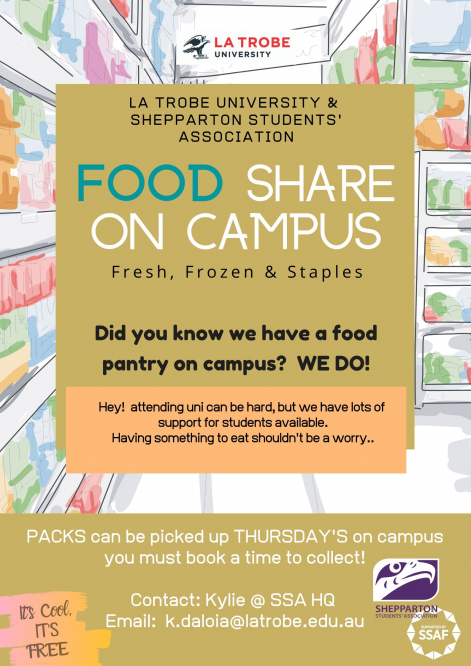 Food Packs are available for students, either for singles or for families. They contain fresh fruit and vegetables, frozen meals, pantry staples such as pasta, sauce and cereals, milk, cheese and bread.
The packs will need to be ordered by Tuesday each week for delivery to the campus on a Thursday. Students will be allocated a time to come and pick up the packs from the upstairs Learning Hub on a Thursday.
To request a food pack, please contact SSA support officer Kylie D'Aloia on k.daloia@latrobe.edu.au.
Of course, we do have supplies available for students who cannot wait until Thursday to access the food share. All they need to do is contact Kylie or the Shepparton Campus wellbeing officer Annalise Reid on A.Reid2@latrobe.edu.au.
The SSA hopes this will help in some way to alleviate the stress of putting a meal on the table during uncertain times. All students are welcome to use the program.