It's been a big month for Tashara Roberts.
First, she walked across the Ulumburra Theatre stage to graduate with a Bachelor of Creative Arts and now, she's three days into her new role as our campus Indigenous Academic Enrichment Advisor.
"It feels like coming home," she says of the job.
"I always envisaged I'd end up in this office at some point, because of my passion for Indigenous education and my love of La Trobe."
The Dja Dja Wurrung and Yorta Yorta woman began studying at the Bendigo Campus in 2014, having moved from Melbourne to be on country for the first time in her life.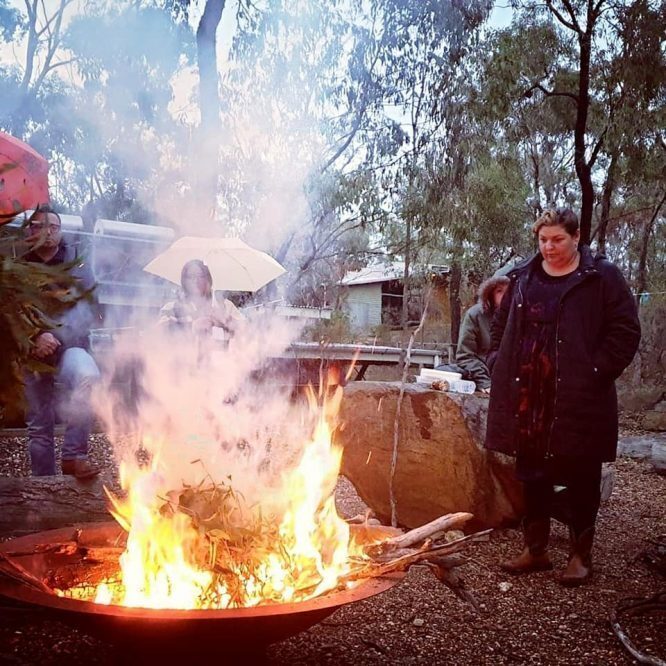 Tashara's father was part of the Stolen Generation and had been taken from his central Victorian family and home at the age of two.
He returned to the region 15 years ago, and later, Tashara followed.
"We both grew up without community and without culture," she says, adding that moving to Bendigo "filled a hole [she] didn't even know was there".
Tashara had been a TAFE teacher, and worked in ICT at La Trobe in Bundoora. The move here prompted her to enrol at university and pursue her life-long love of art.
"It was a big step for me, and for most Indigenous people, I guess, because university was never talked about in my childhood," she says.
"I thought uni would make me a better artist.
"The critical thinking and research skills you learn, no matter what you study, helps in many ways.
"It definitely helped my arts practice and it also changed my view of the world."
And so Tashara became part of the 3.6 per cent of Indigenous people to study at university. She says increasing that figure is her number one aim in her role.

"If we really want to change the system and change this country more Aboriginal people need to go to uni."