It's hard to believe Louis Mott has time for uni. The first-year Bendigo Exercise Science student rattles off a gruelling schedule for 2019, which includes travels to Lithuania, Spain, Marrakesh and closer to home, the Gold Coast. And it's all in the name of Judo.
The martial arts champ is on a roll, pitting his talents against the world's best. As such, last month Louis was accepted into the La Trobe Elite Athletes Program, which is primed to help him manage his studies alongside his sport. And in an almighty boost for the cause, he was awarded a competitive $10,000 Mick Malthouse scholarship.
Louis says the money will fund his international and domestic travel, taking the pressure off his family, and his part-time wage as a delivery driver for Red Rooster.
"A fair chunk of the expenses come out of our own pockets, that's why scholarships like this are really essential for elite athletes," he says.
Louis is used to all this multi-tasking. During VCE at Bendigo Senior Secondary College he competed in Judo championships in nine different countries, including winning the Oceanic Continental Championships in his division, and placing in the top 16 in the Under-18 division in the World Championships in Chili.
The black belt competitor is part of the State and National Judo teams and travels to Melbourne for training each Saturday. He also trains twice a week in Bendigo and can be found at the gym each morning.
Louis has been training with Bendigo-based Judo coach Ben Donegan since his parents first signed him up in kindergarten. "He's been my coach since day one and now he's gone on to be the coach for the Australian Under-18 team. I'm very lucky to be training with him and I'm planning to stick with him," Louis says, which is just as well, as the pair are now bumping into each other on campus. Ben is a student in education.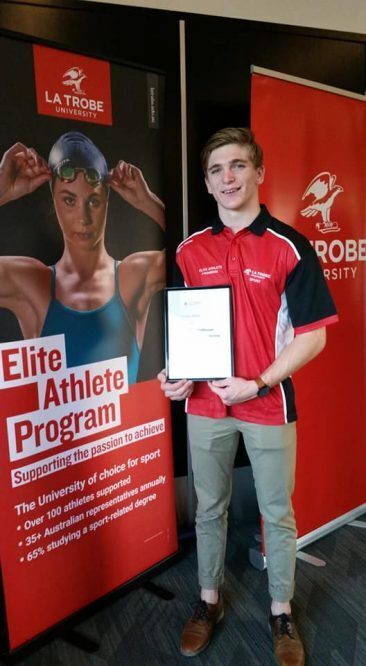 Louis says it's the close-knit Bendigo community that's kept him studying here. Plus the fact the local campus offers a world-class exercise science degree.
After uni Louis has plans to work with elite athletes, with Judo Australia in his sights. But first, he's on a path to achieve as much as he can as the athlete.
"For me the belt level isn't the greatest achievement, it's more about the competition. My biggest goal this year is to finish in the top 10 in the World Championships in Marrakesh in October."
So, what's it like to face an opponent on the mat at such an elite level? "There's a slight bit of nerves, also some excitement and the rest of the time I'm just purely focussed on winning," he says. "Whoever shows the best courage and fight will win."
Next month Louis is heading to Lithuania and Spain to compete on the European circuit, with the assistance of his timely scholarship.