She's a familiar face at the Bendigo Student Association, but now Mitch Trevena is winning recognition from colleagues across Australia.
Professional body Tertiary Access Group awarded Mitch the Georgeson Torney award last week, in celebration of her "service to the Australian campus union profession over a number of years".
First presented in 1999, the award isn't handed out every year – only on occasions when someone's contribution is deemed worthy of the honour.
Mitch, who is the CEO of the BSA, is the organisation's second staff member to win the award. Former operations manager Lorraine Davies took home the prize in 2005.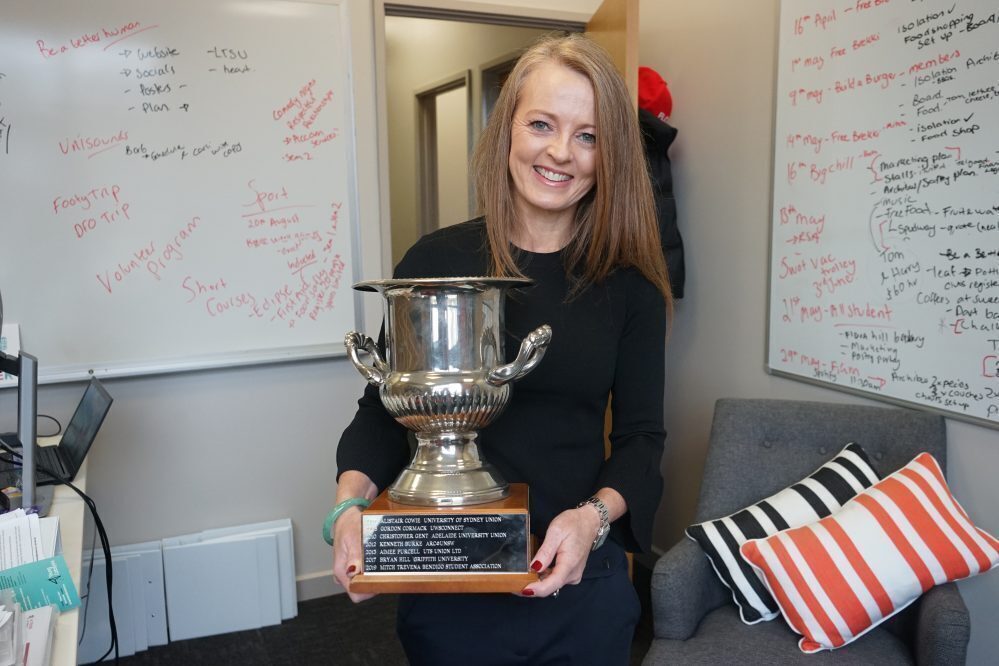 Mitch says it was a surprise to receive the award.
"It's strange to get recognition for doing your job – I get recognition for doing something I love," she says.
"The only reason I can do my job is because of the staff here, the board and the students."

She was nominated for the award by BSA staff and board members.
Mitch says it's important for a university campus to have an active student association.
"We are absolutely integral to the success of students and making sure they have a great experience, whether that's providing co-curricular and social opportunities, financial counselling, or helping afford a coffee or food at Sweeney's."
BSA president Tash Romas says Mitch's commitment to excellence in her field made her a fitting candidate for the award.
"Mitch has never been a leader to simply sit back and accept the status quo," he says.
"Without Mitch, the BSA would not be what it is today: an association with a clear vision, one that is still thriving despite financial pressures, and one that continues to remain relevant, progressive and supportive for students."