After watching DreamWorks' film 'The Road to El Dorado' and falling in love with the "wildly unrealistic" idea of finding a city of gold in the middle of the Mesoamerican jungle, Briannon Dudek knew she wanted a career path that was interesting, offered something different every day and would involve travelling the globe.
"I always enjoyed learning about history and different cultures," says Briannon, who is in her third year of a Bachelor of Arts degree with a major in Archaeology at La Trobe University.
To get her career-ready, Briannon is required to undertake 110 hours of field and office work as part of her degree, and when the opportunity arose to participate in site excavations as part of the La Trobe Nangak Tamboree project, she jumped at the chance to get some hands-on experience.
"I was excited to be able to learn more about the Aboriginal heritage of the area and learn more about the excavation process," she said.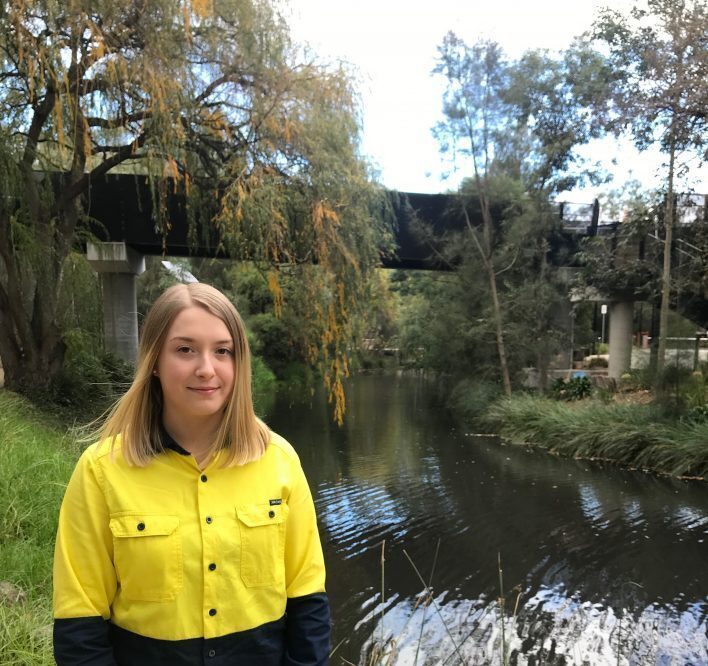 Nangak Tamboree is a biodiverse waterway corridor, which links La Trobe University to the wider community and environment. Connecting with local creeks, it attracts wildlife and supports native flora and as part of the University's Master Plan, a long-term project is underway to enhance and protect the waterway over the coming years for the benefit of the University and its neighbours.
As part of the project, a new bike path is planned along Darebin Creek to create new connections with local spaces. La Trobe has been working closely with the Wurundjeri Woi Wurrung Cultural Heritage Aboriginal Corporation and cultural heritage consultants as part of the project's Cultural Heritage Management Plan, to ensure any Aboriginal cultural heritage sites are managed and protected throughout the project.
Tony Inglis, Nangak Tamboree Project Director at La Trobe University, said that the site excavations presented a great opportunity for students to get hands-on fieldwork experience.
"Two of the major themes of the La Trobe Nangak Tamboree project are about educating the community and respecting cultural heritage, so it only seemed fitting to have students studying Archaeology at La Trobe involved in this important part of the project," he said.
Briannon participated in site investigations at the Gresswell Habitat Link across two days which included excavating a metre by metre trench and sieving the soil to identify any potential artefacts.
"Once the pits were excavated, we took pH samples of the soil and recorded the colour changes. We also took notes of any other inclusions such as gravel or contamination of modern materials like plastic and glass. We then illustrated and recorded the soil profile of the trench onto paper," Briannon explains.
For Briannon, the fieldwork was not only a great opportunity to get some real-world experience, it also enabled her to increase her knowledge and understanding of Aboriginal cultural heritage.
"The whole process was intricate and detailed, and it was wonderful to put all of the theory that I had learnt at La Trobe into practice in the field. I enjoyed asking questions, discussing, and learning about archaeology," Briannon said.
"This was my first experience working in the commercial sector with Aboriginal cultural heritage alongside the Wurundjeri Woi Wurrung Cultural Heritage Aboriginal Corporation and I enjoyed every second of it. This experience has reassured me that I am following a career path that I love."
To find out more and to stay up to date about Nangak Tamboree, please visit the project website.