Have you heard about Career Ready Advantage (CRA)?
It's La Trobe's step-by-step program that prepares you for job success after graduation.
By completing a series of employment-related activities, you'll not only receive recognition on your final transcript – you'll also be equipped with an arsenal of tips and tricks that'll make you stand out when it's time to enter the job market.
These La Trobe Albury-Wodonga students did just that in 2019.

After working their way through the Career Ready Advantage list of easy-to-complete employment preparations, they were awarded silver CRA awards for their efforts.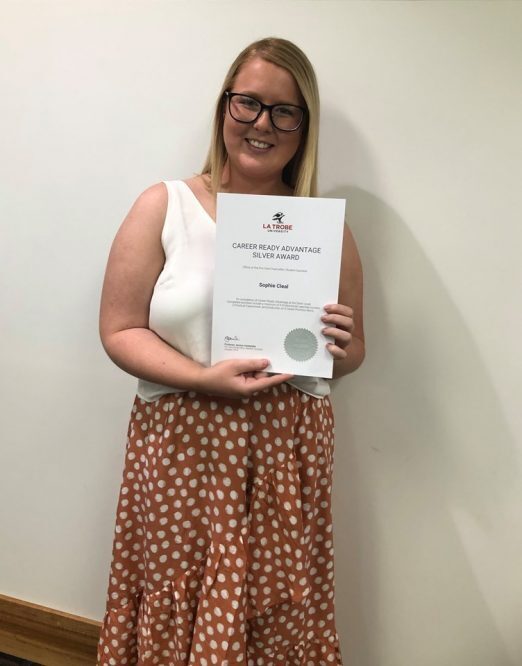 Laura Dick, Willow Benson, Michael Bocquet and Fiona Garvie (all pictured above) were among those to receive silver awards at Albury-Wodonga in 2019.
They were congratulated at an end-of-year ceremony by the Albury-Wodonga acting Head of Campus, Sue Hodgkin, as well as local councillor, Kat Bennett.
Kat is also a La Trobe graduate and told the recipients how she was always looking for that extra something special on employees' resumes.
She attested to the fact it was the extra-curricular activities she did at La Trobe that had the biggest impact on her confidence and ability to readily adapt in her very fast-moving work environment.
All-in-all, a very successful event that left students feeling chuffed to be recognised for their hard work.

But the real reward will be when they land that dream job with the skills they learned at La Trobe.
Click here to learn more about CRA and to start working towards the a silver, gold or platinum award.