Written by Dr Rebecca Eaton, Senior Manager, La Trobe University Student Success and Transition.
Learning in an online environment can be a different experience to learning in the classroom. So, we've put together five tips to help you confidently and successfully navigate online learning.
1. Get yourself into a study routine
With no class timetable to stick to, it can be a bit of a challenge to keep up-to-date with your work from week to week, making it easy to fall into bad habits. That's why getting into a regular study routine right from Week 1 is essential, as it will help you get organised, keep on track and stay in control of your studies.
The general rule-of-thumb is that you need to be devoting at least 10 hours per week to each subject you are enrolled in. That means, that if you are enrolled in a full-time subject load of four subjects, you need to be allocating 40 hours per week to your studies.
Some of this time may be pre-set if you have live online classes scheduled that you need to connect into, but otherwise, you need to design a weekly schedule that works with your outside commitments to help you commit enough time each week to stay up to date with all of the tasks involved with successfully undertaking your subjects, such as:
watching online lectures/seminars/workshops
completing online modules and other activities
completing required readings and other required research
engaging in discussion boards/forums,
making study/revision notes each week
working on assessment (researching/preparing assignments; studying/undertaking exams)
Mapping out a weekly plan is a great way to stay on track and ensure you are devoting enough time to your studies while also meeting your outside commitments.
When making your plan, think about the time of day when you are planning to study. If you are most alert and focused at night, don't map out a weekly plan with early morning study blocks each day. Be intentional and plan around your own natural rhythms. It may take a bit of trial and error to work out a routine that works for you so that you can successfully balance your university studies with your outside life, but with a bit of thought and dedication, you will find the balance and be in a steady routine in no time.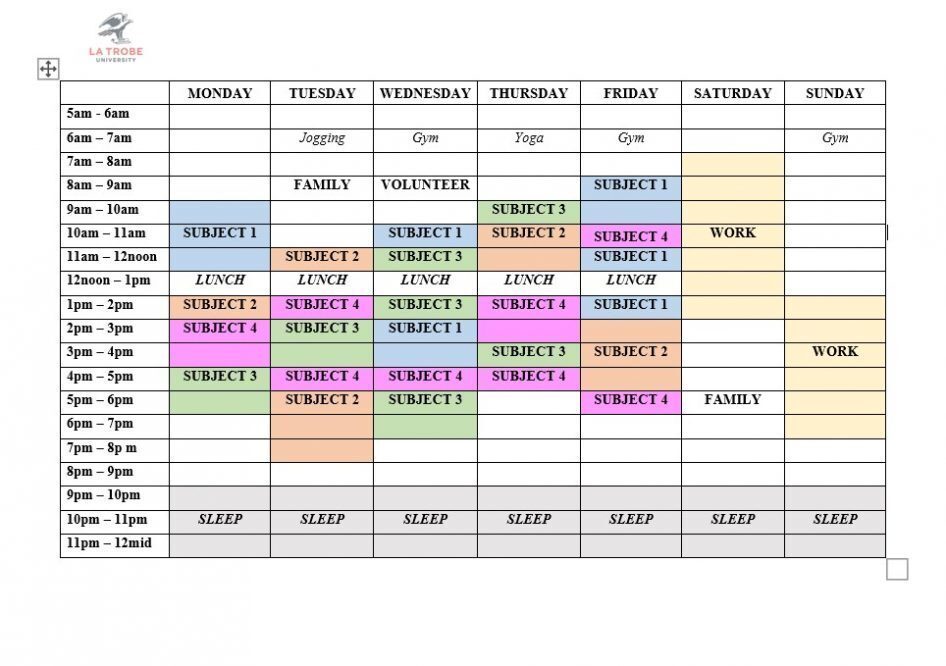 La Trobe has a handy tool to help you map out tasks and timelines for assignments too. Use the La Trobe Assessment Planner to generate a tailored plan for you based on your individual subject, start date and due date.
There are also lots of free study planning apps available. Add your exam timetables or assignment due dates into the calendar of the My Study Life App or the Egenda App, add tasks and set reminders to stay on track.
Make sure to take regular breaks (5-10 minutes after each hour) where you get up and stretch and look away from your screen. Be careful about connecting with other technologies during your breaks though (getting online, connecting to social media, turning on the television) as a 10 minute break can very quickly turn into 2 hours! You need to maintain your dedication and focus during your study day. To help you stay on track, plan a reward you can look forward to once your work day is 'done'. This could be going for a jog, spending time with family, connecting online (social media, gaming etc.) or watching a movie.
If you need a bit of extra guidance, the Learning Hub team can help advise you on managing your time and creating a schedule that is realistic and that works for you. Email them at: LearningHub@latrobe.edu.au
2. Get confident navigating your online learning environment
Another tip to get you up and running as an online learner, is to spend time getting confident using the online platforms and information technology systems you will use in your virtual classroom.
Spend some time logging into the La Trobe University website and navigating around to see what is where. If you find a useful page, a good tip is to bookmark it on your device so you can find it again easily and quickly.
Your main online learning environment for each of your subjects is our Learning Management System (LMS). This is your online classroom where you will find your online lectures and modules and associated class materials, links to your readings and other important information and resources, videos, discussion boards/forums, and messages and updates from your teaching team. Spend time navigating each site so you know what information is loaded in each section.
You will also find information about your assessment for each subject, which will help you get organised. Map out a semester plan, so you know when all of your due dates are across the semester. Again, it's about staying organised and in control of your studies.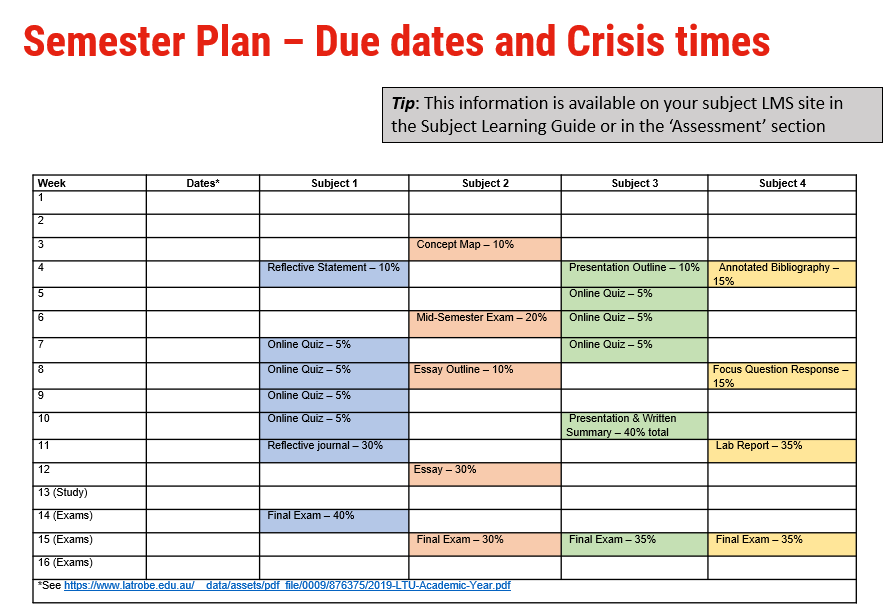 Other important online platforms you will use regularly will include your La Trobe University student email account, online conferencing technologies such as Zoom and social and chat forums such as Facebook, Instagram, Weibo and WeChat. If you need a bit of extra guidance, we have some great IT support available to help you learn how to access and navigate your online systems.
3. Make a dedicated study space
It's always good to think about where and when you will study. Having a dedicated study space is really important to help you get into the right 'mindset' for study. This is especially so when studying as an online student.
Try to have all the materials you will need in your study space (e.g. paper and writing materials, textbooks/research materials if you have hard copies and other stationery supplies). Try to plan a space that is quiet, uncluttered and free of distractions to help you concentrate and focus. It is also crucial to ensure that your study space has ample access to power and wifi connectivity.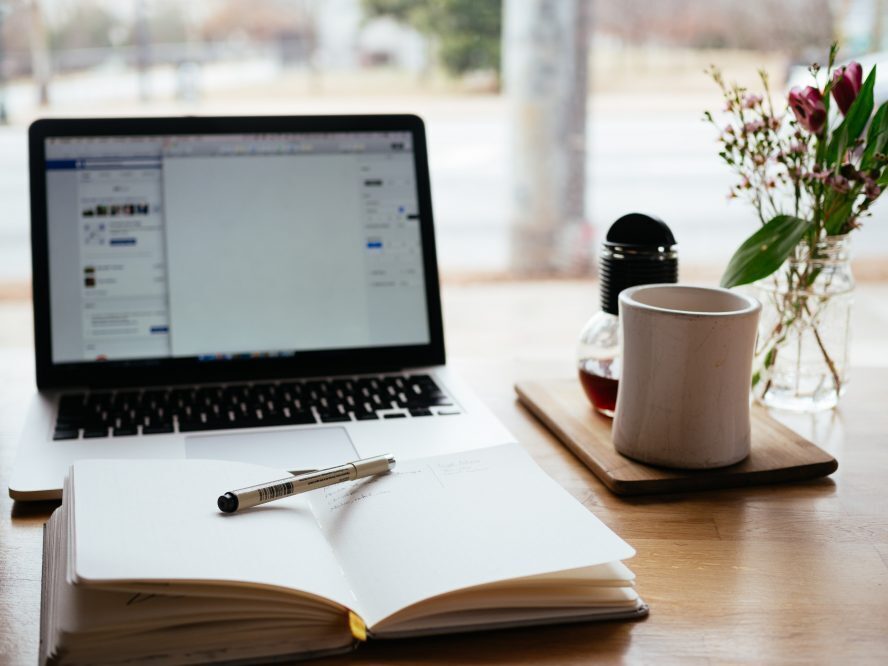 4. Ask for help if you need it
Even though you are studying in a virtual class environment, it doesn't mean that you are 'on your own'. Your lecturers and teaching team are still there to support you, answer your questions and guide your learning across the semester. So if you need help or advice about any of your subjects, the most important thing you need to do is reach out early for assistance.
The best way to get in contact with your lecturers and other academic staff is via email. You will find the email contact details for each of your lecturers in your LMS subject sites. You can also search for staff contact information on the La Trobe website.
5. Connect with your cohort whenever possible
Studying as an online student can sometimes feel a little isolating. That's why it is really important to connect with other students in your subjects so you can start to make friends and form connections in your cohort. This will help you develop a sense of belonging with your peers (and the University) as well as provide you with avenues for both social and study support.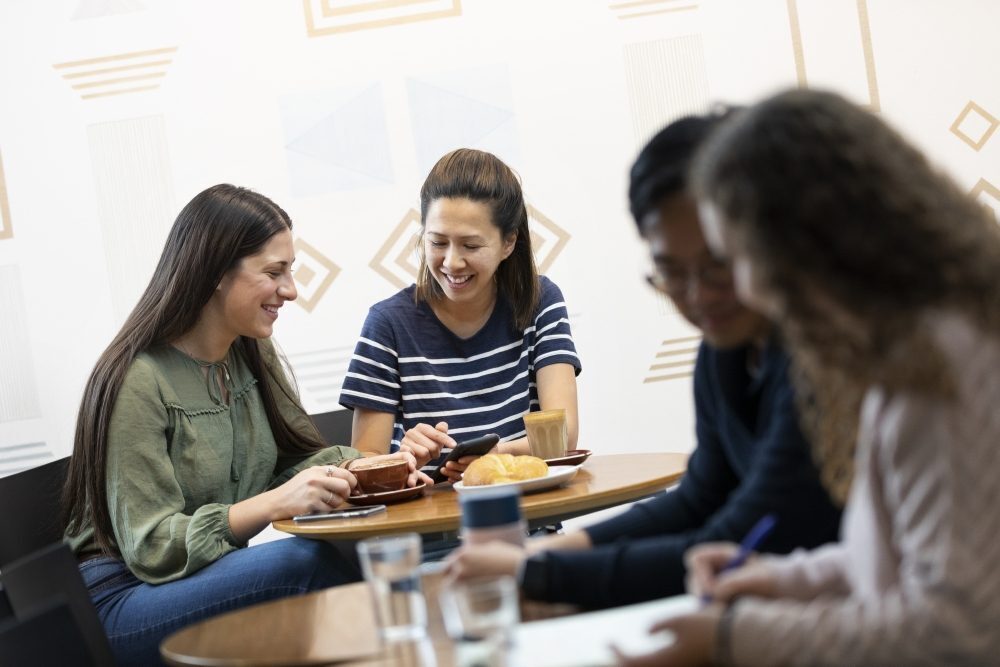 You'll have a range of different online platforms available in your subject to help you network with other students, such as discussion boards, online forums, email, online chats/blogs and online collaborative sessions held via Zoom. Getting connected and making friends is a key predictor of success at university, so making the effort to reach out and meet other students, even if it feels a little uncomfortable at first, will pay off in the long run.
---