We're wrapping up our Sustainability @ Home series for 2020. We hope that during this challenging and unusual year we've been able to provide you with some practical information on how you can live more sustainably.
While it has been a difficult year, on the whole global emissions have dramatically decreased. In the first half of 2020, emissions were reduced by 8.8% compared with 2019, which is larger than previous recessions or World War II.
We've been able to able to cut emissions quickly by reducing aeroplane and car travel and shutting down business and workplaces. So as we begin a 'COVID normal' life, we need to make sure we remember the environmental practices we've learnt and carry them on into the future.
So let's take a trip down memory lane and revisit 10 of our Sustainability @ Home actions that you can take into 2021 and beyond:
Stay in the zone: With summer approaching, stay cool and save money – set your AC thermostat for 23-25 degrees and turn the fan on low/eco mode. In winter, stick to 18-20 degrees.
Greenify your indoors: Did you know plants absorb carbon dioxide and release oxygen to help keep the air clean? Having trees or plants near windows can block the summer sun and reduce the heat in your home. Make sure they are plants that like the heat and don't forget to water them!
Recycle right: You've probably noticed you're making a lot more waste since you've been at home! Two easy ways to cut back on waste are to recycle soft plastics and start a compost, wormfarm or bokashi bin for your organic waste.
Shop local or small: Now that we're able to get back to shops, it's important to support your local producers. This festive season, you could pledge to buy your gifts and fresh produce from local shops or small businesses. Check out Click for Vic to get to best of our state delivered to your door.
Bring Your Own: Cut back on the plastic waste by BYOing your coffee cup for your caffeine hit, or using reusable produce bags or shopping bags when you hit the shops. You can even start shopping at a bulk food store and BYO jars and containers.
Be water wise: There are many ways to save water but with summer approaching, two quick tips are to water your garden in the early morning to avoid it evaporating in the sun and heat (plus it's more beneficial for your plants and insects and birds) and, empty old water from drink bottles onto your plants instead of down the sink.
Make your mask ethical: We'll still be needing masks for the foreseeable future, especially when shopping or taking public transport, so make one with ethical fabric or purchase from a social enterprise. It could make a nice stocking filler or KK present!
Get cooking: Try cooking or purchasing more plant-based meals – they are generally healthier for you and the planet. Bean burritos anyone?
Put a spring in your step: Spring has more than arrived. It's been greener for longer due to the wetter than usual weather brought on by the La Lina climatic phase. Get out there and back to nature, heal those stressful months stuck inside with a good old dose of mother nature (and ecopsychology!). And if you're booking a trip, stay close to go further!
Food for thought: Dining out? Choose sustainability-focused restaurants or cafes – local or organic produce, Fairtrade and compostable packaging are things to look out for.
So there you have it. We've shared lots of tips and tricks throughout the series and we hope they've inspired you to continue (or even start) your green journey at home.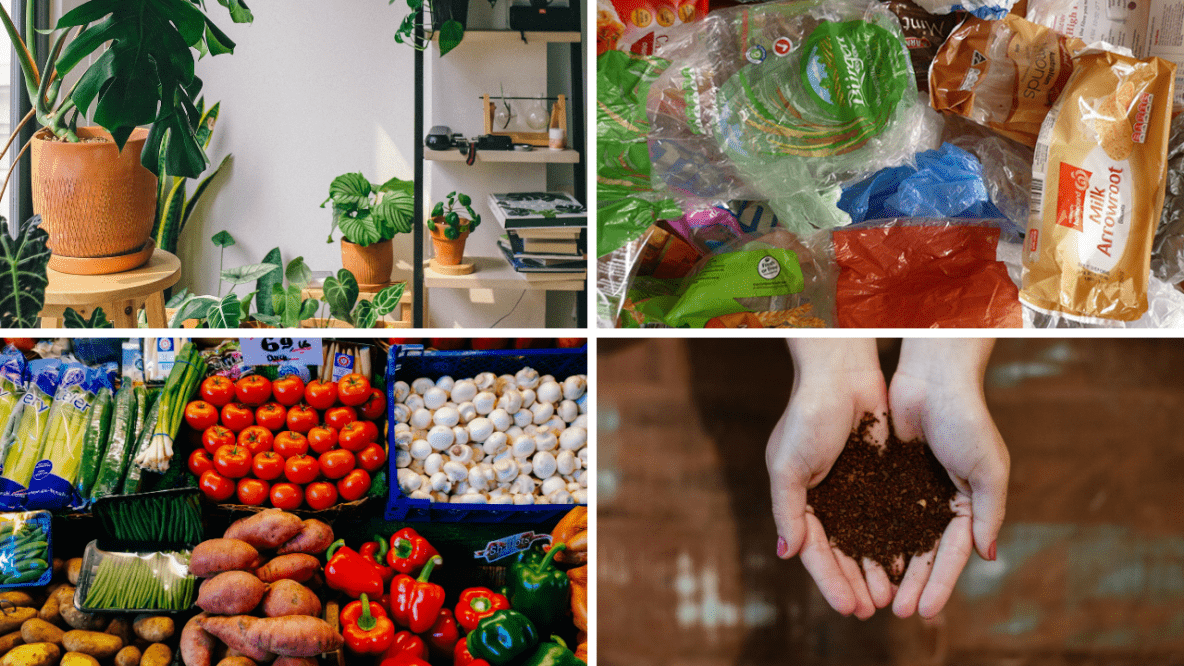 Have an idea or want to know more about sustainability?
Get in touch with us – the La Trobe Sustainability team – at sustainability@latrobe.edu.au