Australian Print Triennial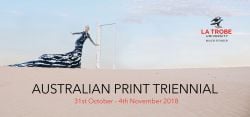 La Trobe University is the higher education partner of the Australian Print Triennial. The Australian Print Triennial is a major international art event that occurred in Mildura from October 31 - November 4 2018 spearheaded by The Art Vault. Over 40 artists and speakers took part in the Triennial activities and exhibited, conducted demonstrations, presented keynote addresses, engaged in debates, panels and discussions, and delivered workshops to artists and community groups.
At La Trobe University we offer a unique Creative Arts program and our partnership with the Australian Print Triennial meant our students got exclusive access to acclaimed practicing artists while they were studying. Our partnership allowed our students to partake in an intensive placed based subject called Mungo Prints: In the field in October 2017 at no cost. This exclusive learning opportunity was a five-day workshop and residency in Mungo National Park where students experienced an artist's residency in action. Students travelled to Mungo National Park and stayed on site whilst they observed and evaluated how an established professional artist approaches research and preliminary field work. From the Mungo Prints: In the field subject, our Creative Arts students exhibited their work at our 29 Deakin Avenue gallery during the Triennial in 2018.
In 2019, The Art Vault partnered with us again as we presented the Layers of Settlement symposium to the Mildura community. his symposium was presented by La Trobe University's Centre for the Study of the Inland (CSI) and provided a stimulating conversation about the history and future of the Mallee. The event, held over April 5 - 6 in 2019, comprised of a field trip to Mungo National Park led by archaeologists who have been working in the field for years, a conference dinner and finally an exhibition at The Art Vault that celebrated the theme - Layers of Settlement.