Master of Disability Practice Webinar
Event status: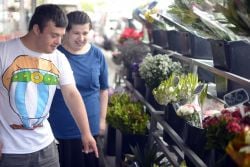 The Master of Disability Practice is a fully online course designed and taught by leading researchers from La Trobe University.
Date:

Wednesday 17 July 2019

06:00 pm

until Wednesday 17 July 2019

07:00 pm

(Add to calendar)

Contact:

Future Student Centre
1300 135 045

Presented by:

Professor Christine Bigby - Director, Living with a Disability Research Centre

Type of Event:

Future Student Information

Cost:

Free
This course provides professionals working in diverse contexts with an opportunity to develop knowledge and skills to enhance their confidence and practice in working directly with people with disabilities and their families. The roll out of the NDIS is changing the way services for people with disabilities are delivered across Australia. This course will equip students to understand the current disability landscape at this time of significant reform and tackle disadvantage through system level change.
The course is designed to be flexible and is offered in a fully online mode. Subjects in Semester 2 include: Ethical Issues in Disability Practice, Disability and the Law, Advocacy in Contemporary Disability Practice, and Understanding Complex and Challenging Needs.
The Master of Disability Practice is structured flexibly so that students have an opportunity to customise their learning program to meet their own professional training needs. Single subject enrolment is also available.
Study online at a time that suits you. Enrol in 1, 4, 8 or 11 subjects in Disability Practice.
Map:
La Trobe Bundoora Campus

Discover La Trobe's public lectures. Learn more
Search