Speakers
Noel Pearson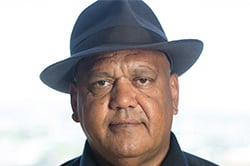 Noel Pearson comes from the Guugu Yimidhirr community of Hope Vale on south eastern Cape York Peninsula. Mr Pearson is a lawyer, and Founder and Director of Strategy of the Cape York Partnership. Mr Pearson also co-founded the Cape York Land Council, and helped to establish Apunipima Health Council, Balkanu Cape York Development Corporation and Indigenous Enterprise Partnerships. Mr Pearson served as a member of the Expert Panel on Constitutional Recognition of Indigenous Australians and the Referendum Council.
Professor Megan Davis
Photo by Andrzej Liguz.
Professor Megan Davis is Pro Vice Chancellor Indigenous and Professor of Law, UNSW. Prof Davis is an expert member of the United Nations Human Rights Council's Expert Mechanism on the Rights of Indigenous Peoples. Prof Davis is a constitutional lawyer who was a member of the Referendum Council and the Expert Panel on the Recognition of Aboriginal and Torres Strait Islander Peoples in the Constitution. Megan is a Fellow of the Australian Academy of Law and the Australian Academy of Social Sciences and a Commissioner on the Australian Rugby League Commission. Megan supports the North Queensland Cowboys and the QLD Maroons.
Live Stream